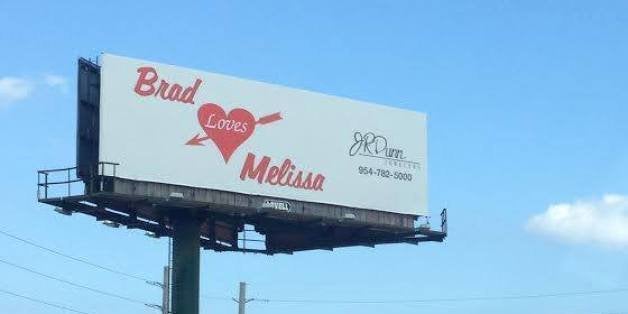 Valentine's Day is no stranger to big displays of affection.
For the past 25 years, a Florida man named Brad has used Feb. 14 to show his love for his wife, Melissa, in very visible ways. This year, drivers on Florida's North Fort Lauderdale Interstate 1-95 will be able to see his love on a public billboard.
The billboard, which is sponsored by J.R. Dunn Jewelers, says, "Brad loves Melissa."
When Brad approached J.R. Dunn Jewelers about using their billboard, they say they were happy to help. The store's fashion buyer and marketing manager, Julie Izanec, told JCK that they loved how special his idea was.
"It's just so creative, it is such an awesome thing for him, and it's a great way to show his love for his wife," Izanec told the publication.
According to post, Melissa responded, "You are awesome!! Thank you for helping my love tell me he loves me (without diamonds). XOXO."
Related
Popular in the Community