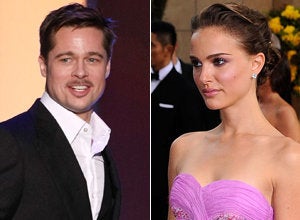 Paramount Pictures has attached Brad Pitt and Natalie Portman to star in a film based on the new Leanne Shapton book "Important Artifacts and Personal Property From the Collection of Lenore Doolan and Harold Morris, Including Books, Street Fashion and Jewelry."...
The book takes the form of a Sotheby's-like estate auction catalog, with 325 entries and photographs depicting items that reveal the private moments and the rise and fall of a four-year relationship between the fictitious couple Hal Morris (a 40ish photographer) and Lenore Doolan (a New York Times food columnist in her late 20s).
The project will be developed as a romantic comedy to star Pitt and Portman.