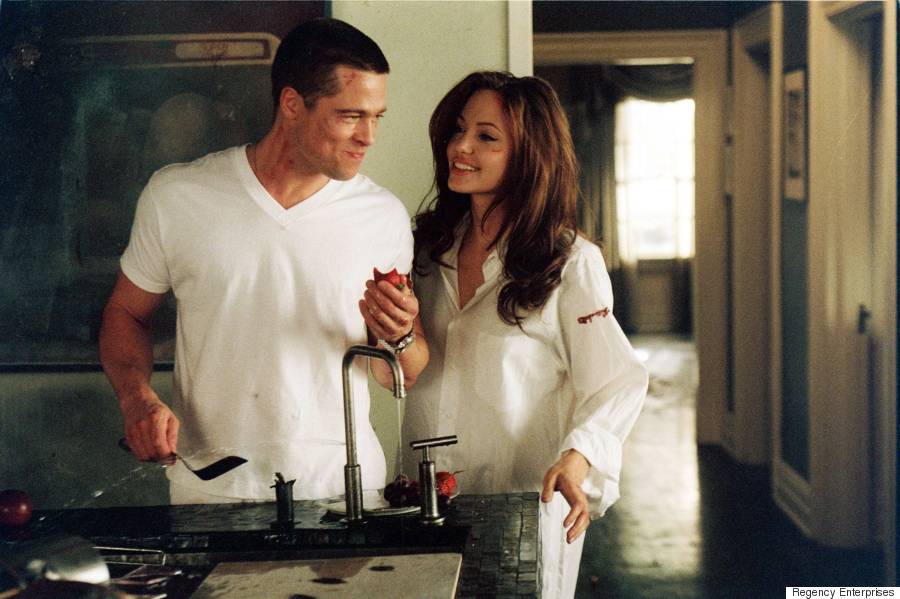 Brad Pitt and Angelina Jolie fell in love on the set of "Mr. & Mrs. Smith." Now that they're married and Jolie has been beatified as the Saint of Hollywood, that's just another larger-than-life element of their love story. 10 years ago, it was the stuff of tabloid fan fiction.
The rumors surrounding 2005's "Mr. & Mrs. Smith" seem like a distant memory juxtaposed with the way Jolie has morphed her image into something most accurately described as "feminist Mother Earth." But Jolie was once best known for wearing a vial of Billy Bob Thornton's blood and making out with her brother at the Oscars. When "Mr. & Mrs. Smith" was in production in 2004, she was rebellious, sexy and shocking, and deliberately so. That image, mixed with the plot of the film (about ridiculously good-looking married assassins), sparked rumors as soon as she was cast to star alongside Pitt.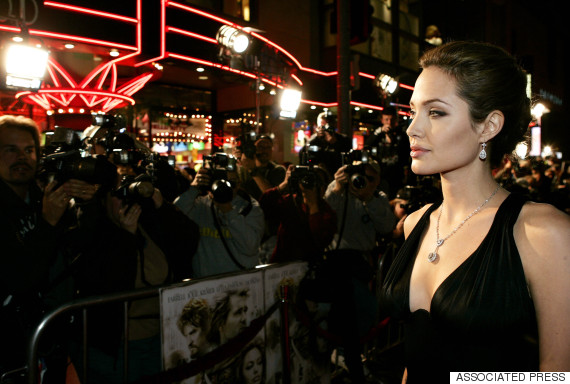 "Friends" aired its finale in May of 2004, meaning Aniston was at the height of her sweetheart status by the time "Mr. & Mrs. Smith" wrapped filming that year. She announced her divorce from Pitt in January of 2005, five months before the debut of "Mr. & Mrs. Smith" and a year and a half before Jolie publicly admitted she'd fallen for Pitt on set.
"It took until, really, the end of the shoot for us, I think, to realize that it might mean something more than we'd earlier allowed ourselves to believe," she told Vogue in January of 2007. "And both knowing that the reality of that was a big thing, something that was going to take a lot of serious consideration."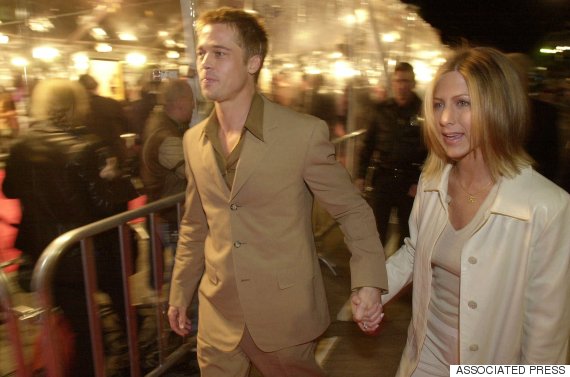 It's interesting -- if only in light of the pity-Jennifer-Aniston narrative that has managed to thrive in trashy magazines for over a decade -- to think that Jolie was not the first pick for "Mr. & Mrs. Smith." In fact, she likely wouldn't have been cast if it weren't for a delay in filming.
Pitt initially gave director Doug Liman the script with Nicole Kidman as his Mrs. Smith. When her work on Frank Oz's "Stepford Wives" remake went over schedule, Liman approached Jolie, but she was busy filming "Alexander" (and spurring rumors that she "desperately wanted" Colin Farrell).
According to casting director Michelle Gertz, Pitt hurt his ankle while finishing up "Troy" and things were delayed, leaving time for Jolie to reconsider. In the interim, the likes of Catherine Zeta-Jones and Cate Blanchett were considered for the role. "We pretty much had our pick of people," she told The Huffington Post over the phone. "Even Gwen Stefani came in to read." Frankly, Liman didn't think anyone else was right for the role.
"This film needed a really strong female star ... because I wanted to be really violent," Liman said in a separate interview with HuffPost. "They were going to be beating the crap out of each other. So, I needed a movie star, because if that was too real, it would be battery. There really wasn't anybody right but Angelina Jolie. If I hadn't found her, I'd still be waiting to make the film."
Once Liman shot his first scene with Jolie and Pitt, he knew their chemistry would take the film to the next level. "They were amazing together right from the beginning, from that opening scene in couples' counseling on the first day with no rehearsal," he said. "And that's the stuff you can't fake. They were just magnetic on screen together."
Producer Akiva Goldsman echoed that sentiment in yet another conversation with HuffPost. "They're a great pairing on screen. There's no question about it," he said. "They're both fiercely intelligent, beautiful and talented. You know, who doesn't want to watch that?"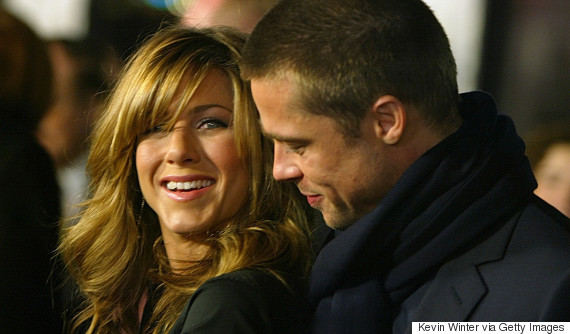 Jolie and Pitt's chemistry on set was undeniable. But, of course, chemistry is an aspect of acting that is not necessarily romantic (even on screen). "I mean, there's chemistry between Jon Favreau and Vince Vaughn in 'Swingers,'" Liman said. "I always cast couples with great chemistry, but they don't always fall in love."
Still, the rumor mill churned even though nearly a year passed after filming completed before there was any evidence the two were dating. In April of 2005, Us Weekly published a photo of the then-unofficial couple with Jolie's adopted son Maddox playing on the beach. "[Their] romance was left up to speculation, until one photo surfaced that changed everything," the tabloid wrote of the picture on the anniversary this year.
"Speculation" is an awfully polite word for the storm of absurdity that swirled around the nascent pairing. The unsubstantiated buzz first turned to front-page headlines when a photo emerged of the two holding hands on set in February of 2004. Soon, there were paparazzi following Liman's principles to and from work. "I always knew when Brad was going to arrive on set because I could hear the helicopters that would follow him," he said.
The stories ranged wildly in detail, most often depicting Jolie as a cunning seductress who actively worked to steal Pitt from Aniston. As The New York Post wrote as part of their ever-classy coverage back in 2005: "At one time, there was an extra-delicious rumor going around Hollywood that Angelina took off her underwear for [the film's sex scene] –- just to give Brad a little surprise."
The intrigue had gotten so intense by the end of filming, that New Regency wouldn't allow Liman to go through the traditional process of previewing the film for test audiences. "There was so much heat on the movie from all the tabloid insanity that it was too risky for them to preview," he said. "I only got to preview it once, when the movie was done, like a month before it was opened."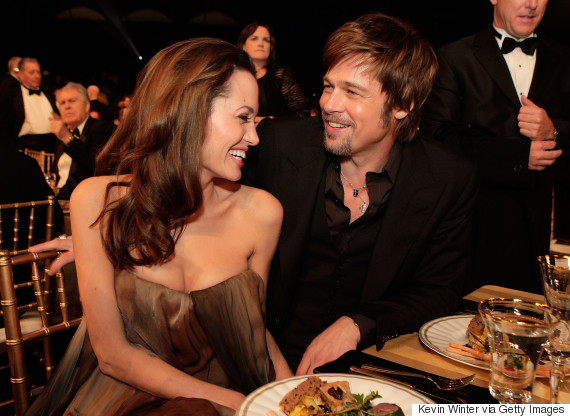 Despite the frenzied attempts at coverage, a decade later, the only thing that can be confirmed with any certainty is that the two had a special connection on and off set.
"You could see some fraternizing between them," second assistant director Steven P. Del Prete told HuffPost. "There wasn't aggressive PDA, but afterwards, once it unfolded, everyone was like, 'Oh, okay.'"
Director of photography Bojan Bazelli had a similar impression. "I don't know if I really noticed it until I saw the scenes cut together in the editing room," he told HuffPost. "Towards the end of the shoot, we crew began to think something was growing between them, but it wasn't until much later that it became clear that it was a real thing."
Del Prete remembers one night, after filming in the desert, Jolie and Pitt stuck around in lieu of returning to their hotel, built a campfire and spent the night in their trailers. "It was a little more than a working relationship," he added. "You don't really see those flirtatious type of things."
Gertz also noted an obvious friendship. "You definitely saw a back and forth ... just an easiness about people that have not spent a lot of time together," she said. "Or, you know, just an easiness when you have 150 people in the crew around you dissecting every part of the scene, and you still have a fun camaraderie, a banter, that you're able to maintain."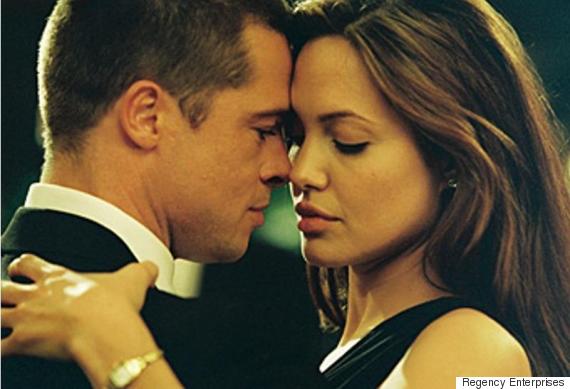 Jolie is adamant that she did not consummate her feelings for Pitt until after he and Aniston had broken up. "To be intimate with a married man, when my own father cheated on my mother, is not something I could forgive," she said in an interview with People after "Mr. & Mrs. Smith" had finished filming. "I could not look at myself in the morning if I did that." It's worth noting that Aniston addressed her divorce this past January, telling The Hollywood Reporter that "no one did anything wrong."
The cast and crew of "Mr. & Mrs. Smith" corroborate that version of the story.
"There seemed to be a full-color-spectrum relationship between them," Bazelli said. "Yet on the set there was nothing but professionalism."
"They were really just co-stars," Goldsman agreed. "Really, really, for the experience of making our movie. You know, which isn't to say that they clearly weren't, at a certain point, enamored with each other."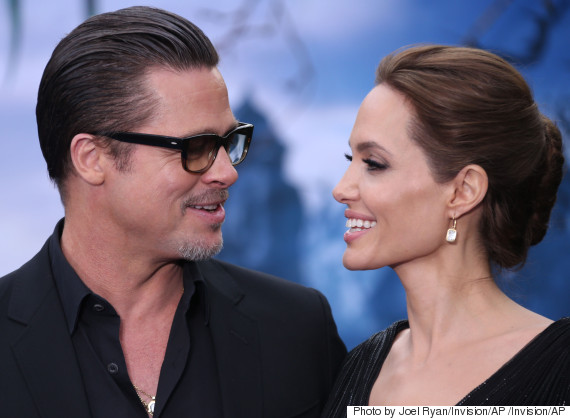 And yet, even with all these testaments to the lack of a physical relationship, it's almost impossible to imagine Pitt and Jolie meeting on set and Pitt and Aniston's divorce as unrelated events, if only because of the timeline.
We'll never know the gritty details of what happened between these three indelible pop-culture figures. But picking apart the facts on the tenth anniversary of the film (June 7), it's clear that "Mr. & Mrs. Smith" changed the lives of Aniston, Pitt and Jolie forever.
"Their relationship didn't happen quickly, but as it eventually unfolded, it is clear that it is truly one of a kind -- a relationship that we don't see very often," Bazelli said. "And not because of their star power. They are exceptional human beings who take care of each other."
Pitt looked back on "Mr. & Mrs. Smith" in a 2008 interview with Rolling Stone, noting it as his favorite of Jolie's films, almost as an afterthought. "I just mean because, you know ... six kids," he said, explaining his answer. "Because I fell in love."
When you peel back the sticky pages of tabloid noise, there's no pulpy scandal. Beneath the legend of Brangelina is a more mundane romance, a genuine connection forged between two people who just so happen to be megastars. Pitt and Jolie are still so fascinating all these years later because their relationship is the closest thing we've ever seen to the Hollywood fantasy (almost) coming true.
"It was a story that was wish fulfillment," Goldsman said. "I think what you end up with is life and art sort of paralleling each other, which is something that everyone in the world delights in. There's a voyeurism in movies, even if it's not real."
Before You Go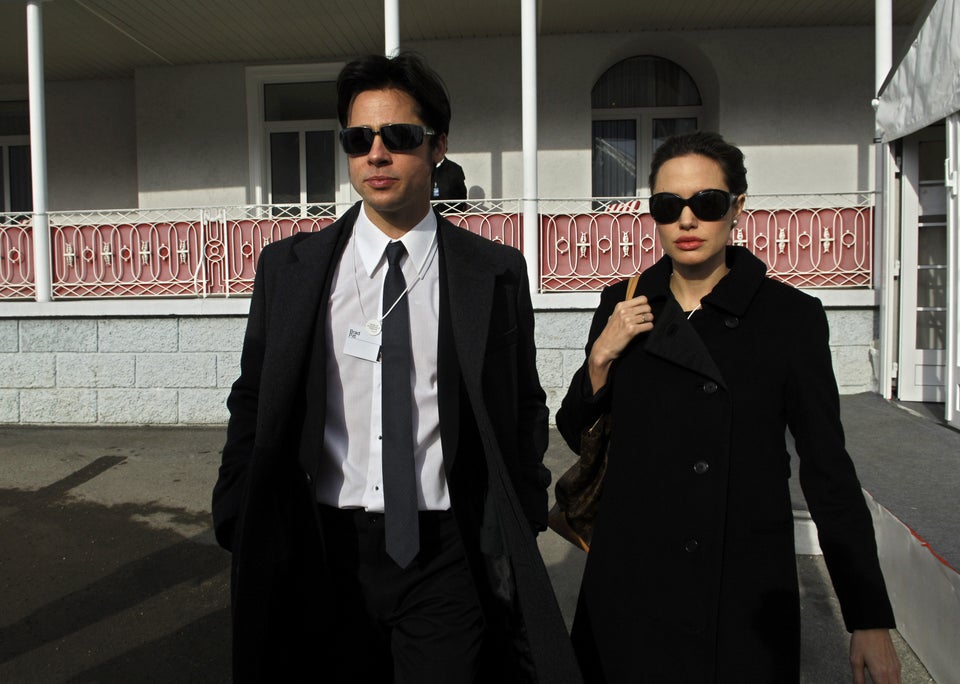 Brangelina's Romance In Pictures
Popular in the Community