Brad Pitt defends partner Angelina Jolie, denies she's a homewrecker in the February issue W Magazine. Pitt met Jolie on set while still married to Jennifer Aniston, whom he calls "a sweetheart."
He also talks gay marriage and quitting smoking.

On the public's misinterpretation of his and Jolie's "affair"... "What people don't understand is that we filmed [Mr. & Mrs. Smith] for a year. We were still filming after Jen and I split up. Even then it doesn't mean that there was some kind of dastardly affair. There wasn't. I'm very proud of the way that it was handled. It was respectful. [The film] will mean something to our kids. It will, that's all."
On Aniston's recent comment that it was "uncool" for Jolie to openly state that she and Pitt fell in love on the set of Mr. & Mrs. Smith... "Listen, man, Jen is a sweetheart. I think she got dragged into that one, and then there's a second round to all of that Angie versus Jen. It's so created."
On his current relationship with Aniston... "We still check in with each other. She was a big part of my life, and me hers. I don't see how there cannot be [that]. That's life, man. That's life."
On photographing Jolie for W magazine's November 2008 photo spread..."We have fun working together; these things bring you closer. And let me tell you, it's really sexy to see your loved one through the lens. I went much further [than the cover shot of Jolie breast-feeding]. I didn't show those."
On how family life has changed him..."I quit smoking. That was the only thing that got me to quit. That was it. Done."
On gay marriage rights... "People who are against gay marriage do not understand the very freedoms that they themselves are enjoying. What if someone said, 'Sorry, no Christianity here? No Judaism. Certainly no Mormons.' No one would stand for that, and I wouldn't allow anyone to say that either. I'd fight them in the same way."
ON WHAT MOTIVATED HIS REQUEST FOR PHOTOGRAPHER CHUCK CLOSE, WHO USES A TECHNIQUE CALLED DAGUERREOTYPE THAT CAPTURES EVERY FINE LINE AND FLAW, TO SHOOT HIM... "[to not have to be] the guy coming out of the ocean water with his T-shirt wet, even though I've done that, too, but have always walked away feeling a little crap about it."
Some of the Chuck Close in the magazine are below.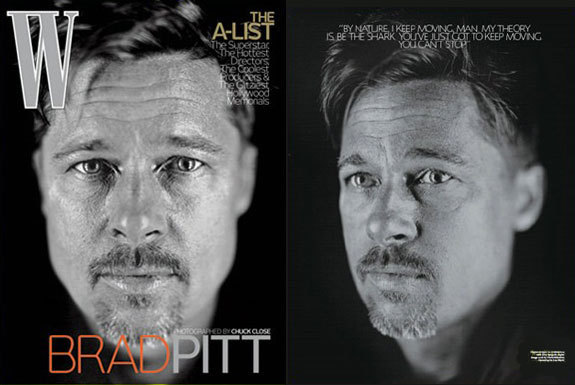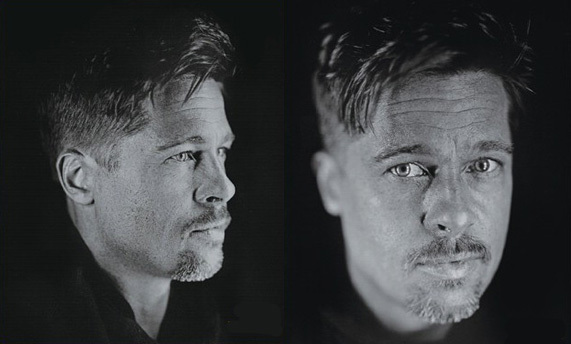 Popular in the Community