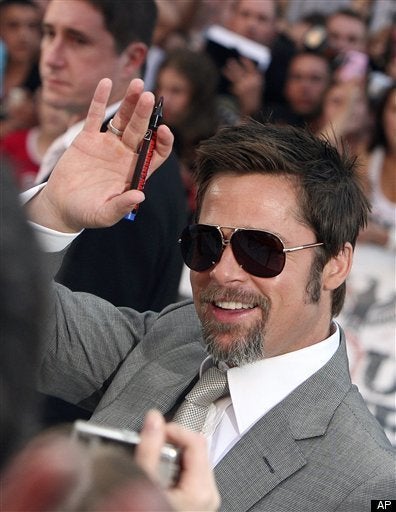 Brad Pitt takes the latest cover of the upcoming Parade to promote his upcoming "Inglourious Basterds" and dishes on being a dad, why he won't marry Angelina and grotto sex.
On when he'll marry Angelina Jolie: "I have love in my life, a soul mate-absolutely. When someone asked me why Angie and I don't get married, I replied, 'Maybe we'll get married when it's legal for everyone else.' I stand by that, although I took a lot of flak for saying it-hate mail from religious groups. I believe everyone should have the same rights. They say gay marriage ruins families and hurts kids. Well, I've had the privilege of seeing my gay friends being parents and watching their kids grow up in a loving environment."
On the right to love: "It's ridiculous that Prop 8 took away gay people's right to marry! I have no understanding of that kind of hatred. Maybe it's fear of difference or of the unknown. If you feel belittled, maybe you need someone else to belittle to feel powerful. It's the only way I know how to explain it. You've got religion telling you what to think about homosexuality, about marriage. They say homosexuality is a choice, a lifestyle, something you can be cured of, and that isn't true. But if you're tucked away and have no friends who are gay, you'll believe what the preachers say. Just think of it in terms of being in love-how would you feel if someone told you that you couldn't be with the person you loved?"
On smoking the good shit in the olden days:
I liked to smoke a bit of grass at the time, and I became very sheltered. Then I got bored. I was turning into a damn doughnut, really. So I moved as far away from that as I could. I was done.
On wanting the best for his children: "Would it bother me if a child of mine turns out to be gay? No, not one bit. Listen, I want my kids to live the lives they want to live. I want them to be fulfilled. I hope I teach my kids to be who they really are."
On the secret stone grotto behind the waterfall in his pool: "[It's] a great place for sex."
Check out Brad's Parade photo shoot at Parade.com.

Calling all HuffPost superfans!
Sign up for membership to become a founding member and help shape HuffPost's next chapter