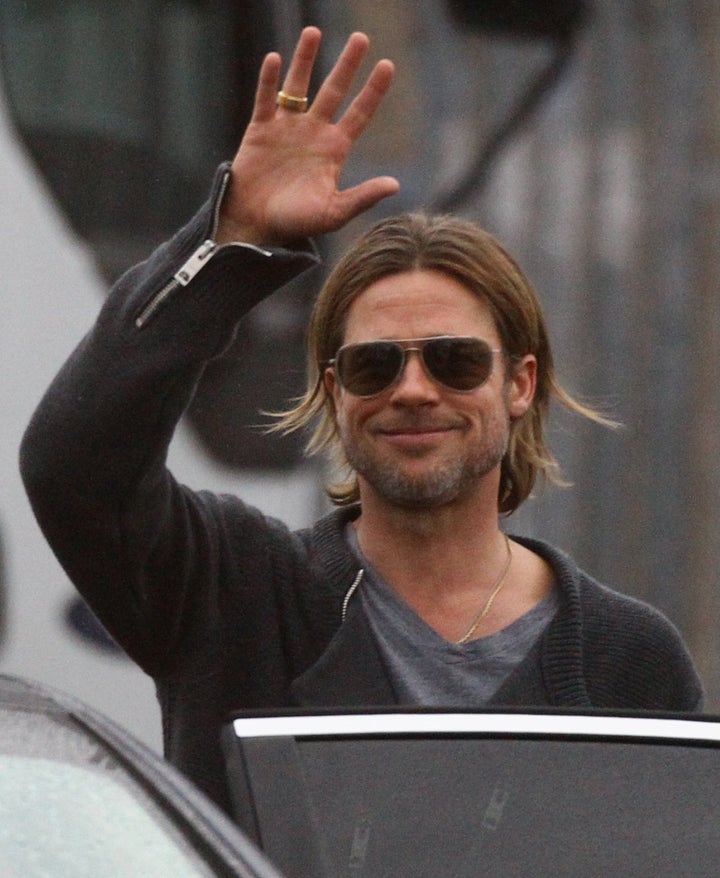 Brad Pitt is taking on an on-screen zombie invasion in Scotland, but for a moment on Thursday night's shoot, the Oscar-nominee took on the role of a real life-saving hero. (Move over, Ryan Gosling and Kate Winslet!)
Starring as Gerry Lane in the big screen undead apocalypse film, "World War Z," Pitt was in the midst of shooting a scene in which fearful masses rush through Glasgow's George Square, trying to get away from the scourge of the face eaters. One woman, involved in the stampede of fearful Scots, fell over amidst the madness, and was in danger of being trampled upon by her fellow extras. Then in came the hero; according to the Scottish Sun newspaper, Pitt rushed over, scooped up the woman and carried her off to safety.
There has been a rash of injuries on the chaotic set, but thanks to Pitt's bravery and quick reaction time, a tragedy was avoided. And the show kept on going.
"He didn't have time to speak to her as it was mid-shoot. But she said afterwards how grateful she was, despite having a badly-grazed knee," an onlooker told the newspaper.
The film is an adaptation of Max Brooks' novel, with adjustment made for timing and flow; the book itself is a telling of a number of survivors' experience, while the film puts the action right during that zombie apocalypse. Mireille Enos, Emmy-nominated star of "The Killing," plays Pitt's wife in the film.
Here's the synopsis below:
The story revolves around United Nations employee Gerry Lane (Pitt), who traverses the world in a race against time to stop the Zombie pandemic that is toppling armies and governments and threatening to decimate humanity itself. Enos plays Gerry's wife Karen Lane; Kertesz is his comrade in arms, Segen.