I spoke with Brad Pitt on Friday. The actor-turned-activist has been spearheading an effort to build affordable, sustainable homes for the residents of New Orleans displaced by Hurricane Katrina.
Pitt feels that the aftermath of Katrina "should be one of the major issues" of the '08 race. We talked about which of the presidential candidates have offered to help out -- and discussed the possibility of their campaigns adopting one of the homes in his project. It costs $150,000 to adopt a home. So when you consider the tens of millions raised by each campaign, it would be a great signal to have candidates putting a little of their campaign's money where their mouths are -- an idea I first raised in 1999 in a column on "Reinventing Charity.")
Pitt also spoke about the lack of government funding for the victims of Katrina and the $70 billion in war funding approved this week. "Give us just a fraction of that," he said, concisely summing up the tragic opportunity cost of the war in Iraq.
To find out more about Brad Pitt's efforts to help rebuild New Orleans -- and to see how you can help -- go to MakeItRightNOLA.org. You don't have to adopt a whole house; you can adopt a door, a window, an awning.
By coincidence, when I was talking to Pitt, I received an email from Naomi Klein, along with a terrific post about yesterday's housing protests in New Orleans, and what they reveal about the federal government's ongoing attempts to use the devastated city as a Petri dish for the "solutions" advocated by President Bush and his free-marketeer cronies. Read it here.
Update:
Blogger Karen Dalton-Beninato sent me this beautiful picture of the project Brad Pitt is working on: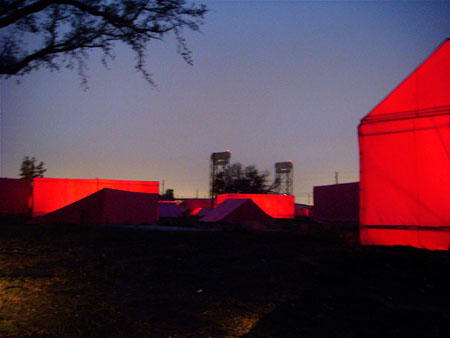 Calling all HuffPost superfans!
Sign up for membership to become a founding member and help shape HuffPost's next chapter