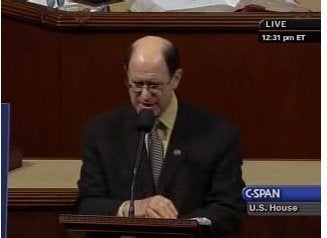 In remarks on the House floor Tuesday, Rep. Brad Sherman (D-Calif.) railed against the Treasury Department's plans to recycle bailout dollars paid back by companies participating in the bailout, aka the Troubled Asset Relief Program. Citing a part of the bailout bill that states that revenue from the sale of troubled assets "shall be paid into the general fund of the Treasury for reduction of the public debt," Sherman said the administration is following a theme: "It's not illegal if Wall Street wants it."
"It is being widely accepted in the press and on Wall Street and in Washington that whatever the [Treasury] Secretary gets back from the banks will instead be part of some revolving fund from which the Secretary of the Treasury may make additional bailouts in addition to the first $700 billion of expenditures," Sherman said. "Well, the statute is very clear to the contrary. Whatever is returned to the Treasury goes into the general fund."
In April, Treasury Secretary Timothy Geithner testified that the the bailout fund would benefit from $25 billion paid back by banks. Over the weekend, a source told the Washington Post that the Treasury expected to recycle $35 billion. In an email to the Huffington Post, a Treasury spokeswoman said that the department was free to re-use principal repaid by firms participating in the TARP's Capital Purchase Program, which invested in preferred stock, not troubled assets.
Sherman mocked the Treasury's distinction, saying the department wants people to think, "These aren't troubled assets. These are happy assets!"
"Troubled asset is defined as any financial instrument that the Secretary... determines the purchase of which is necessary to promote financial stability," Sherman said. "The preferred stock that we are about to sell or that the companies are about to repurchase from us is exactly this defined troubled asset."
Sherman, who voted against the bailout, is hardly a lone crank on this issue. The office of Sen. John Thune (R-S.D.) told the Huffington Post that Treasury is ignoring the clear intent of lawmakers, a sentiment echoed by economist Dean Baker of the Center for Economic and Policy Research. And a spokesman for the Congressional Oversight Panel told the Huffington Post via email on Tuesday that the panel is discussing the matter and may include it in its next report on the bailout.
Calling all HuffPost superfans!
Sign up for membership to become a founding member and help shape HuffPost's next chapter