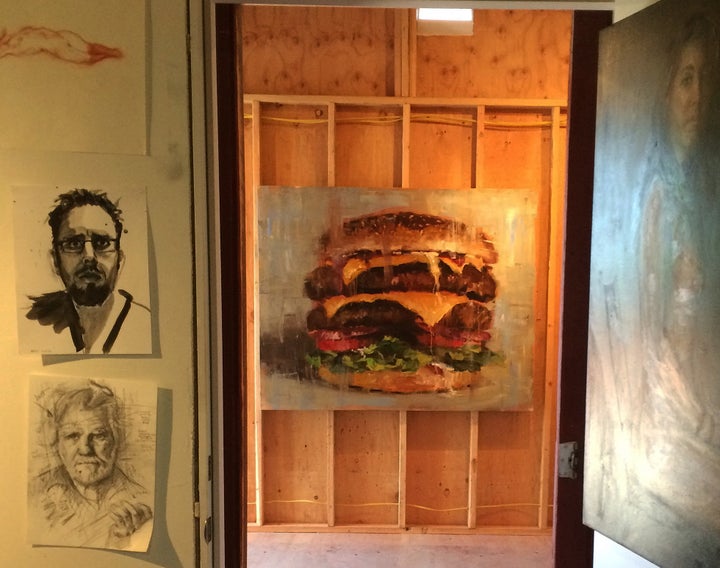 A few years ago I read a New York Times profile of a rising French chef whose exclusive restaurant had just earned another Michelin Star. When asked, "When you leave your restaurant to eat somewhere else, what kind of food do you enjoy?" the chef replied, without hesitation: "Honestly I sometimes just like to go to McDonalds and have a Big Mac." That anecdote recently came to mind as I looked around the studio of painter Bradford J. Salamon, a converted 1928 house that serves as both a gallery and workspace. Salamon, like the chef in the profile, is a talented yet unpretentious man with wide-ranging tastes. Yes, he fits in comfortably at high-end art openings—and enjoys looking over Rembrandt portraits at the Getty—but Salamon also clearly craves a juicy double cheeseburger from time to time.
One of the biggest and most striking canvases on view when I visited Salamon's recent open studio was a monumental Double-Double. Featuring bulging patties topped with droopy slices of orange American cheese—all of it poised on a glistening tomato/lettuce base—the painting reads as both an affectionate paean to American blue-collar cuisine and a metaphor for appetite. Hanging in what was once a single car garage—now stripped down to the studs—the looming burger was appealing on a number of levels: while satisfying my hunger for good art it also made me want lunch. Oh, and he also paints fries...

Later, Salamon told me that he thinks of paintings like this one as "Pop Art steeped in Old Master techniques," a revealing comment that shows how wide and flexible his interests and social attitudes really are. It is that breadth—mixed in with a killer work ethic and a gift for friendship—that make Salamon and his art stand out. "Bradford lives all aspects of the art world beyond any other artist I know," says his friend William Wray. "He's a prolific painter, expert of California Modern/Contemporary art history, consultant to curators and museums. He knows many California Artists on a first name basis, hits a ton of art show openings and makes art films. And he's a great family man: I don't know how he does it all."
Salamon's ability to be comfortable across social divides goes back to his Huntington Beach childhood. One of five sons of an artist/framer/art dealer father, Salamon grew up a mile from the beach—and it's affluent beachfront vibe—in a household where money was tight. He surfed, played some music and tried to be as good an artist as his older brother in the hopes of getting his father's attention and affirmation. It helped that when his father's customers couldn't pay their bills they gave Bradford art lessons. By working at his father's art businesses Salamon learned how to deal with the public and also picked up the habit from his father of making friends with his clients. "These days, almost all my friends are art-related," Salamon notes.
As a young adult Salamon honed his drawing skills and learned how to cash in on them, making tightly-rendered celebrity portraits that sold well as prints in head shops and record stores. Financially successful, Salamon became—in short order—a father, a homeowner and a vintage car collector. It all came crashing down in 1998-99 after problems with intellectual property rights brought his portrait business to a halt. Salamon soon found himself living illegally in his studio, wondering how to re-boot and also eager to leave behind the narrow confines of his previous commercially-oriented career. Divorced and beset by personal problems, Salamon was determined to become a fine artist and painter and to get his life back on track.
After returning at age 27 to Orange Coast College—where he mainly studied art history—a teacher named Tom Dowling had introduced Salamon to examples of great art that had opened up his knowledge of painting over time. As he developed, Salamon also sought out mentors who could give him the "tools" he wanted. "I learned to 'turn the form' from David Leffell," Salamon recalls, "and the idea of light temperature from Ken Auster. Jeremy Lipking gave me transparent shadows and Morgan Weistling showed me how to handle edges."
Although he looked up to these artists, Salamon tended to see art more broadly than they did: "I was blown away to hear one artist say that 'all contemporary art is a joke' at lunch one time, or to hear another friend saying that he 'didn't understand why anyone thought that Richard Diebenkorn was a good artist.'" Although many of his mentors were classically trained representational painters, Salamon had interests "outside the bubble" of realism, and was looking hard at the painterly works of Lucien Freud, Alice Neel and Fairfield Porter.
Salamon has matured into a stylistic in-betweener who equally admires—for example— the sophisticated flow of John Singer Sargent's portraits and the blunt earthiness of late Philip Guston. He likes abstract painting too: Gerhard Richter has been an influence. This wide mix of approaches and influences can be seen in Salamon's portraits, which remain at the core of what he does, both socially and artistically. "I go through phases," Salamon explains, "sometimes painting from life and sometimes from photos. Likeness is very important to me, but painting a portrait is also a collaboration: I need my subject to give me something to work with."
That sense of collaboration is apparent in Salamon's portrait of artist Alex Couwenberg in which the sitter both leans forward toward the artist but also looks away, casting a shadow that falls off the left edge of the canvas. The alternating brushwork—which depicts some forms as sharp and others as soft—works well with the sitter's paradoxical vibes of presence and distraction. It's a sophisticated portrait that manages to present some aspects its subject quite identifiably—check out those tattoos—while also surrounding him with the emanations of artistic process and shifting moods.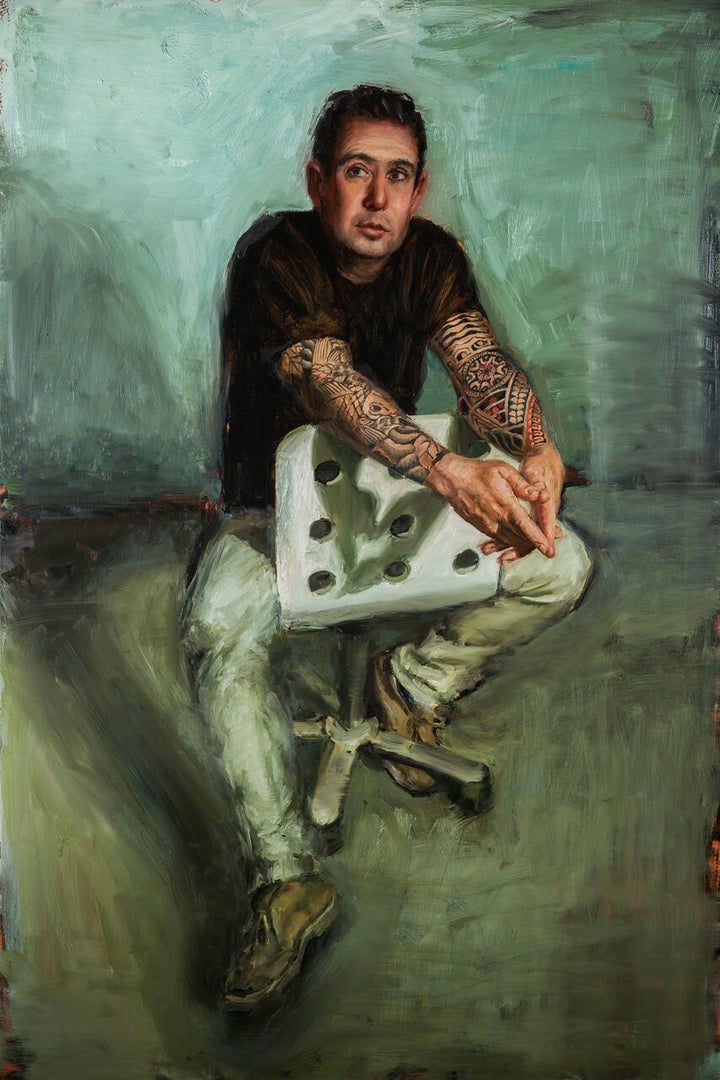 Another body of Salamon's work, his vintage objects, are also—to a degree—portraits. Salamon says, of his cameras, lighters and typewriters: "They all have a story to tell. Who used them? What was written on that typewriter?" There is a kind of loving paradox in these paintings, as they are mechanical items that come across as humanized by Salamon's attention to them. He cares about them, and their nostalgic presences create a bond between the artist and his viewers; a conversation over time. Two of Salamon's favorite vintage devices, cameras and typewriters, are tools that recorded images and told stories, traditions that he extends and pays homage to by painting them. Although it is tempting to think about Salamon's vintage objects as Pop art, they are much more affectionate than traditional Pop which tended to keep a cool, ironic distance from its subject matter.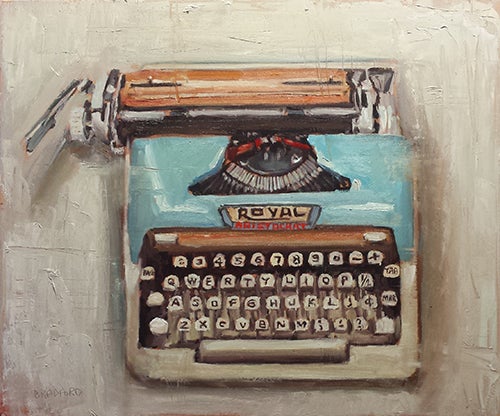 When Salamon is feeling ambitious he creates "California Scenes" that combine his knack for portraiture with furnishings, settings and objects that generate narrative scenarios. In "Pink Purse" Salamon gives us a couple that have a certain self-conscious style and who are also—like he is—collectors of vintage movie posters. They are somewhere between comfortable and blitzed out, enveloped by wonderful/awful tones of pink, turquoise and hospital green. What makes the painting work is the fact that Salamon has fun with the material while keeping it real. Even if the setup for the painting is a bit contrived, we know these people: their humanity comes through intact. In their environment they are ultimately comfortable with each other (and with their cat).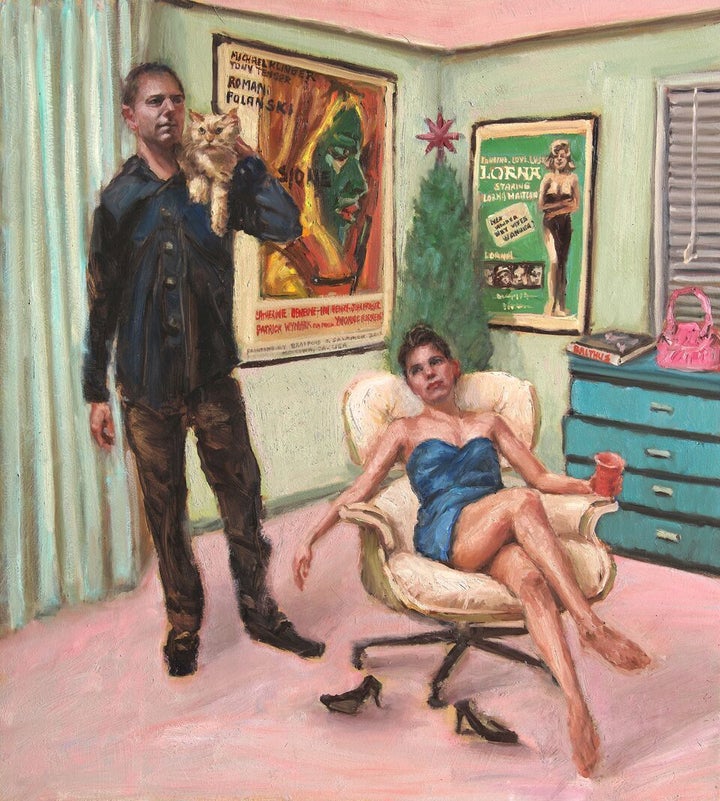 If Salamon's work doesn't fit into easy categories, he isn't bothered by that fact. "I have confused collectors and curators," he offers, "but I don't feel that just because I often paint in traditional ways that I can't be influenced by and love contemporary ideas and practices." In both taste and his approach to painting, Salamon is flexible and even idiosyncratic: he likes what he likes and follows his instincts. Salamon sees life and fate as a mixed bag: so why paint it any other way?
What unifies Salamon's work is the humanity and affection that comes through whether he is painting a friend or a vintage Polaroid camera. Having been through some ups and downs, Salamon knows to be grateful and to appreciate his friends. He also understands that social distinctions and artistic styles will come and go: it's human presence that lingers and you can paint it however you feel it.
Bradford J. Salamon, 20 Year Survey
On view July 15, 2017 to September 3, 2017
2612 Main St, Santa Monica, CA 90405
Support HuffPost
The Stakes Have Never Been Higher
Related
Popular in the Community