Artist Bradford J. Salamon—a portraitist who prefers choosing his own subjects as opposed to working on commission—paints creative people he admires. Salamon feels strongly that painting portraits from life deepens his relationship with his sitters and enhances human their connection. 
I recently interviewed Bradford J. Salamon in connection with his show at LAUNCH LA. 
John Seed Interviews Bradford J. Salamon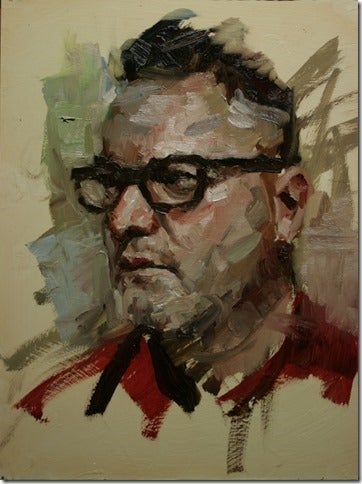 Tell me about your early life and formative experiences. 
My big brother was an early inspiration.  He could draw well at a very young age.  At 12 years old I left my family to live in Colorado for the summer and experienced many things for the first time: drugs, sex and the realization that no one was really looking after me at that point in my life.  Starting in my middle teens I worked for my father at his art framing business and saw many reproductions of the old masters. Knowing I liked to draw, my father arranged several private lessons with local artists in exchange for their framing bills. Those early lessons were perhaps the most important thing that has ever happened in the development of my art.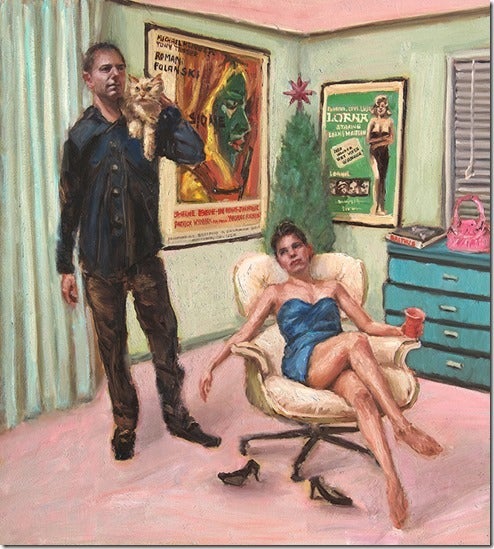 Who have been some of your mentors?
My older brother was my earliest mentor, then a well known local artist named William Gilpin. After a private lesson one day Gilpin asked me to start doing the artwork that he would sign his name to.  I never let him sign my work, but the fact that he seriously asked me to do this was a big deal for my confidence. In Junior college a teacher named Tom Dowling and another named Pat Sparkuhl helped me navigate my abilities in the direction of fine art. I was almost 30 by then and I still really didn't understand the bigger world of art.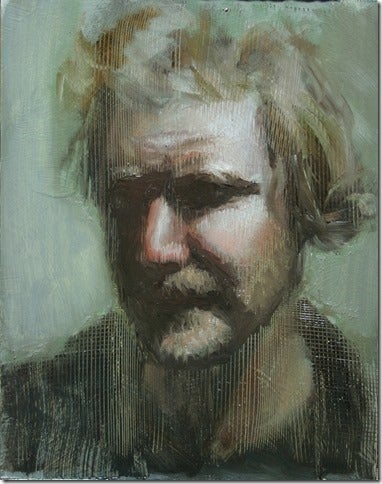 How did you come to specialize in portraiture?
I naturally drew portraits at a young age and sometimes worked from life, drawing my family at dinner for instance, but would destroy everything I did until I was about 18. I was convinced I had no talent until one day I showed my father a drawing. He didn't say he liked it, but asked me to leave it with him so he could frame it. That was a big deal from a man who never gave out compliments. Later I realized I had a knack for getting a likeness. I was also in many rock and roll bands at this time: mostly playing drums.
One of our bands got signed to a small record label and I did the artwork for the cover drawing us four band members. When the band agreed to put my drawings on the cover of the record that was a big deal. I was 19 at the time. My early charcoal prints were often of well-known musicians and actors, etc. where likeness was imperative. Now all I paint are people I know personally and that are in my life, and that inspires me.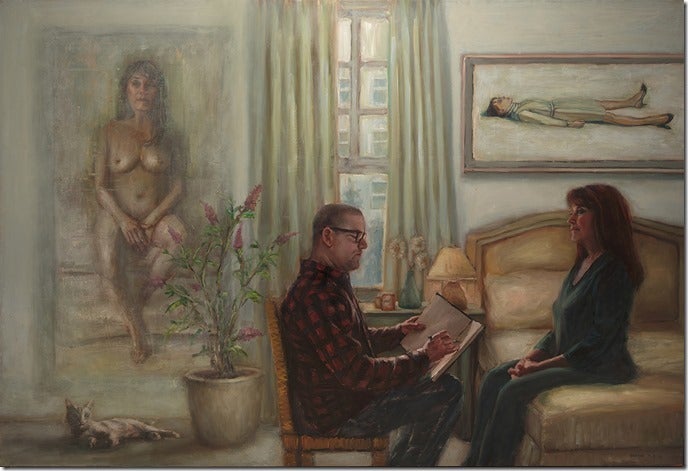 Tell me about one of the paintings in your show.
The largest painting in the show is called "Triple Twinka."
Twinka Thiebaud has modeled for many serious artists; not least of which for her famous father, when she was very young. The narrative I had in mind for this painting is that she is imagining her career as a model while I am drawing her from life—which I actually did just like the painting—thinking about how she may look in the final painting that I had proposed to her originally: the image behind me in the actual painting. The prone image above her head is a copy of a painting her father did of her on his studio floor: "Supine Woman." The flowering planet suggests her many lovers: she had a long affair in the 1970's with Warren Beatty, for instance, The cat was our family cat that was killed by a car while I was painting it.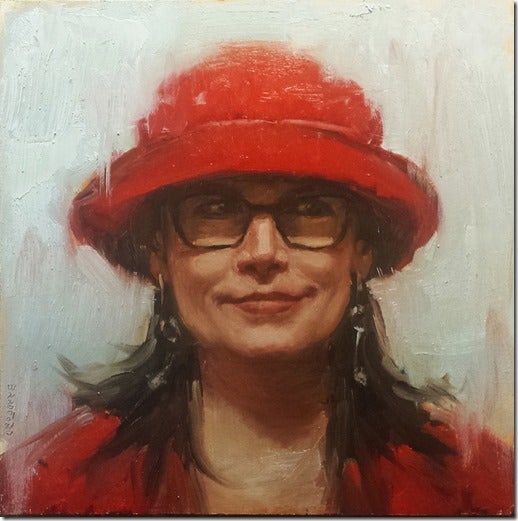 What are your interests outside of painting?
 My family. I have three daughters. I have been called a workaholic by many. I surf about once a week. I still write songs and play guitar, but not too often and just for fun. Also, reading biographies...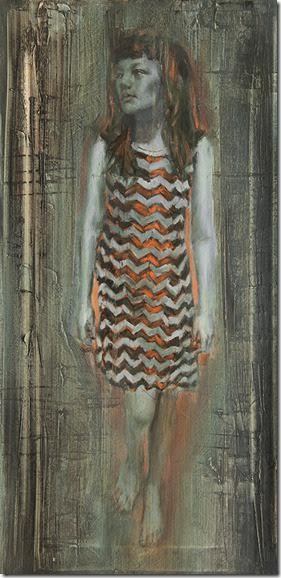 Is there anything or anyone you would like to mention?
 My late father Joseph D. Salamon ( 1929 – 2015 ). Although he was not there for me as a child, he really made up for it when I was a young adult and beyond. There is no way I could have been a full time artist for the last 30 years without all of his help and encouragement. My wife Kat Salamon who has endured my erratic behavior and supported me without hesitation for the last 16 years. My three lovely daughters. Monet, Lauren and Sarah.
 And, one last note: I always professionally spell my name Bradford J. Salamon. The middle J. comes from my uncle John who was big part of my young life. He was there at critical times for me as a boy.
170 S. La Brea Ave., Upstairs
Hours: Wednesday – Saturday 12 – 6pm
Calling all HuffPost superfans!
Sign up for membership to become a founding member and help shape HuffPost's next chapter