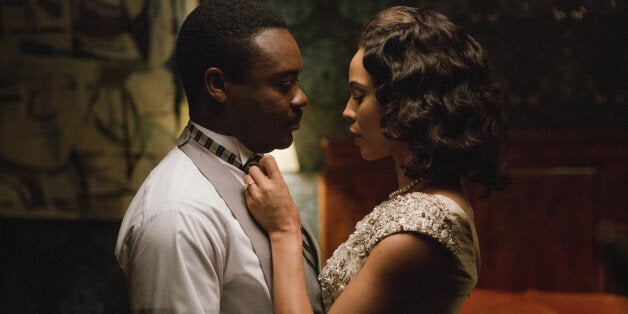 Ava DuVernay's "Selma," which chronicles Martin Luther King's struggle to get Lyndon B. Johnson to pass the Voting Rights Act in 1965, is the Oscar contender everyone has been waiting for this year. But following the film's first New York screening on Monday night, awards chatter wasn't the only thing press members were buzzing about. It was Bradford Young, the 37-year-old cinematographer, who is credited with harnessing the film's power.
"This is a collaboration I cherished. This is an artist who I believe speaks to us," Young said about DuVernay during a Q&A after the screening. "Whatever image you see up there that you like, it was generated by her brain first and transfused to me."
But it wasn't just the work Young and DuVernay did together that left such an impact on the audience. Young's words about being a black artist in America were profound and moving. "This is all I got," Young said when asked by Adepero Oduye, who starred in "Pariah" (also shot by Young), how he balances anger at a lot of issues happening in this country right now with being a filmmaker and storyteller. "If I lose this ... my wife is a midwife, I'll just assist her or something."
This is all I have. As a young black man, and as a black man with a family, this is how I keep myself from going to jail. I'm not going to let them undermine this. Every bit of energy I put into this is so we can collectively not be undermined. I know that seems utopian in the sense that this is just a movie, but for a lot of us who have been continuously shut out of it -- and for me in particular as a cinematographer of color -- I don't see myself. So, for me, I use this as a space to keep myself sober, a space for me to be a logical, healthy citizen. As much of a contentious relationship I have with this country, as my grandfather would say, "I respect Marcus Garvey, but I ain't going back to Africa with him. I'm going to get mine right here." Though I am going to go back to Africa, too, this for me is what keeps me sober. They can intrude in my house. They can make me wonder in fear the fate and destiny of my son, who is a 15-month-old black boy and it's real for my wife and I. That's something we talk about everyday. They can come in my house in many different ways. They can come in my space in different ways, but I refuse to let them come into this space. Because this is what makes me a good husband. This is what makes me a good father. This is what makes me good brother. A good collaborator. This makes me a good community member. So I think we just have to be focused on ... if it's just [one thing] in our life that's going to be sacred for us, so that we don't get intellectually destabilized and culturally imbalanced, we have to fight for that. And be confident that it's ours. This will keep us at peace.
"Selma" is out in limited release on Dec. 25 with a nationwide rollout to follow on Jan. 9. Expect it to be in the conversation long after those two dates.
Calling all HuffPost superfans!
Sign up for membership to become a founding member and help shape HuffPost's next chapter
BEFORE YOU GO
PHOTO GALLERY
"Selma" Premiere