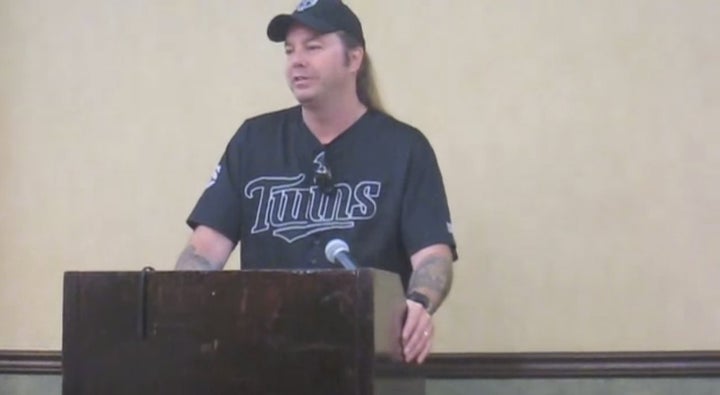 The Christian heavy metal rocker whose ministry former presidential candidate and Congresswoman Michele Bachmann helped raise money for said that comments he made that were reported in 2010 as appearing to support the execution of homosexuals were taken out of context. But several times during our interview yesterday he refused to answer a simple yes or no question as to whether he believes some Muslims are "more moral" than Christians because they support the death penalty for homosexuality.
Bradlee Dean, founder of You Can Run But You Cannot Hide International in Minnesota, also a musician and a radio host, filed a $50 million defamation lawsuit against MSNBC's Rachel Maddow last July regarding a clip from his radio program which she aired in August of 2010. In the clip, Dean, after saying that "the Muslims are calling for the execution of homosexuals in America," says Muslims "seem to be more moral" than Christians. In the same broadcast, Maddow read a disclaimer Dean had posted on his website stating"we have never and will never call for the execution of homosexuals."
Speaking on my radio program on SiriusXM OutQ, Dean, at times quite heated, said that when he had made the statement that Muslims seem "more moral," he only meant it as "a wake up call for the [Christian] church."
Dean said the statements he made were truncated, reported with a middle portion removed. The clip, as played on "The Rachel Maddow Show," is as follows:
"The Muslims are calling for the execution of homosexuals in America. They themselves are upholding the laws that are even in the Bible of of Judeo-Christian God. But they seem to be more moral than even the American Christians do, because these people are livid about enforcing their laws. They know homosexuality is an abomination. If Americans won't enforce the laws, God will raise a foreign enemy to do just that."
Dean said that the following statements was missing, and insists that they change the context of what he said:
"And I continually reach out to the homosexual communities on this radio show, and I warn them, with one's love. Here you have Obama condemning it behind the backs of the homosexuals but to their faces he's promoting it. I say this to my gay friends out there, the ones that are continually nitpicking everything I say: Hollywood is promoting immorality and the God of heaven in Jesus's name is warning you to flee from the wrath to come. Yet you have Muslims calling for your execution."
Asked five times, however, if he believed some Muslims are more moral than Christians because they support the execution of gays, Dean refused to answer yes or no, several times repeating the same line: "I have continually reached out to the homosexual community."
Dean also defended his band, Junkyard Prophet, part of his ministry, for a presentation in a public high school in Dunkerton, Iowa that made headlines across the country in recent weeks because it included condemnations against homosexuality. School officials were shocked, thinking the lecture was going to be about drugs and bullying in pop music lyrics. Dean, who was turned away from the school and the local community center when he asked if his ministry could return to Dunkerton (so he returned to a local church), said that the media had "blown up" the controversy.
Dean has in the past also suggested that Representative Keith Ellison, a Minnesota Democrat who is Muslim, is using support for gay marriage as way to usher in Sharia Law in the United States. He has also linked gays to the Holocaust.
Michele Bachmann has helped raise money for Dean's ministry, was a guest star in hist television series and prayed that his ministry would expand and grow. "This ministry, 'You Can Run But You Cannot Hide,' they are not sidetracked, they're on course," Bachmann intoned. "They're way on course. Because they get it. They get what this is all about."
Listen to the full interview here:
Check out Dean discussing the lawsuit against Rachel Maddow in a 2011 press conference below:
Calling all HuffPost superfans!
Sign up for membership to become a founding member and help shape HuffPost's next chapter
BEFORE YOU GO