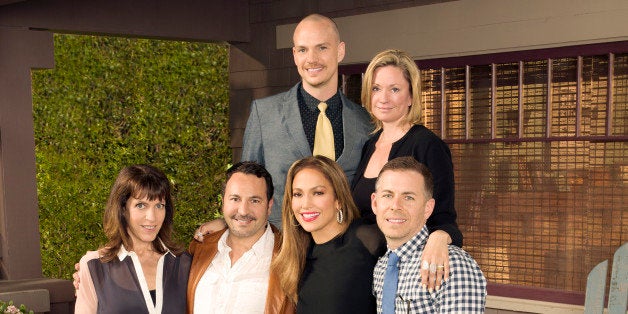 This week's Huffington Post Gay Voices RaiseAChild.US Let Love Define Family installment presents an interview with Bradley Bredeweg, executive producer of the ABC Family hit drama series "The Fosters," which features a multiracial, two-mom family with biological, adopted, and foster children. Bredeweg, who recently joined the Board of RaiseAChild.US, spoke with its Founder and CEO Rich Valenza about Brad's work in developing the project with co-creator Peter Paige, the story behind the show, and what's coming up in the show's winter season, which premieres on Monday, January 13.
Rich Valenza: How did the idea of "The Fosters" come about?
Bradley Bredeweg: Peter and I always wanted to write a family drama that reflected the modern American family. We started looking around at the landscape and thought about maybe telling a story about the American family with gay dads, but we felt that had been done a few times before and rather well. Then we realized that there was a kind of a vacuum when it came to stories about women raising families. So we set off in that direction. Many of our own friends are moms raising biological kids. Some of them have fostered and adopted. Suddenly, we realized that we had a story here that hadn't been told on television before.
What was the process to pitch "The Fosters" to Hollywood? I'm sure it wasn't an easy task.
The moment we creatively decided and got excited about it, we were all in. But there were some people around us, some people in town who said, "You know, it is just not going to happen. You are never going to sell this show."
Peter and I have always said to each other that we are only going to put out work that we are passionate about. This was a story we really wanted to tell and we weren't going to let it go. So we wrote the first draft and because we were so in love with these characters and with this idea, we realized that we probably needed to have a little bit of a push behind us, a powerful voice that could help us take it out to the world. That's when we met with Jennifer Lopez.
We had a friend at her company who said they were looking to branch out to scripted television. When we pitched "The Fosters" to him, he said, "I think you have something here. Jennifer is really going to take to it." When we met with Jennifer, she really fell in love with it. The moment we had her, we knew that we had a force behind us. We took it out to a few networks and ABC Family was really receptive from the very beginning. Strangely, it felt a little like a match made in heaven. I mean, their slogan is "A new kind of family." We had a new kind of modern family and it took off from there.
When did you first realize that you and Peter Paige created something very special?
When I go out in to the world and talk to teenagers or I read Twitter, I just see how much the show means to these younger voices. Especially when I hear how our family in the series so closely resembles their family: No matter the shape. No matter the color. No matter the size. No matter if there are two moms, a dad, two dads, a mom and a dad.
Those voices out in the world really struck a chord with me. The fact that kids are taking to this family is exceptional. I think that the moment this feedback started coming back to us, I realized that all of us here have really created something very special.
Then on a personal level, I experience it when we get to go to work everyday in the writers' room and we realize that we are amongst that great crew. We get to put this kind of beautiful family out in to the world -- we are very, very, very grateful. Not a day goes by that I don't feel that way.
Do you have a personal or professional connection to foster care and adoption? If not, what motivated you to build a storyline around it.
I do, actually. Growing up I had a pretty close friend who did come up through the foster system. She was quite a broken girl. When I was a freshman in high school, she was a sophomore and she was getting in trouble all the time. She was in trouble with the law quite often. Then she finally found a family that took her in and was paying close attention to her and giving her love. Over the next couple of years she really came in to her own. She learned to accept that love. Eventually, when she was a senior in high school, that family adopted her. I was able to see the growth in her and how far she had come. That has always sort of stuck with me. I kind of forgot about it somewhere along the way but when we started talking about the show, a lot of those memories and a lot of those experiences came back to me. So, yes, I did have a close connection to it.
What is the process of developing a script? How are you and Peter able to create such an authentic storyline?
Well, first, we are very lucky to have one of the best writers' rooms in town. We have an incredible group of people in that room every day, working hard with us to get these thought-provoking stories up on the board.
From the pilot on, I feel like our family of characters has really taken on a life of their own. At the very beginning, we sent them off on very different paths and we are still paying them off even as we are nearing the end of season one and heading into season two. All of these strings that we created early on are starting to tie together while new storylines and relationships continue to develop. So in a way, all the characters in the family are taking on a life of their own and we are paying attention and listening and allowing those characters to live and breathe and speak to us.
The talents of the cast are amazing. As you have gotten to know the cast members, has that affected the development of the storyline?
They all have a specific voice. I mean obviously, these characters were developed way before we cast them, but we spent tireless hours trying to find the right person for each role. Then they all began to line up -- it was like dominos -- the moment we found our Lena, the moment we found our Callie, the moment we found our Stef, it sort of all started to line up perfectly for us. Their voices have grown as each actor has stepped up and embraced their character. You know, in a way, they inspire us every day to grow the character as they grow within the roles.
Where do you plan to take fans of "The Fosters" in the winter season of the show?
The stakes remain really high for the family as they navigate their own journey in the world around them. It is never easy being a teenager, or a parent, or a parent of a teenager, or a married couple.
Following the wedding, we are exploring married life for Stef and Lena.
Callie and Brandon find themselves in a very challenging predicament right now. So we are going to dive deeply in to the question of what is more important for them: teenage love or family?
Jude is going to be a really interesting character this season. He is learning to settle in to this family, to accept the love of this family and what is best for him. This is the first time he has actually found a loving family that wants to give him the home he always dreamed of.
Jesus and Mariana's world this season is all about the post-Ana journey. How do they move on after they've been able to finally let go?
We have a whole new storyline: Callie finds herself in a group home with other girls that come from the foster system as well. The group home is run by a character played by Rosie O'Donnell and is a story we're very excited to tell.
We are so thrilled that you have joined the RaiseAChild.US Board of Directors. What is your special interest in working with us?
I'm just honored to be on the board. From the moment you asked me, I knew that I wanted to do it. I guess this world has opened my eyes to the foster system. There are almost half a million kids in the system all looking for family. The fact that we are able to explore that on the show is what has motivated me to explore that same message, that same mission out in the world. So the fact that I could join the board and bring both of those worlds together is quite an honor. I can't wait to jump in to it with you this year and work by your side.
Thank you. I just want to share with you that I spent a couple of hours today in a meeting with the Los Angeles County Department of Children and Family Services and a number of foster and adoption agencies. One big concern that everyone talks about in these meetings is the need for families willing to take older kids and sibling sets from the foster system. What your series demonstrates is that these older kids have real potential and value to a family. "The Fosters" is not only opening hearts and minds to equality and social issues, but it is also helping fans imagine the good they might do for foster youth who may be in their tweens or teens. What you and Peter have created is amazing and is helping. Beyond what you are doing there on set, when the show gets broadcast, you are having an impact across the country. It is opening eyes and sparking imaginations about the types of families that can be created and their possibilities and importance. That is a tremendous accomplishment you have created. I want to thank you for that.
Thank you for saying that. It means a lot to me. This season, you are going to see even more of that. With the group home and with the introduction of older teenage girls in the system, we are really going to up the ante on those story lines. We will get that message out there.
RaiseAChild.US is a national organization headquartered in Hollywood, California that encourages the LGBT community to build families through fostering and adoption to serve the needs of the 400,000 children in the U.S. foster care system. RaiseAChild.US works with foster and adoption agencies that have received training in LGBT cultural competence through the Human Right's Campaign Foundation's "All Children – All Families" initiative. Since 2011, RaiseAChild.US has run media campaigns to educate prospective parents and the public, and has engaged more than 2,000 prospective parents. For information about how you can become a foster or fost/adopt parent, visit www.raiseachild.us and click on "Next Step to Parenthood."
Support HuffPost
Every Voice Matters
Popular in the Community