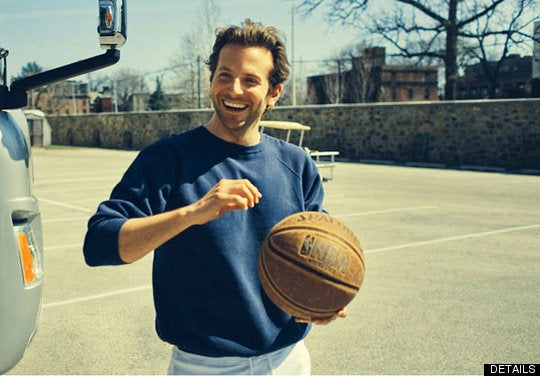 'A-Team' heartthrob Bradley Cooper graces the June/July cover of Details (for pictures of him this weekend with co-star Jessica Biel, go here) and inside he talks about bad haircuts, his love life and his hot 'A-Team' body.

On people thinking he was a girl growing up: "I never lived the life of 'Oh, you're so good-looking. People thought I was a girl when I was little, because I looked like a girl--maybe because my mother would keep my hair really long in a bowl cut. I was in a coffee shop once and the waitress was like, 'What do you want, Miss?' I was 10 or 11-- the worst age to have that happen. I had a jean jacket on and a Metallica pin. I thought I was really cool."

On his tabloid romance with Jennifer Aniston: "I'm reading about me taking Jennifer Aniston to my Bel Air mansion"--he lived in a modest home in Venice, California, then; he has a bigger house in Los Angeles now--"and having a candlelit dinner, and I was like, 'That's crazy. Never happened.' " He says the next time he saw Aniston, who is a friend, he joked, "Hey, we should hang out--the other dates that we never had went so well."

On seeing his pumped up body in A-Team on screen, for which the already fitness-obsessed actor cut out sugar, salt, and flour and underwent two-hour workouts with a trainer every day: "I was like, 'This cannot be me-- that's the way I look? It was so f-ing surreal, 'cause as a kid I only fantasized about looking that way. Remember Soloflex commercials? That was huge when I was a kid. It was like, 'I wanna be the Soloflex guy. Mom, can we get the Soloflex?"
He won't talk about current gal pal Renee Zelleger: "I just can't"
His four-month marriage to actress Jennifer Esposito: He says just, "it was an experience."
Popular in the Community