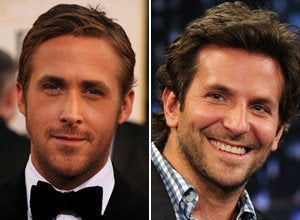 Following the great financial success and critical failure of "The Hangover: Part II," Bradley Cooper is turning his eye to a role that could offer the completely opposite outcome.
According to the report, Gosling will play a pro motorcyclist who becomes a thief to support his son, while Cooper will take on the part of a rookie cop who becomes his rival.
The film is another turn toward the dramatic for Cooper; after breaking through with "Wedding Crashers," "The Hangover," and "The A-Team," he headlined his first film, the thriller drama "Limitless." That movie opened the box office at number one, establishing Cooper as a legitimate topliner in Hollywood.
The film begins shooting this summer; Cooper will also, it seems, eventually star as Lucifer in a big screen adaptation of Milton's seminal work, "Paradise Lost."
Cooper also has loftier goals; he hopes to one day direct a film, and has written a spec script for a big screen adaptation of the science fiction book series, "Hyperion."
Popular in the Community