We never knew you could spell irony with a C and a K.
The Internet has put together this wonderful video comprised of Louis C.K.'s 2009 interview on "The Stephen Merchant Show," during which he mocked all aspiring actors who ask Sean Penn acting questions, and a 1999 "Inside the Actors Studio" clip of Bradley Cooper doing just that.
"When an actor stands up -- one of the people in the audience -- and says, 'I am an actor, what can I do?' and asks Sean Penn or whomever ... 'What can I do to reach your level?' or whatever and you just want to say, 'That's it. You never will be famous,'" joked the comedian. "There's no way you asked Sean Penn a question and then you're going to be huge." Cut to a clip of Penn's appearance on "Inside," and Cooper introducing himself as "a second year actor," asking about "Hurlyburly."
Of course, by now we all know Cooper as a two-time Oscar nominee. How do you like that, Louis?
Before You Go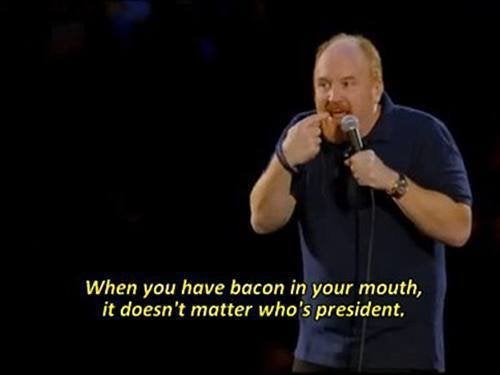 Timeless Truth Bombs From Louis CK
Popular in the Community