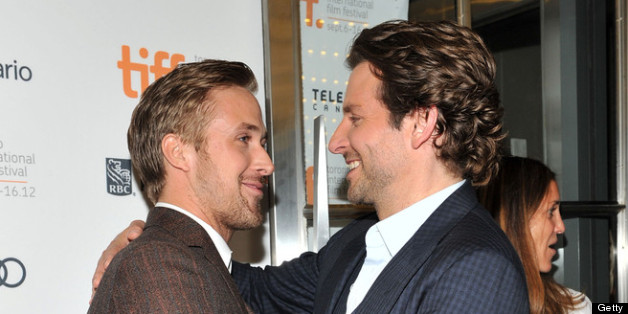 "The Place Beyond The Pines" is the type of movie that makes people decry the fact that Hollywood doesn't make movies like "The Place Beyond The Pines" anymore.
An epic family crime drama that spans 15 years, the Derek Cianfrance film has drawn comparisons to "The Godfather" and "The Deer Hunter" thanks, in part, to its gritty storyline and Cianfrance's bold direction. (Watch the film's incredible, single-take opening sequence here.)
Set in Schenectady, New York (the Iroquois word translates to "place beyond the pines"), "The Place Beyond The Pines" focuses on Luke (Ryan Gosling), a stunt motorcycle driver who takes to a life of bank robbing in an attempt to support his infant son. Bradley Cooper, who doesn't appear until almost an hour into the film, plays a local police officer who attempts to bring Luke to justice.
With "The Place Beyond The Pines" out on DVD and Blu-ray on Aug. 6, HuffPost Entertainment spoke to Cooper about the well-reviewed drama, why he feared even signing on for the project and what he loved about Ryan Gosling.
Derek has this way of shooting Avery in tight frames, so he's basically trapped in the picture -- it's an excellent shorthand to give the audience a lot of information about the character in a subtle way. You've worked with some of the best directors around, what stood out about Derek?
I think he's a fucking great director. He did this thing that mirrors Avery and Luke. It's almost a hand-off aesthetically. There's some weird thing where we inhabit the same space in some odd way.
This movie is ambitious in its structure: the opening hour with Ryan could practically be its own film. Knowing you're picking up the baton, did you feel pressure as an actor to keep the film up to that level?
Oh, 100 percent. Are you kidding me? That was a major fear. Especially because the guy that gets the hand-off is the opposite of Luke. He's not a muscle-bound, motorcycle-riding bank robber. He's an internalized rat. A guy who's soul searching. You're like, "Jesus, man." Talk about recipe for disaster!
How did you overcome that fear?
I just dove in. I trusted Derek and worked on the story to find a way to make Avery interesting and complicated. I also really trusted that the audience would hopefully be intrigued with his emotional state; his internal dilemma. Because he really doesn't do anything. He's a very internalized character. The hope is that you're invested enough in the story at that point. Then, with him, that it's interesting.
Was this a situation where you read the script and knew immediately that you wanted to sign on?
No, not at all. It was about the project. It was about working with Ryan Gosling, who I'm a huge fan of, and Derek. That was the whole reason I did it. I had heard how Derek works -- this idea of making it as real as possible and doing extreme things in preparation. SPOILER ALERT I thought this would be a great learning experience, even though I was not crazy about playing this guy that kills Ryan. I'm so glad I did it though, because it wound up being an experience where I fell in love with playing this role -- which was not why I got into it in the first place. This is the most complicated guy I've played for sure.
You've managed to cultivate a really strong brand, where you're making hit movies but they aren't superhero franchises or effects-driven things. With your reputation where it is now, do you think people would be upset if you suddenly decided to star in comic book blockbuster?
That's nice of you to say, that I would even have a brand. But I don't think about that at all. It's really simple: I just want to get better and work with great directors. That's it. That's the formula for me. I'm like a sponge. I just take in as much information as possible. Todd Phillips, Joe Carnahan, Derek Cianfrance, David O. Russell: these are great directors that I've had a chance to sit side-by-side with and learn.
Did you notice your relationship with David changed from "Silver Linings Playbook" to "American Hustle"?
Yeah, because it was another partnering, with producing that as well. I loved it. To have a supporting role in that film is different. It's been wonderful. I loved that experience. I hope we just do another one together. It's not lost on me how lucky I am that such a great director has allowed me to work with him in such an intimate way.
Speaking of collaborations, you only have one scene with Ryan in "The Place Beyond The Pines." What was that experience like?
He far surpassed what I had hoped for. It felt like I was getting in the ring with a real motherfucker. He's generous and sweet and no-bullshit and he had no weird antics -- he just works the way I like to work, too. I thought, "This just feels like home."
PHOTO GALLERY
'The Place Beyond The Pines' Photos
REAL LIFE. REAL NEWS. REAL VOICES.
Help us tell more of the stories that matter from voices that too often remain unheard.