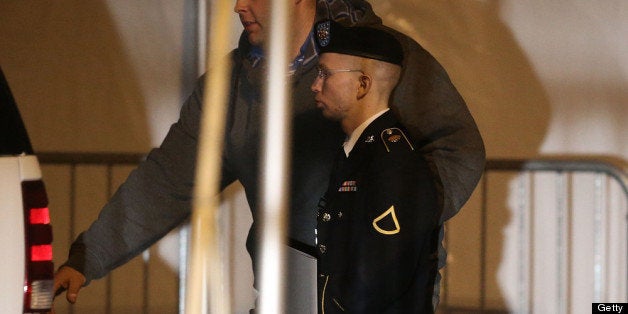 FORT MEADE, Md. -- Bradley Manning's defense took a blow on Thursday as the judge overseeing his case, Col. Denise Lind, denied his motion to dismiss the aiding the enemy charge against him. If convicted, the Army private first class who has admitted to sending 700,000 files to WikiLeaks could face a life sentence.
Lawyers for Manning had moved to dismiss the charge for lack of evidence. After weeks of testimony, the prosecution in the case has presented at best circumstantial evidence to suggest that Manning knew his disclosures would wind up in al Qaeda's hands, a necessary element of the aiding the enemy charge. Although judges only occasionally grant motions to dismiss charges, one military law expert had suggested that it was a possibility here, given the weakness of the prosecution's case.
In the first phase of the trial, Lind has decided what evidence can be entered and whether it meets the bare minimum for the elements of the charge. On Thursday Lind refused to throw out both aiding the enemy and another charge, violating the Computer Fraud and Abuse Act, citing a legal rule that at this point in the trial, the evidence must be "viewed in the light most favorable to the prosecution."
When it was introduced in March 2011, the aiding the enemy charge aroused outrage from media freedom advocates, who charged that it criminalized leaking to the press. The government's theory in the case is that Manning knew the State Department cables and military war logs he sent to WikiLeaks would wind up in Osama bin Laden's possession, because al Qaeda uses the internet.
After the trial's closing arguments, which could come as soon as Friday, Lind will take on a separate role of actually weighing the evidence against Manning. She will decide his guilt on the aiding the enemy charge and 21 other charges against him then on a different standard: whether he has been proven guilty beyond a reasonable doubt.
Widney Brown, senior director of International Law and Policy at Amnesty International, said in a statement after the decision Thursday, "The charge of 'aiding the enemy' is ludicrous."
"What's surprising is that the prosecutors in this case, who have a duty to act in the interest of justice, have pushed a theory that making information available on the internet -- whether through Wikileaks, in a personal blog posting, or on the website of The New York Times -- can amount to 'aiding the enemy'," he said.
This post has been updated to include comment from Amnesty International.
Calling all HuffPost superfans!
Sign up for membership to become a founding member and help shape HuffPost's next chapter
BEFORE YOU GO
PHOTO GALLERY
Guantanamo Bay Revelations From WikiLeaks