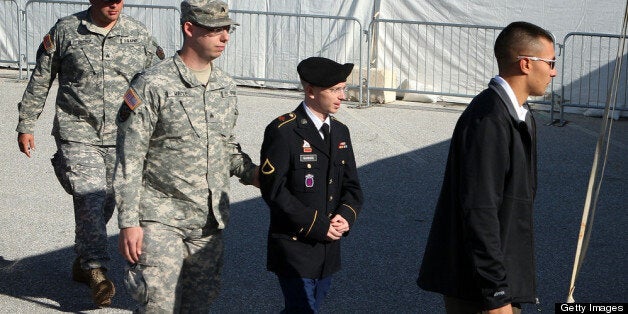 FORT MEADE, Md. -- The military judge overseeing the trial of Bradley Manning ruled Tuesday that "there are no alternatives to closure" of the court during the testimony of 24 prosecution witnesses who will discuss classified information.
"The overriding interest of protecting national security information from disclosure outweighs any danger of miscarriage of justice," Col. Denise Lind said in her ruling, issued during the last hearing before Manning's trial begins on June 3.
Although the judge also ordered the military to come up with a plan for releasing redacted versions of transcripts from closed sessions to the public as quickly as possible, it could take weeks or months for government censors to complete that process. The decision marks another level in the secrecy looming over the case.
Lind said she was influenced by the outcome of closed "dry run" testimony by government witness Ambassador Donald Yamamoto on May 7. That testimony apparently got a little wet: Lind said "the spillage of classified information would have resulted had the evidence been presented in open court."
Also on Tuesday, government prosecutors accepted one minor plea from Manning, the Army private who has admitted to leaking sensitive files to WikiLeaks, but proceeded with other charges that could send him to prison for life.
Military prosecutor Ashden Fein said the government would let stand Manning's plea on a modified version of the charge that he leaked a U.S. ambassador to Iceland's sensitive diplomatic cable about that country's gloomy economic situation. The charge could now result in 2 years in prison instead of 10.
Lind issued a ruling stating that she hopes to keep the government's testimony on the alleged damage the leaks caused as narrow as possible during the phase of the trial where she is determining Manning's guilt.
She said she was worried the Manning trial, now scheduled to include about 150 government witnesses and last as many as 12 weeks, "has the potential to devolve into mini-trials regarding international politics in various regions of the world." She said testimony about the context and value of the 250,000 State Department cables Manning leaked should be kept "brief, limited and focused."
Lind's ruling applies only during the merit phase of the trial, meaning Manning and the government's lawyers will likely argue over just how damaging the WikiLeaks revelations really were later, during sentencing.
Manning has admitted to a variety of lesser charges that could send him to prison for 20 years, but the government is moving forward with serious charges of violating the Espionage Act and aiding the enemy that could mean life imprisonment.
Calling all HuffPost superfans!
Sign up for membership to become a founding member and help shape HuffPost's next chapter
BEFORE YOU GO
PHOTO GALLERY
Guantanamo Bay Revelations From WikiLeaks