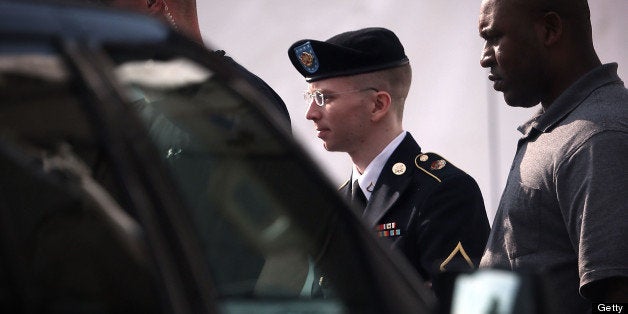 Media coverage of the Bradley Manning trial appears to be dropping off considerably, and many outlets were not covering it very extensively to begin with.
Manning is fighting charges that he "aided the enemy" by passing military documents to WikiLeaks. His trial has implications for whistleblowers, the press and national security, and the opening day of proceedings on Monday drew a large crowd of journalists to the scene.
By Tuesday, though, many appeared to have gone. The New York Times noted in a Tuesday piece that there had been a "sharp drop from Monday in the presence of news organizations and protesters at the trial, which opened Monday at this military base near Baltimore, as it shifted from the drama of the opening statements toward chain-of-custody issues and other evidentiary matters."
TV outlets appeared the most uninterested. The trial merited barely any time on the big three evening news networks over its first two days. Brian Williams spent 43 seconds talking about it, calling Manning "the man who may have put U.S. military secrets in the hands of Osama bin Laden." This comment led the media watchdog FAIR to point out that, by the same token, NBC News itself could have put military secrets in bin Laden's hands.
Even Williams' brief mention of Manning was lengthier than CBS News' Scott Pelley's. Pelley spent about 10 seconds on it on Monday, before turning to a much more extensive conversation with Condoleezza Rice about Syria.
ABC's Diane Sawyer, meanwhile, didn't mention the trial on either Monday or Tuesday.
The trial did not receive much coverage on cable news on Monday and Tuesday either. Jake Tapper did a segment about it on his CNN show, and Piers Morgan covered it by asking Jesse Ventura what he thought of the case. Anderson Cooper's newsreader, Isha Sesay, briefly mentioned it during a roundup of stories.
On MSNBC, Rachel Maddow had a full segment on her Monday show, and Chris Hayes talked about the trial on his. There was little coverage besides.
REAL LIFE. REAL NEWS. REAL VOICES.
Help us tell more of the stories that matter from voices that too often remain unheard.
BEFORE YOU GO
PHOTO GALLERY
Julian Assange