 Update: SF Pride has now announced that Bradley Manning will not be the Grand Marshal of this year's pride parade. On Friday evening, SF Pride board president Lisa Williams released the following statement:
Bradley Manning will not be a grand marshal in this year's San Francisco Pride celebration. His nomination was a mistake and should never have been allowed to happen. A staff person at SF Pride, acting under his own initiative, prematurely contacted Bradley Manning based on internal conversations within the SF Pride organization. That was an error and that person has been disciplined. He does not now, nor did he at that time, speak for SF Pride.

Bradley Manning is facing the military justice system of this country. We all await the decision of that system. However, until that time, even the hint of support for actions which placed in harms way the lives of our men and women in uniform — and countless others, military and civilian alike — will not be tolerated by the leadership of San Francisco Pride. It is, and would be, an insult to every one, gay and straight, who has ever served in the military of this country. There are many, gay and straight, military and non-military, who believe Bradley Manning to be innocent. There are many who feel differently. Under the US Constitution, they have a first amendment right to show up, participate and voice their opinions at Pride this year.

Specifically, what these events have revealed is a system whereby a less-than-handful of people may decide who represents the LGBT community's highest aspirations as grand marshals for SF Pride. This is a systemic failure that now has become apparent and will be rectified. In point of fact, less than 15 people actually cast votes for Bradley Manning. These 15 people are part of what is called the SF Pride Electoral College, comprised of former SF Pride Grand Marshals. However, as an organization with a responsibility to serve the broader community, SF Pride repudiates this vote. The Board of Directors for SF Pride never voted to support this nomination. Bradley Manning will have his day in court, but will not serve as an official participant in the SF Pride Parade.
Private First Class Bradley Manning, the controversial U.S. serviceman who released over 700,000 classified State Department and U.S. military documents to anti-privacy group WikiLeaks, has been named Grand Marshal of this year's San Francisco Gay Pride Parade.
The 25-year old Manning, who is gay, was selected by the San Francisco LGBT Pride Celebration Committee's electoral college, which consists of former parade Grand Marshals including Milk screenwriter Dustin Lance Black, Ugandan LGBT advocate Bishop Christopher Senyonjo and actress Cloris Leachman.
"The LGBT community is unique in that being a member requires a willingness to disclose the truth about ourselves to the benefit of those around us and society as a whole," said Bradley Manning Support Network Steering Committee representative Reiney Reitman in a statement. "As a longstanding Manning supporter, I'm thrilled to see our community publicly embrace his courage in disclosing classified truths about the war in Iraq and other facts which empower the American public to promote smarter future policy."
Since Manning is currently in custody awaiting the outcome of his court-marital, he will not be appearing at the parade in person. Instead, the Bay Area Reporter notes, some of Manning's supporters, such as Pentagon Papers whistle-blower Daniel Ellsberg, will be on hand on his behalf.
If convicted, Manning could be sentenced to life in prison.
Manning, who grew up in the conservative town of Crescent, Oklahoma, came out of the closet at the age of 13 and, after enlisting in the military at 18, experienced severe bullying at the hands of his fellow servicemen--leading some to speculate that his sexual identity played a large part in his decision to leak the cables.
Even so, Manning's status as heroic figure has been hotly debated in LGBT community, as the New Republic illustrates with an anecdote from last year:
At New York City's gay pride parade in June, a motley crew of about 25 assembled under a banner that read "Coming out with the Truth is Never Easy," and wore neon pink stickers emblazoned with a black silhouette of Manning's face and the slogan "gay hero." One onlooker called out "Traitor!" as the threadbare group marched down Fifth Avenue. Clearly, not everyone in the gay community is happy about the association.
The San Francisco Pride Parade is scheduled for June 30.
Before You Go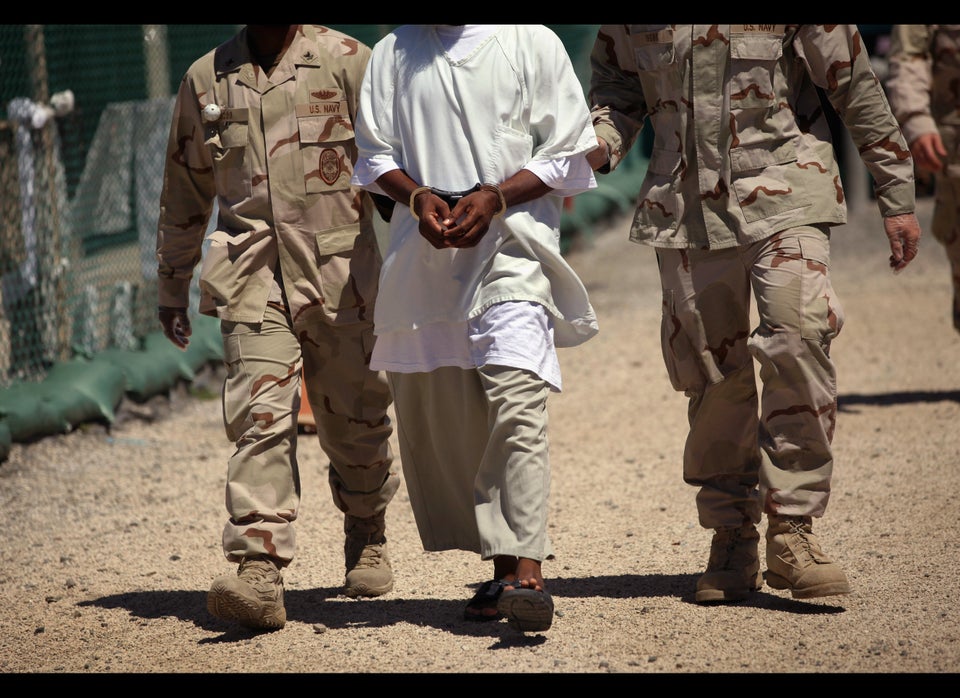 Guantanamo Bay Revelations From WikiLeaks
Popular in the Community