Manning was a 25-year-old Army private first class at the time of his arrest. He saw himself as an idealist acting to end the wars, and said in online chats with hacker Adrian Lamo that he was particularly concerned about the abuse of detainees in Iraq. No political or military higher-ups have ever been prosecuted for detainee abuse or torture in Iraq, Afghanistan or at Guantanamo Bay.
"One of the serious problems with Manning's case is that it sets a chilling precedent, that people who leak information ... can be prosecuted this aggressively as a deterrent to that conduct," said Andrea Prasow, senior counterterrorism counsel and advocate in Human Rights Watch's U.S. Program. "Shouldn't we be deterring people who commit torture?"
Here are some of the individuals who have been involved since 9/11 in detainee abuse and torture, and potential war crimes, and have never been prosecuted.
George W. Bush George W. Bush was president when the U.S. invaded Iraq based on faulty intelligence, tortured terror prisoners and conducted extraordinary renditions around the world.
"Enhanced interrogation," a Bush administration euphemism for torture, was approved at the highest level. A "principals committee" composed of Vice President Dick Cheney, National Security Advisor Condoleezza Rice, Defense Secretary Donald Rumsfeld, Secretary of State Colin Powell, CIA Director George Tenet and Attorney General John Ashcroft signed off on the methods.
"There are solid grounds to investigate Bush, Cheney, Rumsfeld, and Tenet for authorizing torture and war crimes," said Kenneth Roth, executive director of Human Rights Watch, when the group released a report called "Getting Away With Torture" in 2011.
Dick Cheney As Bush's vice president, Cheney pushed the nation over to the "dark side," as he called it, in the war on terror.
The U.S. used extraordinary renditions to swoop up terror suspects and send them to repressive regimes in places like Syria and Libya for torture. Cheney was the key driver in producing the faulty intelligence that led the U.S. into war in Iraq. And he steadfastly defended the CIA's use of water-boarding and other torture tactics on U.S. prisoners.
Donald Rumsfeld One of the planners of the Iraq War, Rumsfeld steadfastly maintained while Defense Secretary under Bush that U.S. soldiers did not have an obligation to stop torture being used by their Iraqi counterparts. He also approved of "stripping prisoners naked, hooding them, exposing prisoners to extremes of heat and cold, and slamming them up against walls" at Guantanamo.
While deployed to Iraq, Manning discovered that Iraqi soldiers had arrested members of a political group for producing a pamphlet called "Where Did the Money Go?" decrying corruption in the cabinet of Prime Minister Nouri al-Maliki.
"'i immediately took that information and *ran* to the officer to explain what was going on," Manning wrote in the chat logs. "he didn't want to hear any of it … he told me to shut up and explain how we could assist the FPs in finding *MORE* detainees."
George Tenet and CIA torturers Tenet was the CIA chief who told Bush that the case for war with Iraq was a "slam dunk." Under his watch, the CIA waterboarded Khalid Sheikh Mohammed, Abu Zubaydah and Abd al-Rahim al-Nashiri.
Further down the chain of command at the spy agency, lower-level officers have escaped prosecution for killing a prisoner in Iraq and one in Afghanistan in CIA custody. Attorney General Eric Holder in 2012 ruled out prosecuting anyone responsible for those deaths.
In sharp contrast, former CIA agent John Kiriakou is currently serving a 30-month sentence for revealing to reporters the names of interrogators involved in detainee abuse.
Abu Ghraib higher-ups Although low-level soldiers like former Army Reserve Specialist Lynndie England were court-martialed for their role in detainee abuse at this notorious prison in Iraq, graphically illustrated in photos, the only officer prosecuted in the case had his conviction tossed out.
A 2009 Senate Armed Services Committee report found that the abuses at Abu Ghraib were not the result of a few unmonitored bad apples but rather the direct result of "enhanced interrogation" practices approved of by officials much higher up in the Bush administration.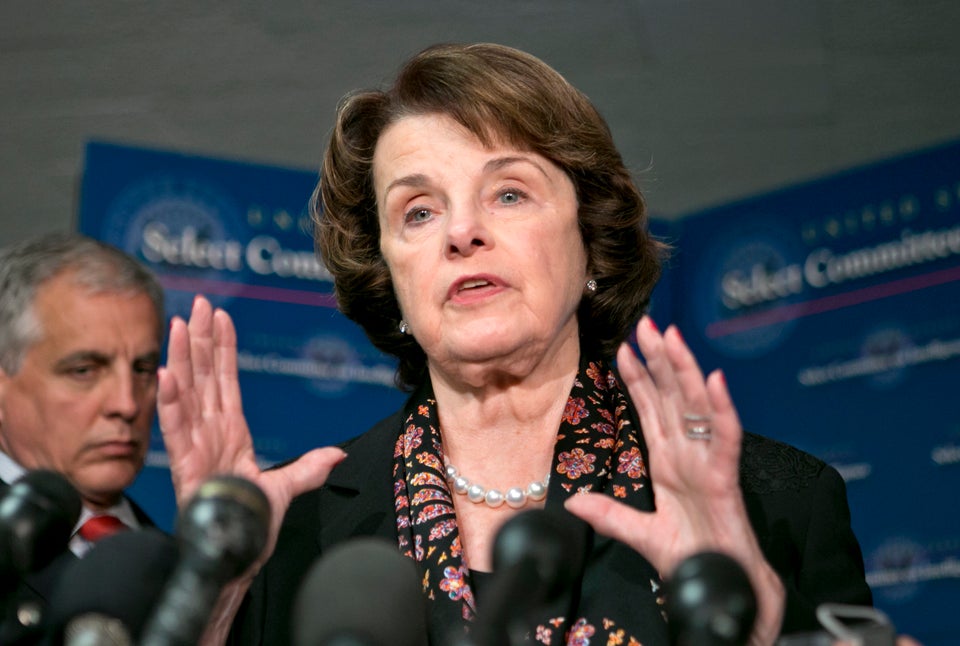 Politicians React To NSA Collecting Phone Records
Popular in the Community