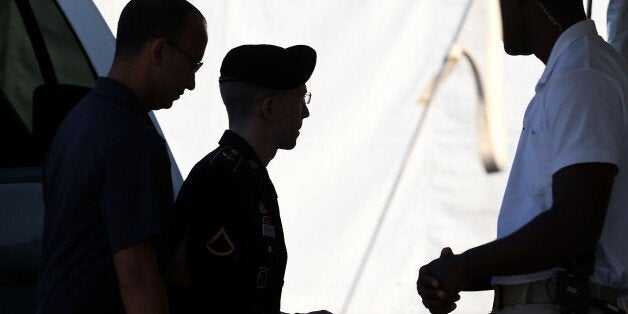 FORT MEADE, Md. -- Bradley Manning's Army psychologist described the "hyper-masculine" and "almost open-hostile environment" his patient faced on his Iraq base while grappling with gender-identity issues.
Capt. Michael Worsley, a reservist psychologist who saw Manning repeatedly between December 2009 and May 2010, said his patient spent months guardedly "deflect(ing) issues that were too close to his comfort zone" before opening up in a nearly two-hour, late-night counseling session on May 8.
Manning, 25, an Army private first class, sent WikiLeaks a massive cache of documents about the Iraq and Afghanistan wars. Now in the sentencing phase, his defense team called Worsley on Monday to talk about the gender identity disorder -- now known as gender dysphoria -- diagnosis he gave Manning during his deployment. The condition is one of discomfort with one's gender identity.
Manning's chain of command should have caught "red flags" about his mental state and possibly stripped Manning of his security clearance, the defense is suggesting, but didn't because of the military's anti-gay policies like "don't ask, don't tell."
"You put him in this environment, this kind of hyper-masculine environment, if you will, and with little supports and few coping skills, the pressure would have been difficult, to say the least. It would have been incredible," said Worsley.
"At that time the military was not exactly friendly toward the gay community, or anybody that held views as such. I don't know that it's friendly now either, but it seems to be getting toward that point."
Manning told a select number of his fellow soldiers in Iraq that he was gay, but it appears that in the months prior to his arrest, he was considering transitioning to become female. During his deployment, he sent one of his superior officers an email titled "My problem" with a photograph of himself wearing a woman's wig. In May 2010, he expressed the desire in chat logs with hacker-turned-confidant Adrian Lamo to have "enough time to figure myself out."
Manning said that he was "waiting to redeploy to the US, be discharged... and figure out how on earth im [sic] going to transition." Although he sometimes used the online name "Breanna," his supporters have stated that for now he should be referred to as Bradley, with a male pronoun.
Manning's supporters view his leaks as a courageous act of whistleblowing made in response to atrocities in Iraq and Afghanistan, and they are wary of giving an act of conscience a psychiatric explanation. Manning's defense team stated in pretrial documents that he is calling experts to testify about Manning's mental condition to show that he did "the right thing for the right reason but under flawed reasoning."
Chase Madar, a lawyer who has written a book in the soldier's defense called The Passion of Bradley Manning, told HuffPost on Tuesday that he respected the decision made by defense lawyer David Coombs to introduce the psychological evidence.
"I think what Bradley Manning did was a great act of sanity, of moral and political sanity," said Madar. "But I totally get why his defense team is using his mental state as a defense ... before and above they are defending a cause or an action, they are defending a human being, Bradley Manning."
Before You Go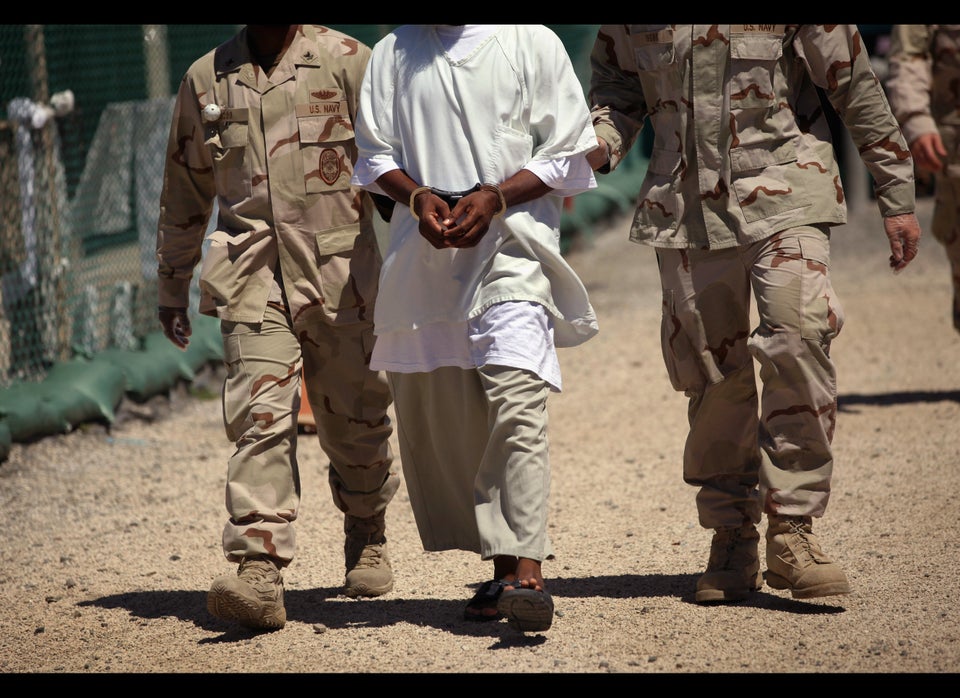 Guantanamo Bay Revelations From WikiLeaks
Popular in the Community