FORT MEADE, Md. -- Bradley Manning's crimes were so serious that he deserves to spend 60 years in prison, the government asserted during closing arguments in the sentencing phase of Manning's court martial on Monday.
While acknowledging that Manning is young and pleaded guilty to some of the charges against him, Army prosecutor Capt. Joe Morrow said Manning "betrayed" the United States and "deserves to spend the majority of his remaining life in confinement."
Defense attorney David Coombs, meanwhile, did not request a specific sentence for his client. But he argued that Manning is "a young man capable of being redeemed," and said that military judge Col. Denise Lind should offer him the opportunity to one day raise a family.
Manning, a 25-year-old Army private first class, sent 700,000 sensitive government documents to WikiLeaks. He was convicted in July on 20 counts -- including six Espionage Act violations -- that in total carry a maximum 90-year sentence. By his own decision, his court martial is being tried by a judge, rather than a panel of military officers.
Lind has wide discretion in sentencing Manning. At a minimum, though unlikely, she could allow him to go free with the three years he has already served. Military law experts told HuffPost before the trial started that they expect a sentence of at least 10 years. If Lind grants the government its request, Manning will receive a sentence far greater than some military members convicted of espionage.
Manning's supporters have argued that he was acting in the public interest to expose crimes in U.S. wars abroad, but Morrow said Monday that the Army intelligence analyst had done no such thing.
"It wasn't a greater good, it wasn't good at all, it was destructive," he said. "He disrupted ongoing military and diplomatic missions, and he endangered the well-being of innocent civilians and soldiers."
"Perhaps his biggest crime was that he cared about the loss of life that he was seeing, and couldn't ignore it, and was struggling with it," Coombs said.
Manning's lawyers have repeatedly tried to show during the sentencing phase of his trial that he never would have been deployed to Iraq if his own chain of command had not failed him by missing "red flags" for those with access to classified documents.
When Master Sgt. Paul Adkins saw Manning lying on a supply closet floor with a knife at his feet in May 2010, crying out for help, his superior officer did nothing.
"The utter failure to take action at that point is inexcusable," Coombs said.
Continuing a conciliatory, apologetic theme that has been on display throughout the defense's sentencing case, Coombs said his client was far more complex than the portrayal of him created by partisans who have used his experience for their own purposes.
"The government has labeled him as a traitor, as an insider. Others have labeled him as a hero," Coombs said. "Either one of those are overgeneralizations. They ignore who he is as a person."
Instead, Coombs said, Manning is the kind of person who even before the trial offered to plead guilty to a range of charges that could have given him a 20-year sentence.
He was the kind of person who had persevered at the Quantico brig despite nine months in solitary confinement, with several weeks of being forced to strip naked at night.
"He's resilient," Coombs said. "When others might have broken he didn't, and his resilience is something that would also make him a prime candidate to be rehabilitated."
While the government would like to see Manning "rotting in jail" long after most of the documents he leaked are declassified, Coombs instead asked for a sentence "that doesn't rob him of his youth, that gives him the opportunity ... to perhaps find love, maybe get married, maybe have children, and watch his children grow."
The government maintained that only a long sentence can stop other future leaks on a scale as massive as the one Manning assisted. The Army is an organization built on trust, Morrow said, and no one could have seen his leak coming.
"There's value in deterrence, your honor. This court must send a message to any soldier contemplating stealing classified information," Morrow said. "The Army didn't abandon Pfc. Manning, Pfc. Manning abandoned the Army. The Army didn't betray Pfc. Manning, Pfc. Manning betrayed the Army."
Jesselyn Radack, a lawyer at the non-profit Government Accountability Project who defended National Security Agency whistleblower Thomas Drake, said the government's request was "over the top and overkill."
It was a suggested sentence, she said, more befitting of "cases of murder, cannibalism, pedophilia."
David Frakt, an expert in military law, said he was not surprised by the government's request.
"The prosecution in the military case frequently argues for far more than they actually believe the person deserves or that they expect to get," Frakt said over email. "I think the prosecution will be satisfied if they get half of what they asked for."
Manning's sentence could be handed down as soon as Tuesday.
This is a developing story and has been updated.
Before You Go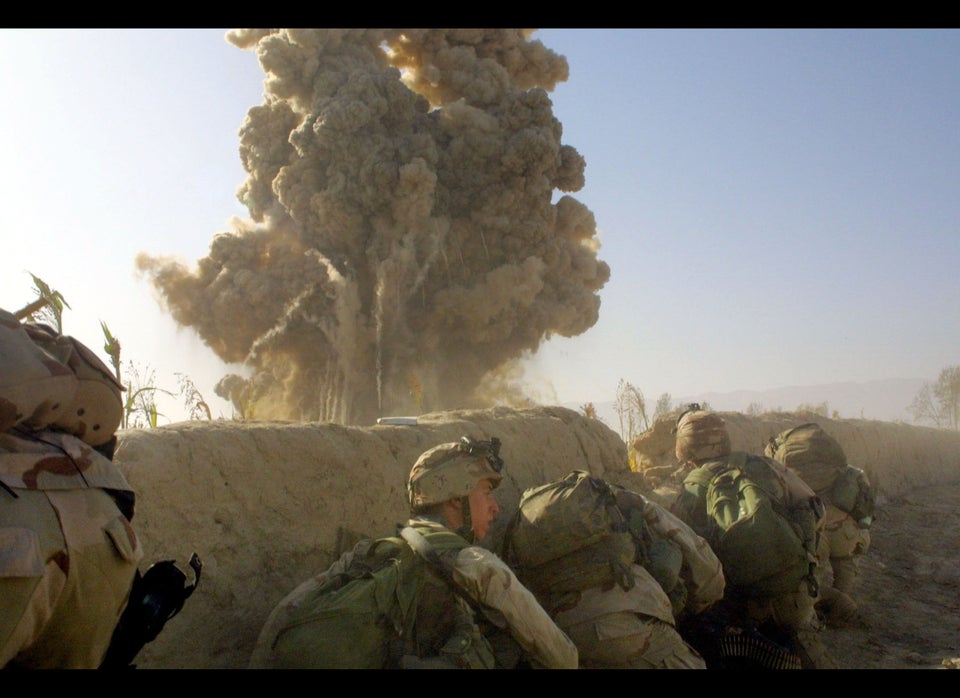 Afghanistan War, By The Numbers
Popular in the Community