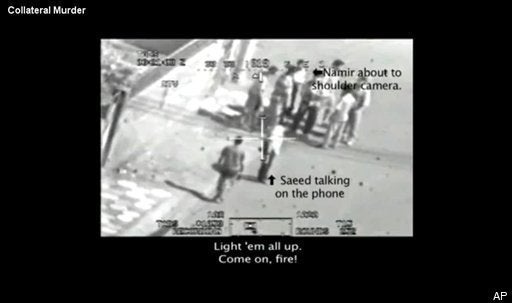 According to Wired, federal officials have arrested 22-year-old SPC Bradley Manning, an intelligence analyst with the US Army, for allegedly leaking the "Collateral Murder" Wikileaks video. The controversial video, released in April 2010, shows a 2007 Apache helicopter attack that left several noncombatants dead, including two Reuters employees and three civilians.
Manning was reportedly arrested two weeks ago at Forward Operating Base Hammer near Baghdad, by the Army's Criminal Investigation Division. "Manning was turned in late last month by a former computer hacker with whom he spoke online," Wired divulges. The hacker, Adrian Lamo, who has also contributed to Wikileaks, notified the Army when Manning claimed "he leaked a quarter-million classified embassy cables."
Manning told Lamo that he enlisted in the Army in 2007 and held a Top Secret/SCI clearance, details confirmed by his friends and family members. He claimed to have been rummaging through classified military and government networks for more than a year and said that the networks contained "incredible things, awful things ... that belonged in the public domain, and not on some server stored in a dark room in Washington DC.
"I wouldn't have done this if lives weren't in danger," Lamo told Wired. "He was in a war zone and basically trying to vacuum up as much classified information as he could, and just throwing it up into the air."
The US Army has called Wikileaks exposés "potentially actionable information" and the Pentagon labeled the organization a "national security threat."
Related
Popular in the Community