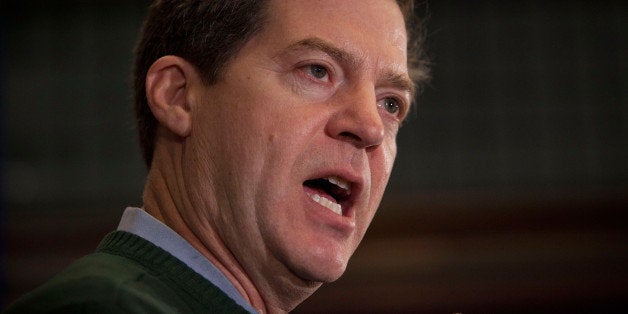 The Brady Center to Prevent Gun Violence announced Monday plans to sue the state of Kansas over the Second Amendment Protection Act, a Kansas law that exempts all state-made firearms that have not crossed state lines from all federal gun control laws.
Under the current statute, "Any act, law, treaty, order, rule or regulation of the government of the United States which violates the second amendment to the constitution of the United States is null, void and unenforceable in the state of Kansas."
The Brady Center views the law, signed by Gov. Sam Brownback (R) in April of 2013, as an unconstitutional violation of federal law that "cripples law enforcement's ability" to combat gun crimes by allowing the sale of firearms to individuals otherwise prohibited from owning them.
According to a Brady Center press release Monday:
The law allows the sale of firearms to violent domestic abusers and permits the sale of handguns to minors under the age of 21. It also allows gun manufacturers in the state to make guns without serial numbers and guns designed to avoid metal detectors. The law prohibits background checks for guns made in Kansas and the tracking of guns used in crimes. It also prevents local authorities from referring gun crimes to federal agencies.
Details of the Brady Center's impending lawsuit, which will be filed in the U.S. District Court of Kansas, will be announced in a news conference Wednesday.
Brownback responded to news of the lawsuit in a statement Monday.
"As I have said previously, the right to keep and bear arms is a right that Kansans hold dear. It is a right enshrined not only in the Second Amendment to the United States Constitution, but also protected by the Kansas Bill of Rights," Brownback said. "The Obama administration attacked this legislation when I signed it more than one year ago. It now appears that they have found some Washington DC lawyers to do their bidding. We will vigorously defend the rights of Kansans in this litigation."
A similar nullification law in Montana, the 2009 Firearms Freedom Act, was struck down in 2013 by the 9th U.S. Circuit Court of Appeals, which upheld the federal government's power to regulate interstate commerce on items such as guns.
REAL LIFE. REAL NEWS. REAL VOICES.
Help us tell more of the stories that matter from voices that too often remain unheard.
BEFORE YOU GO
PHOTO GALLERY
Obama's Executive Actions On Gun Violence