Brady Hoke has been the head football coach at the University of Michigan since 2011. In his last nine games against Power 5 schools, he has compiled an almost inconceivable 1-8 record. And over Michigan's last three games against Power 5 conference opponents this season, they have been outscored 87-24 in the process, including a brutal 30-14 drubbing at home to the lowly University of Minnesota this past Saturday. In fact, this is the first time in the 135-year history of the Michigan Wolverines that the team has recorded three losses before the end of September, according to ESPN Stats & Information.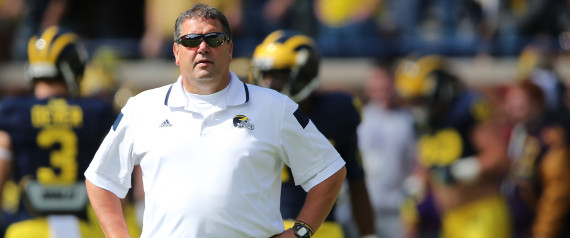 After Saturday's game, Hoke, 55, provided the normal coach-speak: "We're disappointed in how we played football today. When you look at different aspects of our game, I don't think we played as well as we can. I don't think we executed as well. That always comes back to me first as a coach."
What also comes back to a coach, however, is how he handles the health of his players. In fact, the main reason why Hoke should be fired has nothing to do with wins or losses. During Saturday's game, Wolverines quarterback Shane Morris took a brutal hit from Minnesota defensive end Theiren Cockran. It was flagged for a personal foul, although it probably should have been targeting. Morris, visibly shaken, stayed in the game for one play, then hobbled off the field. Soon after, he re-entered the game only to be carted off the field. The entire incident was a gross mismanagement of the concussion protocol that all football programs are required to enforce.
"I don't know if he had a concussion or not," Hoke later said. "Shane's a pretty competitive, tough kid. And Shane wanted to be the quarterback, and so, believe me, if he didn't want to be, he would've come to the sideline or stayed down."
To say Hoke's tenure in Ann Arbor has been a disappointment would be an understatement. Despite high-ranked recruiting classes, Hoke and his staff have been unable to develop players -- notably quarterback Devin Gardner, who has regressed from rising star to backup. During Saturday's game, the half-vacant student section started chanting "Fire Brady," to which Hoke replied: "This is a big-boy business."
Indeed it is. The issue with Morris is one that assumes far more significance. For all its faults, the NCAA has made it a priority for teams to carefully monitor players with concussion-like symptoms, both in practice and in games. Morris, even if he wasn't concussed, displayed all of the symptoms of having been. And Hoke didn't do a thing -- except to keep him in harm's way.
Email me at jordan.schultz@huffingtonpost.com or ask me questions about anything sports-related at @Schultz_Report, and follow me on Instagram @Schultz_Report. Also, be sure to catch my NBC Sports Radio show "Kup and Schultz," which airs Sunday mornings from 9 to 12 EST, right here.
REAL LIFE. REAL NEWS. REAL VOICES.
Help us tell more of the stories that matter from voices that too often remain unheard.