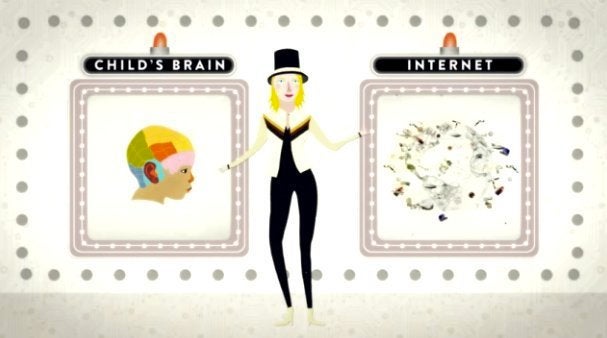 Last year, my team at the Moxie Institute and I created Let It Ripple: Mobile Films for Global Change, a cloud filmmaking series that invites people from around the world to collaboratively create short films focused on the social, cultural and political issues that connect us as humans. We create custom versions of these films and donate them to nonprofit organizations working to inspire positive change in the world.
Today, we're excited to release the third film in the series and an accompanying TED Book titled "Brain Power: From Neurons to Networks." "Brain Power" explores the connection between the developing human brain of a child and the emerging global brain of the Internet and aims to help us think about the best ways to nurture and strengthen both. This film and TED Book combine four of my greatest passions: family, filmmaking, understanding why humans do what we do, and the evolution of the Internet.
The lines included in the film and ebook are in many ways the ingredients of a rich sauce of ideas that have marinated for years, created using research from the Center on the Developing Child at Harvard University and the Institute for Learning and Brain Sciences at University of Washington, several discussions with my favorite thinkers, including Internet co-founder Vint Cerf and best-selling book authors Howard Rheingold and Steven Berlin Johnson, and my personal experiences as a mother of two -- Blooma is 3 and at the most rapid stage of brain development, and Odessa is 9, honing her higher-order thinking skills, such as planning and flexibility.
The Internet, like the developing brain of a child, is in a rapid phase of growth and change. This means that just as we must be mindful in how we nurture our children's minds, we must also pay careful attention to how we develop our global brain. Think about that ideas as you watch the Brain Power film below -- it's just 10 minutes long -- and if you'd like to learn more, download the TED Book for the Kindle, Nook or iPad at ted.com/tedbooks.
Related