This delectable dish is adapted from the cookbook, Jerusalem. The original recipe utilizes quail rather than chicken, feel free to use either according to your preference. Savory yet pleasantly sweet, with a slight hint of heat; this dish is certainly dynamic, offering a full flavor profile. Our picky eater loved this dish and asked for seconds, clearly proving this entree appeals to a wide audience.
Enjoy!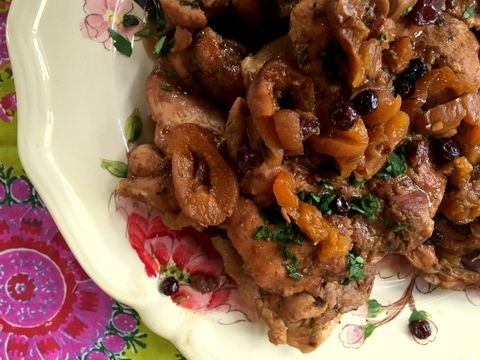 Title: Braised Chicken with Apricots, Currants & Tamarind
Author: Adapted from the cookbook Jerusalem
Prep time: 2 hours
Cook time: 35 mins
Total time: 2 hours 35 mins
Serves: 4

Ingredients
10 Chicken thighs, bone and skin removed
1 tsp chile flakes
2 tsp of cumin
1 tsp of fennel seeds, crushed
2 Tbsp of good olive oil
2½ cups of water
¼ cup white wine
⅔ cup dried apricots, sliced
2 Tbsp of currants
1½ Tbsp of superfine sugar
2 Tbsp of Tamarind paste
4 Tbsp of lemon juice
2 tsp of fresh thyme, finely chopped
salt and pepper, to taste
3 Tbsp of chopped cilantro and parsley, mixed
Instructions
Pat the chicken dry with paper towels and place in a mixing bowl. Sprinkle with chile flakes, cumin, fennel seeds, ½ tsp salt and some black pepper. Massage well with your hands, then cover and leave to marinate in the refrigerator for at least 2 hours or overnight.
Heat the oil over medium-high heat in a frying pan that is just large enough to fit the chicken snugly and for which you have a lid. Brown the birds on all sides for about 5 minutes, to get a nice gold brown color.
Remove the quail from the pan and discard most of the fat, leaving about 1½ Tbsp. Add the water, the wine, apricots, currants, sugar, tamarind, lemon juice, thyme, ½ tsp salt and some black pepper. Return the chicken to the pan. The water should come ¾ up the sides of the birds; if not, add more water. Bring to a boil, cover the pan and simmer very gently for 20-25 minutes, turning the quail over once or twice, until the birds are just cooked.
Lift the quail from the pan and onto a serving platter and keep warm. If the liquid isn't very thick, return it to medium heat and simmer for about 7 minutes longer to reduce to a thicker consistency. Spoon the sauce over the chicken and garnish with cilantro and parsley mix.