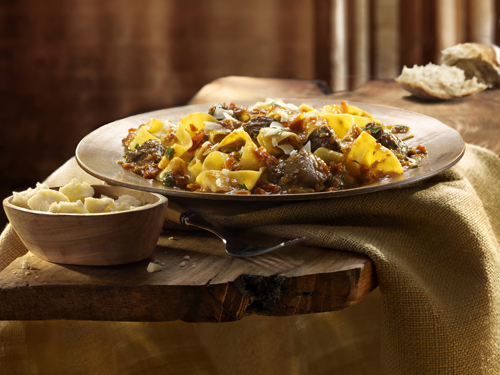 Photo by David Bishop
We often had lamb for Easter dinner growing up. Lamb seemed so special with its rich aroma. The hearty nature of lamb is well suited to the broad noodle pappardelle. Traditionally Tuscans serve pappardelle with hare, whose gaminess is also well paired with it. I use cognac to braise the lamb instead of wine for an even richer flavor. After searing the meat, a mirepoix of shallot, carrot and celery forms the basis of the sauce, lending body and sweetness.
Ingredients: Serves 4
1 lb boneless leg of lamb
2 cups cognac
7 oz. veal, beef, or lamb demi glaze, fresh or thawed frozen
½ cup carrot, ¼ inch dice
½ cup celery, ¼ inch dice
½ cup shallot, ¼ inch dice
½ cup Italian parsley, coarsely chopped
¼ cup olive oil
4 bay leaves
sea salt and freshly ground black pepper to taste
water to cover the ingredients
shaved Pecorino Romano as garnish (optional)
1 gallon water
8 oz. egg semolina pappardelle, dried
½ cup sea salt
Directions:
Trim the lamb of any sinew and cut it into 1-inch chunks
Salt and pepper the lamb on two sides
On medium high heat in a large, deep skillet with a fitted lid, sear the meat in the oil on all sides until browned
Remove the meat from the pan and set aside
Reduce the heat to medium and add the carrot, celery and shallots to the pan
Cook the mirepoix of vegetables for about 3 minutes
Add the meat back into the pan, including any settled juices, with the cognac, demi glaze and bay leaves
Cover the ingredients with water (you can use stock instead of demi glaze and leave out the water)
Bring everything to a low boil and cover the pan with the lid
Simmer gently for 50 minutes
Add in the parsley and continue cooking with the lid one for another 10 minutes
Cook the pappardelle about one minute less than the package directions, about 4 minutes
Scoop the cooked pasta into the pan of lamb ragout with about ½ cup of the pasta water
Stir and continue cooking for about another minute
Serve into individual dishes using tongs for the bulk and a spoon for saucing
Garnish with shaved Pecorino Romano if desired
Also visit my first blog at foodfloozie.com and my professional site at marilinda.com
REAL LIFE. REAL NEWS. REAL VOICES.
Help us tell more of the stories that matter from voices that too often remain unheard.