This year marks the 30th anniversary of the 51-day standoff between federal agencies and members of the Branch Davidian sect who hunkered down in their heavily armed compound, apparently convinced by leader David Koresh that the apocalypse was at their front door. The complex exploded on April 19, 1993, resulting in the deaths of 76 people, including two dozen children, bringing the incident's total death toll to 86.
This week, a pastor with the group, Charles Pace, told multiple outlets he believes that Trump's choice to rally in Waco was definitely "a statement" as the former president awaits possible criminal charges.
The Branch Davidians still exist today. They were founded as an offshoot of the Seventh-Day Adventists long before Koresh came into the picture and convinced followers he was their prophet.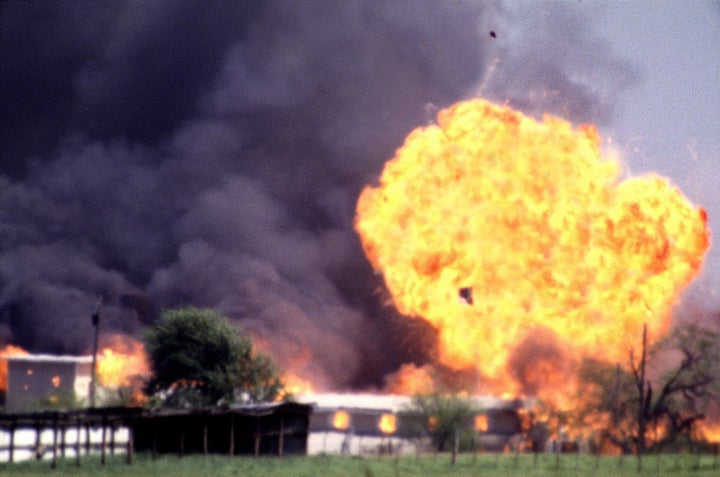 Trump is "making a statement, I believe, by coming to these stomping grounds where the government, the FBI, laid siege on this community just like they laid siege on Mar-a-Lago and went in and took his stuff. That's what they wanted to do here, they wanted to come in and take the guns and everything," Pace told Texas Tribune reporter Robert Downen.
Pace made similar comments to The New York Times, saying that the FBI was "accusing [Trump] of different things that aren't really true, just like David Koresh was accused by the FBI."
The Times noted that Pace had spoken highly of Trump in his sermons, calling him "the anointed of God."
Trump has not mentioned the events of Waco himself; a spokesman told multiple news outlets that the city was simply "centrally located to all four of Texas' biggest metropolitan areas."
"He's not coming right out and saying, 'I'm doing it because I want you to know what happened there was wrong,' but he implies it," Pace said of Trump.
Manhattan District Attorney Alvin Bragg is widely reported to be considering criminal charges against Trump having to do with the hush-money payments made to an adult film star in the run-up to the 2016 presidential election. Other investigations — including a federal probe into his handling of classified government documents that precipitated the raid at Mar-a-Lago — are also still pending.
Trump recently declared his arrest was imminent and railed against law enforcement on Truth Social, his social media platform, warning Friday that his arrest would bring "potential death and destruction." Previously, he called on supporters to "PROTEST, TAKE OUR NATION BACK!"
Anti-government extremists were immediately drawn to Waco at the time of the standoff. Timothy McVeigh went to watch the events unfold and later chose April 19, 1995, to carry out his deadly Oklahoma City bombing.
On the far-right, particularly among opponents of gun control, the incident is still viewed as a prime example of government overreach, starting with the Feb. 28, 1993, execution of a search warrant by ATF agents who suspected the Branch Davidians of illegally modifying a huge cache of high-powered weaponry.
Mary Trump, the former president's niece, tweeted Friday that her uncle's choice of the venue was "a ploy."
She added, "He wants the same violent chaos to rescue him from justice."
Popular in the Community