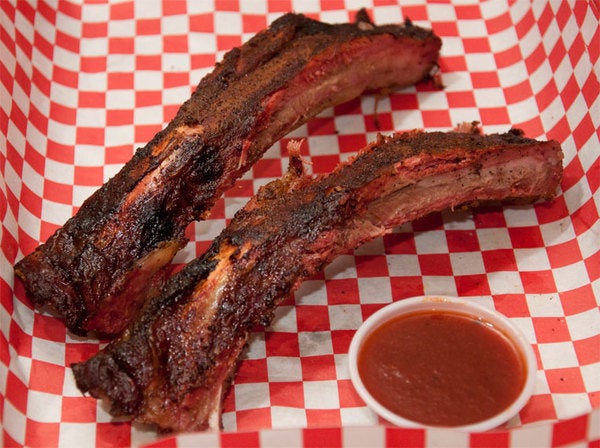 I knew I had got myself into the right job when our company dinners started happening at BYOB restaurants. The first was Tango Sur, where our collection of red wines and artisan beers overloaded the tiny candlelit tables and my boss, having just stopped at the liquor store, said, "You wanted one bottle of wine per person, right?" Was he kidding? Because if so, he clearly doesn't read this blog.
Then there was Belly Shack, which my fellow blogger Ben reviewed last year, and this November we ventured to Brand BBQ in Logan Square.
First, I'll squeeze in a shout-out to our pre-meal cocktail hour location, gin-centric Scofflaw (3201 W. Armitage Ave.), if by some miracle you have not read about it yet. The cocktails are well crafted and reasonably priced, but let's get to the good stuff because ohmygod you must get the fries there. Plus, they serve free, freshly baked chocolate chip cookies at midnight, so what's not to love?
Back to the main event. We arrived around 8 p.m. on a chilly Tuesday evening, so there were few other patrons at the restaurant -- that's not usually the case, since the place appears to have a cult following of BBQ lovers. (My Kansas-born-and-raised coworker suggested that we dine here, and that guy smokes meat on his back balcony, so he's an authoritative source.)
The seating area was casual and felt minimalist, despite the rustic wall lamps and chalkboard squares on the wall advertising elaborate staff menu recommendations/creations. In a word, the décor felt confused -- a jumble of styles that sort of meshed together, but not really.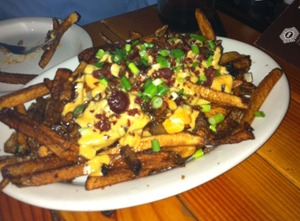 Our party of about 15 was easily accommodated by pushing together several tables, which are conveniently imbedded with holes to hold a variety of BBQ sauces. "Brandy cherry" was my favorite -- the sweetness and tanginess enlivened lackluster chicken wings, and it helped to dampen the taste of fat from the mountain of fries I was about to consume.
The Brand Fries, without a doubt, elicited the most positive reactions from my coworkers. They are well-fried and drenched in a horseradish cheddar sauce and topped with green onions and something called "burnt ends."
At this point, I should probably admit that I'm not a BBQ expert, or even a huge BBQ fan. If I'm going to eat any kind of BBQ, I prefer to have marinated raw meat cooked in front of me by a standoffish Korean woman as I inhale the carcinogenic fumes of a table grill. But at a restaurant where "Turducken Tuesdays" are a real thing, it's clear that nontraditional and especially decadent BBQ items are their focus.
With that said, Brand's burnt ends were crispy, smoky and delicious, and I desperately wanted them on my main course.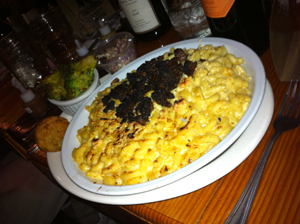 That's when coworker M and I decided to order two entrees and split them, in order to get a more varied dining experience. Oh, we were young and naïve then. We thought that a Brand burger and Burnt Ends Mac and Cheese, when split appropriately, would feed the two of us, the smallest and youngest women in the office. Little did we know that the mac and cheese entrée was designed to feed an entire professional football team, plus their coaching staff. Plus the cheerleaders, depending on which team we're talking about.
The next morning, coworker T (the office Grinch) would admit that his favorite part of the night was watching M and I struggle with the extravagant, Hogwarts-Yule-Ball-style feast that was laid before us, presumably by a small army of BBQ house elves trained to magically inject extra fat into cheese sauce. Don't get me wrong, this is a good thing -- in terms of taste, and the mac and cheese is really to-die-for. Seriously, I'll have to double-check the status of my arteries at my next doctor appointment. But the amount of food was intimidating, to say the least.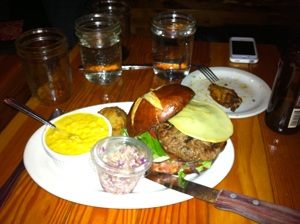 The Brand staff did a great job of serving a large and rowdy party that was consuming untold amounts of beer and wine. After a few heady drinks at Scofflaw, I stuck to beer -- Breckenridge Vanilla Porter, to be exact - and managed to leave with my dignity intact. Granted, the restaurant was virtually empty by the end of the meal, and I think the server was amused by our increasingly over-friendly group that night.
The burger, with its multitude of topping options, was good but not great. For me, the star of the night was the creamed corn. I'm 100 percent serious. I queried my Kansan coworker about which side dish was best, and he said, "Well if you like garlic..." to which I immediately responded, "Yes." A hearty portion came with our burger, and I consumed around 90 percent of it (sorry I'm not sorry, M). The dish was at just the right consistency between mushy and individual-kernel-y, and there must have been a whole bulb of garlic in there. Yum. Good thing I wasn't on a date.
TL;DR: Brand gets creative with its BBQ and the results are pretty great, albeit extremely rich. You must get the creamed corn as a side, and if you go for mac and cheese, bring a friend or three.
Food: 3.5/5





Atmosphere: 3/5





Friendliness to Partiers: 4/5





Price: Brand Fries, $7.25; Burnt Ends Mac and Cheese, $12.95; Ribs & Chicken Combo, $20.95
Brand BBQ
2824 W. Armitage Ave.
Armitage and California -- walkable from California Blue line stop
www.brandbbq.com
Calling all HuffPost superfans!
Sign up for membership to become a founding member and help shape HuffPost's next chapter