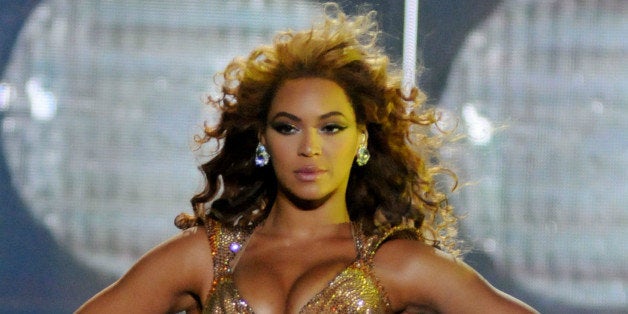 When it comes to starting a frenzy, nobody does it like Beyoncé, and with new album Lemonade she's more than done it again.
Much has been written about the album launch, and the image she is portraying in this career era. High praise for how she is channelling and championing black womanhood contrasted with cynical criticism of how she may be using that movement for personal gain over the greater good. Both arguments have probable levels of validity - although the less said about that Piers Morgan article the better - but putting aside her personal agenda, when it comes to building a brand and connecting with audiences, Queen Bey is, well, the queen.
Good Christian Girl
In the late 90's, Destiny's Child were pretty, wholesome young girls. In clothes made by Beyoncé's mother, they were good Christian girls with just enough bite to make them interesting. They had none of the threat of hip-hop, but just the right lyrical hooks to grab some of that audience while their pop songs gave them mainstream appeal without scaring parents of teen fans. While Beyoncé was always joined by other girls, there was no mistake this was her band and her brand, with her father driving the bus. We'll call this the brand launch phase.
Girl power
As Destiny's Child popularity grew, other elements joined the band (as did a string of new band members). Girl Power crept in, but with none of the Spice Girls brashness, as songs like Survivor and especially Independent Women, Pt.1 adding a slick layer of female empowerment to the band. On top of empowerment, this phase, call it the early years, added layers of sisterhood. Despite several girls being ditched in an effort to build the perfect line up to support Beyoncé, songs like Girl spoke loudly of women standing by their own. Whether these sentiments were authentic or not isn't that important, ultimately what it did was ensure the brand they were building continued to keep the interest of female fans. Rule 101 in girl pop, look incredible but don't alienate regular female listeners - tick.
Hip hop cred
As Beyoncé moved into solo stardom, new brand identities were added. Her first cut on her own was with her now-husband Jay-Z. Put their relationship aside, this was a master stroke of brand partnering. It credibly positioned Beyoncé within the hip hop sphere and with one of the genre's icons no less. It was a move that started with later Destiny's Child songs - Soldier, for example - but as a solo star Bey kicked the hip hop appeal up a gear, a smart move for a middle-class woman from Texas.
Early solo Beyoncé continued with pop gems, including the now timeless Crazy in Love, but she was clearly growing with her audience. There was an increased sophistication to her sound, and long gone were the Tina Knowles creations as her look became that of a mainstream star. Phase three was all about building superstar creds.
Here come the gays
By now the RnB styling was there, the pop appeal was there, the long term fans were still there, and the hip hop community wasn't scoffing. Now it was time for the gays. If anyone can take a pop star from popular to megastar, it's the adoration of the gay community. Enter Sasha Fierce. With a drag persona, the gay anthem sounds of songs like Single Ladies, along with Gaga collaborations, the I Am...Sasha Fierce album was all about courting the gays. The result? Gay men ate out of her hand despite her showing very little in the way of support for that community, presumably not an unconscious decision at a political period where just about every other star was immediate to shout support and every other song was a thinly veiled anthem for gay kids (think Firework, We R Who We R, Born This Way). Beyoncé needed to court the gay audience without isolating sections of her fans who like her hip-hop connection and style, and again Brand Beyoncé nailed it. Of course, the earlier acting turn in Dreamgirls didn't hurt.
Critics' darling
By the late 00's, Beyoncé was the biggest star on the planet, and for a while the brand stayed more or less unchanged. Girls (Who Run the World), was another gay-friendly female empowerment anthem, Love on Top was pop gold, while Party had slow grind hip hop sounds. Add some more collaborations with the likes of Jay-Z, Nicki Minaj and Kanye and yep, she had this brand game locked down.
Just as we all got comfortable, she drops a surprise album, or 'does a Beyoncé' as it now known, sparking an insane amount of attention and changing the way music campaigns happen. That was a solid gold way of showing just how powerful her brand is, sure, but more interesting was the change in sound. Gone were the big pop bangers and instant hooks, this sound was daring and defined. A new audience of music critics were being sought out, and to varying degrees they paid attention.
Political powerhouse
So how does the launch of Lemonade fit into this ecosystem of diverse fan groups and clear brand values? That is where the positioning is interesting, on the surface it's a shift but in reality, it doesn't take Beyoncé anywhere dangerous. The political aesthetic and musings of Lemonade and the lead single Formation may seem daring but really, who is she alienating? Middle aged white men are not her demographic. The gay community is largely left-leaning and hugely sympathetic to civil rights movements, let's face it they know what being a victim feels like. The song still has moments of girl power "come on ladies now let's get in formation" while the album has songs dedicated to being a strong woman who accepts nothing from her man, and the rhetoric of police brutality and bias has long been a hip hop staple. What looks like a radical and divisive political statement actually has the potential not to put fans off, but bring each group closer. Album six and nearly 20 years in, this statement brings her heightened levels of attention while the political nature gives fans something to rally behind as Beyoncé takes charge as their leader.
When it comes to branding, nobody has spent more time building their audience, or more time understanding them and creating a product to match. There is none of the seeming desperation of Lady Gaga or the overt reinvention of Madonna. Beyoncé's mission has been nuanced and subtle and as a result, she's at the top. While giving nothing much away, her fans feel they know her and the adoration is unrivalled. Whether it's manipulation or clever marketing is for you to decide, but in terms of building a star, well done Team Beyoncé, you smashed that.
Calling all HuffPost superfans!
Sign up for membership to become a founding member and help shape HuffPost's next chapter