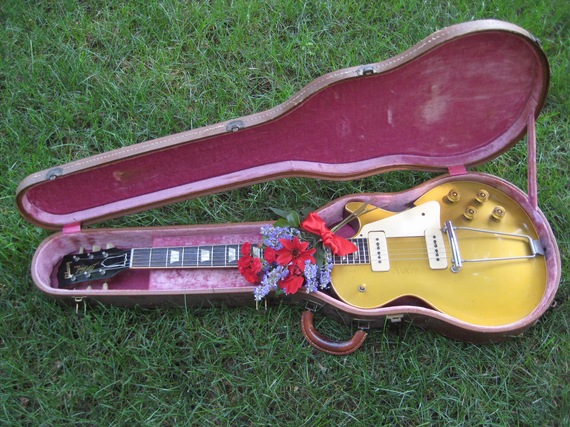 Seven years ago today, Les Paul, the legendary guitarist, inventor, and original "techie" died and was mourned by millions of fans worldwide. Even into his nineties, he continued to play in a small club in New York City simply for his love of entertaining. The day after he died I wrote an article about his many achievements for Fast Company Magazine.
http://www.fastcompany.com/1330945/les-paul-guitar-logo-legend
Here was a man who was the true embodiment of an "iconic" brand, so much so that the Gibson Guitar Company has been honoring his legacy by continually producing the Les Paul Guitar since 1952. It remains a best seller among guitarists, both young and old. Remarkably, this classic example of American industrial design has gone virtually unchanged for nearly sixty-five years. How can the lessons of the Les Paul Guitar brand inform companies today? What are some of the key factors to this enduring record?
We're in an age where a startup brand can reach "iconic" status seemingly over night. A year ago, a given brand may not have even existed then suddenly they're in the news everyday as part of the 24-hour news cycle through every media channel. They have the money and they want to build a "tribe" of loyalists as quickly as possible. I understand the strategy: get to market fast, stir, taste, test, measure, and adjust to get to 2.0. Then repeat as necessary. This is the way the world is and there is no turning back.
The appetite for risk has certainly changed since Les Paul was tinkering on his workbench crafting the first solid body guitar. There were no "eager investors" staring over his shoulder as he experimented with the nascent technology of multi-track recording.
One lesson to consider is that he was one with his product. It had his name on it and he showed people what it could do through his popular recordings and even a television show. It was a masterful direct to consumer strategy. But most of all he was a virtuoso guitarist that demonstrated the creative potential of his creation. Customers aspired to play like Les. They believed in the brand.
There are mirrors of this model at companies like Amazon, Google, and Tesla. Charismatic leaders are out in front, in the press, in control of the brand destiny. They do what Les Paul did using all of the power of technology to "embody" their brands. They do it well and on a massive scale.
However, I haven't seen Jeff Bezos delivering a package to my door or Eric Schmidt showing me how to get the best out of Google Docs or Elon Musk behind the wheel of a self-driving car. It also begs the question: will any of these leaders be standing firmly behind these brands fifty or sixty years from now? Their continued success is tied to continued innovation and producing exciting new products year after year. The brand's future will depend on a next-generation vision to meet this ambitious goal.
Les Paul's genius was twofold. He was an artist first, a businessman second. Surely it was the art that helped sustain his long and illustrious career. It's a lucky break for Gibson Guitars because the legacy of symbiosis between Les Paul and his invention will continue well into the future even though he is no longer with us. The emotional bond that their loyal customers have with the product is so deep and lasting that vintage Les Paul Guitars from the '50's command prices in the tens of thousands of dollars. AND, they remain beautiful instruments to play. Sorry, but I can't say the same thing about the first iPod I bought. It's sitting on my shelf looking old and dusty.
Okay, I confess, I'm a guitarist myself, and I've owned a Les Paul or two. But I've also been in the branding business for forty years and specialize working with enduring brands. The best ones never let down their guard, never compromise quality for short-term profit, and never forget that brand loyalty is earned, never assumed. I'm convinced that leading brands today get this. It's a strategic imperative.
It's arguable that building an "immortal brand" might be easier in the arts, products, and gaming where what is purchased is beloved for the way it makes you feel. As products become increasingly virtual and less tangible I'll be curious to see if what Les Paul did for his seminal guitar can be recreated again with such long-lasting success.
Photo: A 1952 Gibson Les Paul "Gold Top" photographed on the day he died, August 12, 2009. Photo Credit: Ken Carbone
Related
Popular in the Community