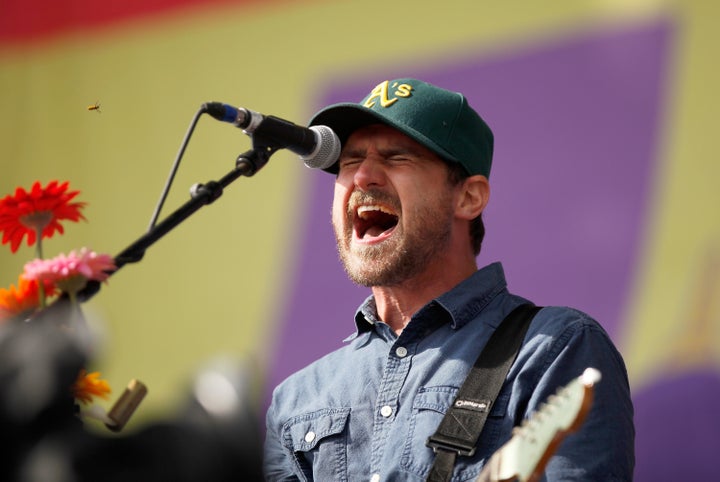 Brand New is pulling the plug on three upcoming shows in the U.K. and Ireland following sexual misconduct accusations against frontman Jesse Lacey.
The band announced it was "postponing" the shows just days after Lacey issued a lengthy yet vague apology following accusations that he engaged in sexual activity with minors when he was in 20s.
″The actions of my past have caused pain and harm to a number of people, and I want to say that I am absolutely sorry," Lacey wrote. "I was selfish, narcissistic, and insensitive in my past, and there are a number of people who have had to shoulder the burden of my failures."
Lacey revealed he had undergone treatment for what he described as a "dependent and addictive relationship with sex," but failed to directly address allegations of inappropriate relationships with minors.
"I have been unfaithful in many, if not most of my relationships, including the relationship with my wife," Lacey wrote. "I am sorry for how I have hurt people, mistreated them, lied, and cheated. I am sorry for ignoring the way in which my position, status, and power as a member of a band affected the way people viewed me or their approach to their interactions with me."
The allegations against Lacey followed a Facebook post this month by Brian Diaz, a former guitar technician for Brand New, in which he called for victims to come forward. The post, since deleted or made private, came amid a wave of sexual harassment and assault accusations against film producer Harvey Weinstein and other entertainment, media and political personalities.
"So while we are on the topic of outing famous and semi-famous creeps, anyone want to speak up about Jesse Lacey from Brand New?" Diaz wrote in the post.
Several women responded, including Nicole Elizabeth Garey, who accused Lacey of asking her to send him nude photos of her when she was 15 and he was 24. She also said he forced her to watch him masturbate over Skype.
Lacey "made it clear that my sexuality was the only thing I had to offer," Garey alleged. "It fucked me up to the point that I STILL have nightmares and wakeup in a sweat."
Another woman accused Lacey of manipulating her for more than a decade, starting when she was 14. She alleged the musician bought her underwear, plane tickets and hotel rooms in exchange for "expectations."
"I don't care that you've gone to therapy and you have a family," the woman wrote in a comment on Lacey's Facebook post. "I care that you ruined my adolescence ... with your money and fame."
Another woman wrote in a blog post that Lacey began manipulating her when she was 17. Others tweeted about encounters with the musician.
A representative for Brand New did not immediately return HuffPost's request for comment.
Indie punk band Martha announced Saturday that the group was dropping out as opening act for two of the now canceled Brand New shows in the U.K.
On Sunday, folk rock musician Kevin Devine tweeted that he, too, had canceled upcoming shows with Brand New.
"We all need to do a lot better, myself very much included," Devine wrote Saturday on Facebook, adding that he hoped Lacey continued to do what was needed for him to "be better."
Read Lacey's full statement below.
This article has been updated to note the cancelation of Brand New's tour dates.
Popular in the Community