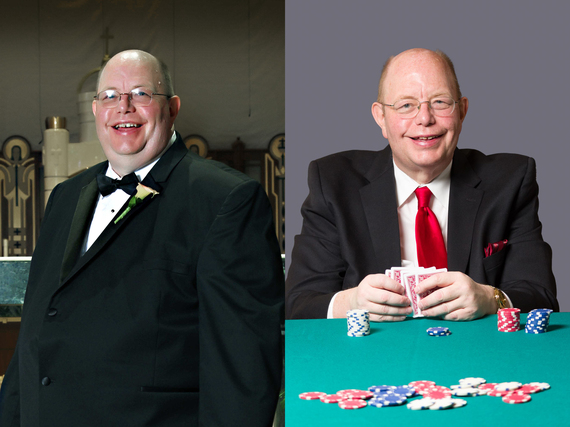 This is a section from the Don McNay Reality Show section of Brand New Man, written on December 4, 2016, three days after gastric sleeve weight loss surgery. This gives a glimpse of what that experience is like:
Things have gone incredibly well. Beyond my wildest dreams. It's hard to believe I had major surgery three days ago.
Dr. Derek Weiss had me in for surgery at 8 a.m. and I was out by Tuesday afternoon. My daughter Angela Luhys took charge of being my patient advocate in a style that you would fully expect from her, and my other daughter Gena Bigler, in similar style, took the afternoon shift. My son-in-law Clay Bigler came on Tuesday to find there was little to do, as I was intent on proving that I was well and ready to check out.
I took the Dec. 1 appointment for surgery day knowing that my wife Karen had an important meeting in Washington, and Dr. Derek Weiss insisted that she keep her trip. He predicted I could call her that afternoon and tell her I was doing fine. He was totally correct. If not, Karen would have killed him and come back to kill what was left of me. Now she wants to hug him. She has an excellent chance that her husband will live to an old age.
The nursing staff at Georgetown Hospital was first-rate, and I highly recommend them. They have the bariatric unit attached to ICU, but it's an ICU with large private rooms so I got a ton of attention and the nurses were never more than 30 seconds away. It was quiet when I wanted it quiet, and people were there when I needed them.
The nurses reminded me of my late mother and her friends that worked in the operating room. They were older and had tons of life experience to go with their years of nursing experience. Most, like my mom, went into nursing as a second career. The director at the Georgetown Hospital came to visit and gave me permission to write about them if I wish. Since she knows it will be a total puff piece, I don't blame her.
My regular physician, Dr. Phil Hoffman, and my other regular physician, Dr. Jim Roach in Midway, called or emailed every day, and they talked to Derek on a regular basis. I am "doctored up" pretty well, and Phil and Jim are important players in how I am revamping my life from here on out.
I am an anti-authority guy, but this is a case where I follow exactly what Derek tells me to do. I trust him and his decisions. I walk multiple times a day (usually up and back the halls of my condo) and do a number of breathing exercises each day. He has me wearing calf massagers to avoid possible blood clots, and I keep them on often and sleep with them. My children know that I don't like a lot of company when I am recovering, but they all check in and are only five minutes away. I've wound up doing some work from home, but starting to realize that could be counterproductive and will stay off work again for the immediate future. Hard for me to shut it down, but I am finding that the quiet and solitude helps me recover more quickly. Also, the office seems to be running better without me.
I have been able to drink protein shakes and clear fluids since day one, but it takes me four hours to drink an 11 oz. protein shake so I only get three a day in. That gives me 105 grams of protein and about 550 calories. I learned to drink water from a sippy cup and that is working well.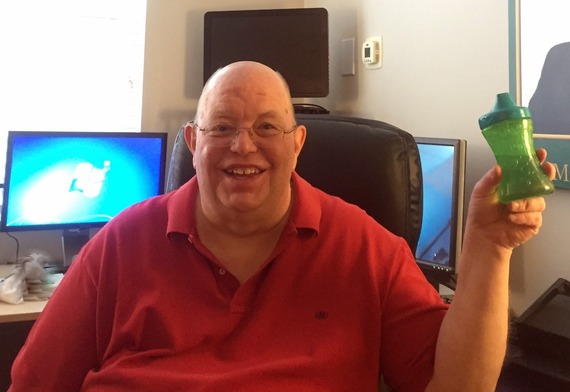 The late famous Louisville attorney Frank Haddad once told me how he had two surgeries. The first time he had a slow recovery, and the second time he trained like a heavyweight boxer and recovery was quick. I followed his lead. Dr. Weiss told me that surgeons worry about an enlarged liver, but mine was absolutely tiny and made the surgery go easier.
I weighed 377 on Aug. 28 when I committed to the program. I got to 355 on the day of surgery. I weigh 346 four days later and should lose about 20 a month for the next several months.
I've taken about a billion tests before and after the surgery, and all look good. I test my blood pressure, temperature and blood sugar multiple times a day at home. All have been excellent. I dropped one of my blood sugar medicines before going into surgery, but blood sugar continues to drop and remains in the normal range. Hoping to drop the other medicine when we follow up on Dec. 10 and eventually get rid of the blood pressure meds or at least start cutting them back. I am taking Lortab for pain, but I keep cutting back the dosage and hope to be off of those by next week. I can't drive until I get off the pain meds, and I really don't want to push it and do something like get pneumonia. I've only had one other surgery in my adult life, and the pain level is about 1000 percent better this time around.
One side effect is that the combination of pain medicine and decrease in water makes me cottonmouthed after about 10 minutes of conversation. My conversations are a lot shorter these days. That will slow up as I drop the medicines. I'm dying to get back on the phone, but I have limited it to family in the near run.
I put a number of organizational structures into my personal and business lives to make this possible, so a lot of what is happening now is going on "autopilot." I had anticipated most of the potential adjusting to life without 80 percent of my stomach. Since I have been so public about this, a lot of people offer "advice," but most are based on experiences with the gastric bypass or the lap band, not the gastric sleeve, which has only been used in the United States for the past five years or so. Few people know about those, and I hope it works as well for others as it has for me. I've read nearly every book on the market about the sleeve. If I continue as I have, I may offer to star in advertisements for them.
Paying for this myself has made me a very conscious health care consumer. It cost $8,500 for the hospital, and the doctor was $5,500. There are people flying to Mexico and other countries to have weight loss surgery who pay more than that. The BLIS insurance was a little more than $1,600.
I suspect that someone with health insurance coverage would pay substantially higher, but I worked with everyone on discounts and was really diligent with my money. I would ask the cost of every test and procedure and why the test was necessary. One was quoted at $5,000 and after I said it was too much, they gave it to me for free.
I never paid attention to the cost of health care services when it was on someone else's dime, but this has been a good lesson overall.
I had put the money away for the surgery, but wound up using my American Express card to pay for it all and now I'm paying it off. The points will allow me to be a Medallion flyer on Delta for another year. I've needed to fly in a first-class seat for the past few years as I did not fit in coach. I look forward to the day when I can comfortably fly in coach without a seat belt extender, but nice to know that I will normally still be in first-class anyway.
A note on why I now am carrying a sippy cup. One thing I have run into is I have to learn how to sip all fluids, like drinking fine Kentucky bourbon, instead of my lifetime habit of gulping it down. I fell into the old habit and found buying some sippy cups, like the ones my grandchildren have used, does the trick. I am going to patent my own model of sippy cup as a medical device. We took a picture earlier today with my new "invention."
For a man whose biggest fear has been surgery and hospitals, I am off to a very good start.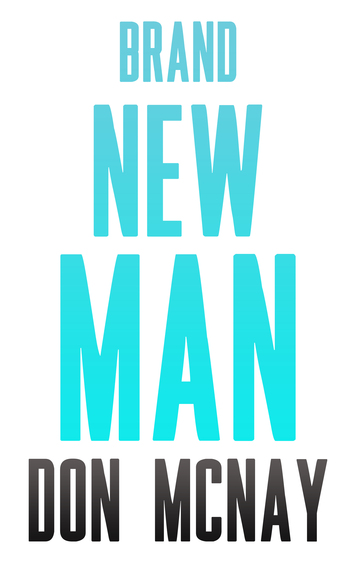 Don McNay, CLU, ChFC, MSFS, CSSC, is a best-selling author and former syndicated columnist who lives in Lexington, Kentucky. He is the founder of McNay Settlement Group and is a structured settlement and financial consultant who serves as an expert in legal proceedings. His latest book, Brand New Man: My Weight Loss Journey, is being published by RRP International Publishing and will be available on February 27. You can read more about McNay at www.donmcnay.com