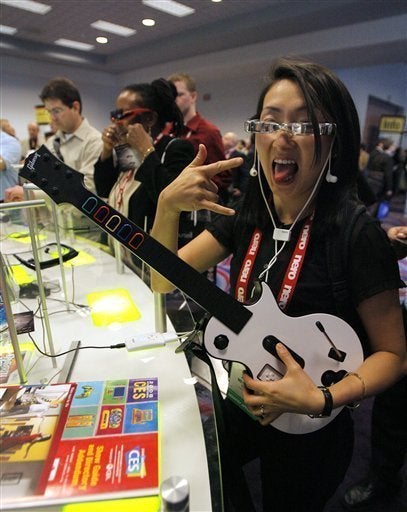 I just got to attend the midnight launch of the Nintendo DSi at Universal City Walk in Los Angeles on April 4-5 and I got all the info on the new system. For any of you non-gamers out there, the original DS is the hand-held video game system that your kid is playing with right this very moment. Nintendo has been working pretty hard to reach out to people who don't normally like gaming, with their Lisa Kudrow and Beyonce ads for the DS and the Wii Fit. Every girl I know has one and they all used to look at me strangely every time I said I was a gamer. The DS games are totally addictive. And hey, if you think you look silly playing video games, you can tell your friends you bought it for the Sudoku.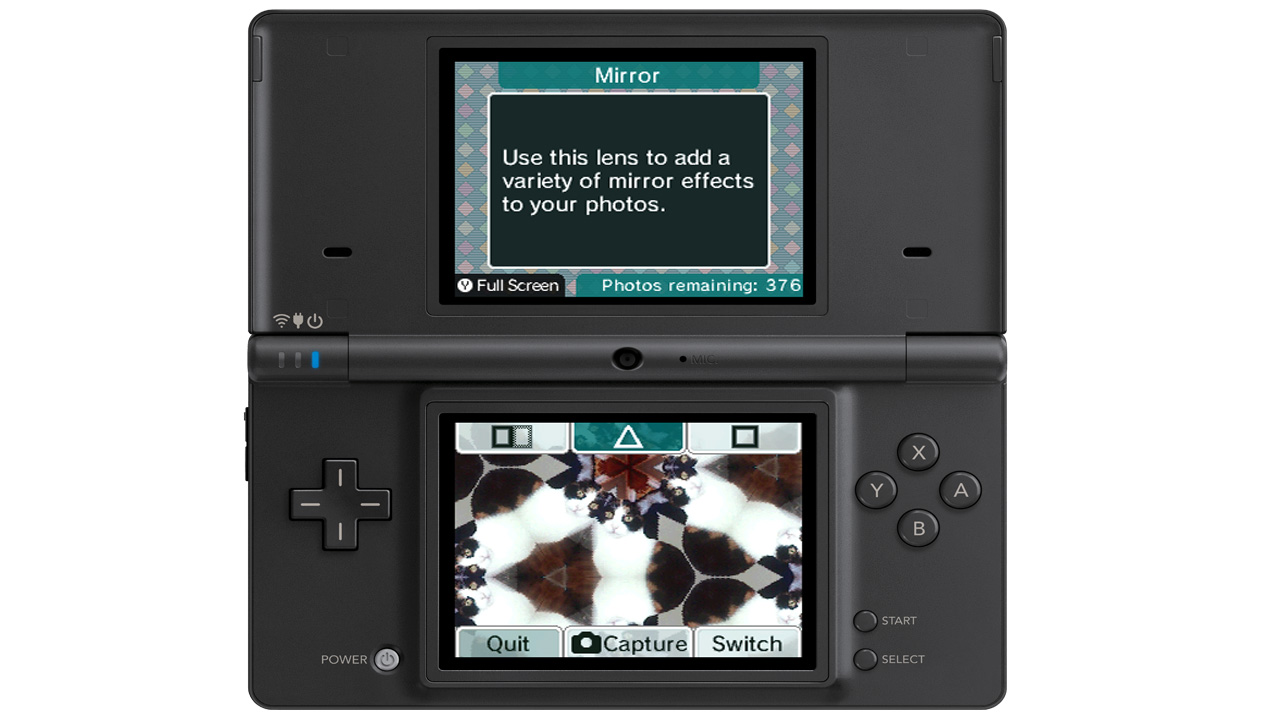 The event was packed solid, with experts all around the plaza giving out free headsets and styluses (I'm a big fan of free stuff) and showing passers-by the new system. I managed to get a moment with marketing support supervisor JC Rodrigo, and I even managed to hear what he said over the screaming crowds and the live performance by Gym Class Heroes. Ask your kids. They'll know who that is.
The Nintendo DSi, as the next generation of the franchise, has some brand-new features. It has two cameras, one inside the unit and one on the front. During our hands-on demonstration, gaming expert Jessica Villareal showed us some of the things you can do with the camera. She took a picture of the two of us, and clicked a button that compared our faces and told us how likely we are to be related. (22 percent chance, if you're curious.) She also merged our faces, joking that in the highly unlikely event that we had kids, here was a preview of what they would look like. You can edit photos, add graphics like hearts and paw prints and share pics wirelessly, DSi to DSi, and print them out. There is also a calendar feature to keep track of your masterpieces.
Another new feature is the DSi sound application. You can play AAC audio files (but not MP3s, though as Rodrigo pointed out to us, iTunes has an option for multiple types of files when you download from them, so you can still get your music there). You can also play and manipulate AAC audio files accessed from an SD card, by changing the pitch or playback speed. Rodrigo told us that he has a 40 minute drive to work but listens to an hour long podcast, so he just plays it at double speed. Now that is a practical application, and I envy him his short commute.
The DSi has the ability to connect to the Internet if you have access to a wireless connection, which is important because you can access the DSi shop. Similar to the shop on the Wii, you can download new games, some free and some for a price, and get information about upcoming DSi content. Rodrigo told us that customers who go to the DSi shop before October 5th, 2009 will receive 1000 free DSi points. (Again with the free stuff...I'll be on in the morning.) The unit is a bit longer and thinner than the DS Lite, and is more of a matte finish to prevent fingerprints (pesky things) and is available in blue or black, though when pressed, Rodrigo indicated that new colors are a possibility in the future. As a proud owner of a very fancy red DS, I'm keeping my fingers crossed.
Another new feature is a change to the power button. In the last generation, there was a power switch on the side that players tended to bump, shutting the system off during game play, something I used to do all the time. Now there is a power button inside the unit that is easier to avoid hitting accidentally. It also functions as a soft reset, taking you back to the main menu. The front slot for Game Boy Advance cartridges has been removed so backwards compatibility has disappeared, as well as the ability to play games like Guitar Hero: On Tour and Guitar Hero: On Tour Decades, though Rodrigo said both systems would continue to exist side by side. He said you shouldn't worry about Nintendo abandoning the original DS (for those of us who had the Dreamcast, this was a real fear) and no longer making games for it. I asked Rodrigo if there were any plans for a DSi version of Guitar Hero, but he said he wasn't quite sure. Keeping my fingers crossed for that one. I probably have permanent wrist damage from over playing Guitar Hero, but I'm totally addicted.
The games available at the launch of the DSi shop are WarioWare: Snapped!, which uses the new camera; Bird & Beans, where you have an elastic-tongued bird who licks falling beans out of the air; Brain Age Express: Math; Master of Illusion Express: Funny Face, which uses the system as a prop in a card trick; and Art Style: AQUIA, an underwater puzzle game. If you've never played a Wario game, be prepared. You feel like you might have accidentally taken a hallucination afterwards. And Bird & Beans? Remember Tetris? I might never leave my house again.
The Nintendo DSi is available now and retails for an MSRP of $169.99.
REAL LIFE. REAL NEWS. REAL VOICES.
Help us tell more of the stories that matter from voices that too often remain unheard.