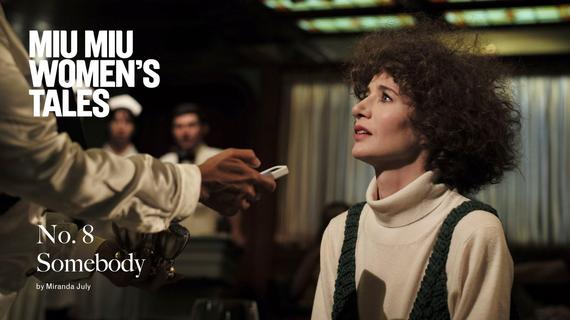 Artist and brand collaborations are a tricky business. Sometimes the brand wants its name and logo all over the project, which can make the artist feel her work is compromised and sometimes, the brand is afraid that its core users won't "get" an artistic endeavor or that the work might be controversial.
But I've always believed that aside from just a mere sponsor logo, or an all-out brand takeover, brands can have incredibly meaningful collaborations with artists that offer their community (you may know them as consumers) a valuable experience and point of connection.
But, in order to have a successful collaboration, a brand has to choose an artist it connects with and let go of its fear of failure or criticism, allowing the artist to do her work, un-compromised. The artist has to appreciate that without the brand's support--both financial and social--her work may never have come to life and consider the brand not just as the wallet, but as an investor and a partner.
A recent collaboration between fashion house, Miu Miu, and artist, Miranda July was the perfect embodiment of how to execute a spectacular artist/brand partnership and why it's important to do so.
Miu Miu has a spectacular video series, Miu Miu Women's Tales, in which they commission women directors to tell the story of women. So far they've released 8 short films (including July's--scroll down to watch), all featuring women, in different states of being, often wearing Miu Miu clothes, but the films remain the pure vision and story of the directors and not the brand. Some are more experimental, others are narrative, all are stunning and capture the beauty and the strength of their subjects.
But, the most recent collaboration with July went beyond film and was centered around an App called Somebody, which was created by the artist and allows users to send a message to a friend and have it delivered, in person by a stranger who is geographically near the recipient.
The app launched at the Venice Film Festival in conjunction with July's short film and includes institutional partners around the world, including LACMA, The New Museum, Yerba Buena Center for the Arts, The Walker Art Center, Museo Jumex and others.
I should disclose that being on July's mailing list, I was one of the first handfuls of people to download and use the app, zealously running all over Brooklyn and Manhattan to act out and deliver messages to strangers. The experience was exhilarating. I had to find a person I'd never met and give them a message from a friend, often far away. It was a whole new way of communication and connection.
One of the most interesting parts of the experience was that, for days, I didn't know the app was sponsored by Miu Miu. There is no Miu Miu branding within the app or on the project's website. Just three discrete mentions of the brand including "The project was created with support from Miu Miu, along with a companion film--part of Miu Miu's Women's Tales series." As for Miu Miu, they've supported the project with a number of digital media buys, including a banner on The New York Times, which clicked through to a sponsored post about the project.
The beauty of a brand confident enough to bring a project of this scale to life and then step back and let it live for what it is made me love Miu Miu even more than I did before. In fact, the last few days I've been scouring my favorite shops for a new pair of Miu Miu shoes. I am willing to drop some serious cash--money that my credit card company will happily add to the tab--because the fact that this brand brought to life such a beautiful project and didn't have to shout about it, meant so much (side note, I also have a shopping problem, but you know what I mean).
Additionally I want to applaud Miu Miu for giving such diverse directors (Palestinian, Italian, American, Iranian, Korean etc.) a voice and a platform to tell the story of women, as we see ourselves, not as victims, but as complex beings.
Aa artist and brand collaboration well-done.
From the Miu Miu Post on The New York Times:
"July's contribution to Miu Miu Women's Tales adds a vital new dimension to this evolving cinematic universe. Each short film so far has been distinctive, but all address certain timeless questions: how do women appear to themselves? How do they appear to one another? Isn't there sensuality in politics, and intellectuality in pleasure? How, ultimately, should a woman be?

The answer, over and over, in arresting cinematic statements, is: be complex and embrace your contradictions. It's the only true way to think -- and feel."
REAL LIFE. REAL NEWS. REAL VOICES.
Help us tell more of the stories that matter from voices that too often remain unheard.