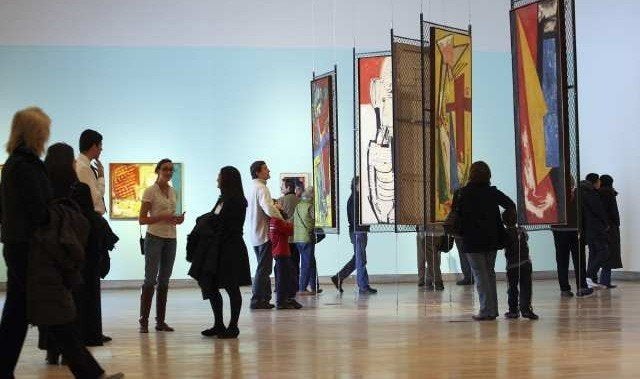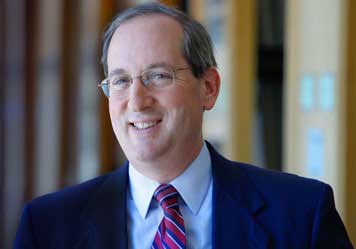 Brandeis University President Frederick Lawrence. Photo courtesy of Brandeis University
What a difference a new president makes!
Thanks in part to personal conversations initiated by Brandeis University President Frederick Lawrence, who assumed his post Jan. 1, an agreement has now been struck between Brandeis University and the three board members of the university's Rose Art Museum who had filed a lawsuit in July 2009 seeking to prevent the museum from shutting down and/or
selling its art. As a result of this rapprochement, the lawsuit has been dismissed and the state Attorney General has closed her investigation.
In addition to the above-linked press release, I requested and received a copy of the full settlement agreement. You can read it here. It attributes the accord, in part, to "constructive and collegial conversations" between the litigants and the president. It stipulates that the Rose "will remain a university art museum open to the public, professionally staffed, and dedicated to its primary purpose of collecting, preserving, studying and exhibiting fine art."
In a phone conversation with me this afternoon, Lawrence paraphrased another part of the agreement, pledging that "we have no plans to sell art, no intent to sell art, no design to sell art... The Rose will remain open as a university art museum and play a critic role at Brandeis."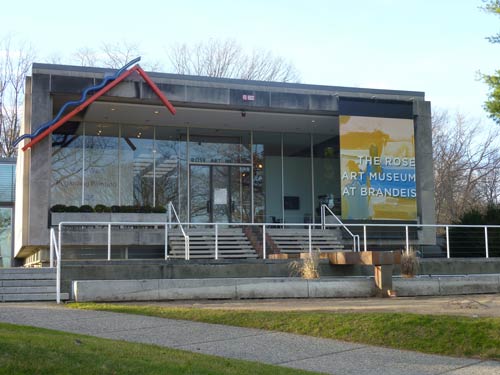 Rose Art Museum. Photo by Lee Rosenbaum
The focus, Lawrence told me, will now be "on going forward... We've got a lot of things to plan in terms of how to bring attention back to the Rose." [When I visited last December, it was sparsely attended.] "I think we have the best collection of contemporary art in New England and I want people to be focused in on that and think about how we can enhance the role that it plays on campus and enhance the role it plays well beyond campus... We are thinking about ways of raising [the museum's] visibility and, frankly, bringing supporters back... Another major thing, obviously, is that now the search for a permanent director can move into high gear."
Roy Dawes, director of operations, has been the de facto director since the departure of the Rose's embattled former head, Michael Rush, who had taken a strong stand against former president Jehuda Reinharz's previously announced plan to sell the collection and close the Rose. That bombshell caused a storm of outrage to erupt in the university and museum communities, resulting in some serious backpedaling by Reinharz.
Here's a video of Dawes and Dabney Hailey, the Rose's director of academic programs, discussing with me the future of the Rose (standing before the museum's signature masterpiece by Willem de Kooning) during my visit there last December:
Plans for raising the Rose's profile, Lawrence said, include putting together traveling exhibitions. A traveling Warhol show is already in the works. When I asked if these would be structured as money makers, he replied that the Warhol is not, but he didn't rule this out for the future "I would certainly think about the things that other major museums have done that have generated revenue for the museum. The exhibitions we're talking about right now would not fit into that [fundraising] category.
Speaking of income producers, the infamous Rent-a-Rose plan, signed a year ago with Sotheby's, has yet to result in any art-for-cash lease deals, which were to have been brokered by the auction house. (To his credit, Lawrence did use the word "lease" to describe these dubious deals, rather than the euphemistic "loan," which implies a more collegial arrangement.)
The president told me that his university is "still exploring" the possibility of leasing art, but "we would have certain limitations on what kind of arrangements we would accept, in terms of who would be an appropriate custodian...[and] how long [the works] would be away. If we're to engage in this, we would want to do it in a way that's consistent with the Rose's being a major part of the life on campus."
"They [Sotheby's] have brought us a number of ideas in the abstract, some of which have been acceptable, some of which, we've said, were not."
As for the museum's previously serious financial crisis, which had impelled Reinharz's (later rescinded) decision to liquidate the art, Lawrence noted that "the university is in substantially stronger financial shape that we were two and a half years ago. Our endowment is roughly back to where it was at its all-time high, before the 2008 crash." The university's five-year plan to balance its operating budget by 2014 is "on track," he noted.
The Rose is currently closed for renovations. Its barebones website gives no clue as to when it will reopen this fall, or what is planned for the new semester's inaugural exhibition in this, the museum's 50th-anniversary year.
With a supportive president, a financially stronger institution and an end to legal wrangling, there will surely be much to celebrate.