The Colorado attorney general's office filed a brief last month arguing that employed Coloradans do not have the right to use marijuana outside of the workplace if their employers disallow it. The brief, which supported Dish Network's 2010 firing of a medical marijuana patient for his off-the-job use in a state where it was legal, was filed in conjunction with the case that is now in front of the state's Supreme Court.
In the brief obtained by HuffPost and signed by state Attorney General John Suthers, the AG office makes a surprising argument -- that Colorado's legalization of medical and recreational marijuana is not as broad or black and white as some may think.
"Contrary to popular perception, Colorado has not simply legalized marijuana for medical and recreational purposes," the brief reads. "Instead, its citizens have adopted narrowly drawn constitutional amendments that decriminalize small amounts of marijuana for patients with a debilitating medical condition, at issue in this case, or for recreational use by adults over the age of 21."
In 2000, Colorado voters passed Amendment 20, legalizing marijuana for medical use. Twelve years later, they approved Amendment 64 which legalized recreational marijuana, with the first sales of recreational marijuana beginning on Jan. 1, 2014. Still, the federal government continues to ban the plant, classifying it as a Schedule I substance, one of the "most dangerous" with "no currently accepted medical use."
In 2013, the Colorado Court of Appeals affirmed Dish Network's right to fire Brandon Coats, a quadriplegic medical marijuana patient who was dismissed from his customer service position in 2010 for taking his medicine in the privacy of his own home while off duty. Citing its zero-tolerance drug policy, which prohibits marijuana use, even for medical reasons, Dish Network immediately terminated Coats when he tested positive for cannabis during a routine drug test. Because marijuana remains illegal on the federal level, employers can fire a medical marijuana patient who fails a drug test, even in a state where it's legal for medical use.
But earlier this year, the state Supreme Court announced it would hear Coats' case. The brief filed by the state AG's office is in defense of the action taken by Dish.
Attorneys involved in Coats' case and those familiar with state marijuana laws were incensed by the brief.
"A politically charged office like the Colorado attorney general may condemn the use of marijuana publicly, but doesn't think twice about accepting the revenue from this allegedly 'illegal' activity –- especially when used to eliminate deficit and balance budgets," Coats' attorney, Mike Evans, told HuffPost.
Evans is referring to a 2009 memo from Suthers in which the state AG wrote, "Medical marijuana is tangible property that is generally subject to state sales tax." At the time, he called for any individuals or enterprises involved with medical marijuana sales to remit all sales tax that is due.
"I highly doubt that the 55 percent of voters thought a 'yes' vote on Amendment 64 was a vote to merely 'decriminalize' and not a vote which explicitly allowed the regulated retail sale of marijuana, home cultivation, legal possession, and personal use," Rachel Gillette, head of Colorado NORML, told HuffPost. "The voters also likely had no idea that their 'yes' vote would be interpreted by some in government to mean that they could not legally use marijuana off-the-job or that their off-the-job use of legal marijuana post-A64 could mean a loss of their job. Surely, the voters of Colorado were voting in favor of granting rights, not taking them away. The Colorado attorney general has it backward."
Three years after being hired, Coats was selected for a random employee drug test. Coats told HuffPost that it was the first time he remembered a drug test happening at the company since he worked there, and certainly the first time he'd been given one. Before taking the test, Coats immediately and voluntarily told his examiner that it would come back positive for marijuana, explaining he was a patient on the state registry and had been for about a year. He emphasized he was never under the influence at work.
Like many companies, Dish Network has a zero-tolerance policy when it comes to drug use. "To ensure a safe and productive work environment, Dish Network reserves the right to administer nondiscriminatory, unannounced random drug testing," the company drug policy reads. "No employee shall report to work or be at work with alcohol or with any detectable amount of prohibited drugs in the employee's system. Any violation of this statement of policy will result in disciplinary action up to and including termination."
In the recent brief filed by the AG, Suthers also argues that it's critical for companies to be able to enforce zero-tolerance drug policies.
"The lack of predictable zero tolerance drug policies could lead to employers determining that the employee's off-duty use of marijuana impaired the employee's ability to perform the job, leading to discipline," the brief reads. "This too would engender litigation about the claimed impairment. The answer is far from clear and may depend on the individual circumstances. The State of Colorado and other employers should not be put in the burdensome position having to litigate a prohibition of the use of marijuana resulting in job impairment caused by an employee's choice to consume marijuana in violation of a contract with an employer that they entered into voluntarily."
But Coats argues that his legal medical marijuana use should be protected under the state's Lawful Off-Duty Activities Statute.
Drug testing can be problematic for employers and employees because THC, the active ingredient in marijuana, can stay in a person's body for upward of 40 days -- long after the effects of the substance may have worn off. Stronger drugs such as cocaine can leave the system in one to three days.
Asked about Coats' firing, Dish spokeswoman Jenna McMullin told HuffPost that the company does not comment on employee matters. "As a national company, Dish is committed to its drug-free workplace policy and compliance with federal law, which does not permit the use of marijuana, even for medicinal purposes," she said.
While the Americans with Disabilities Act protects most employees with serious medical conditions from discrimination, it doesn't protect their use of medical marijuana. And although 22 states and the District of Columbia have legalized marijuana for medical use, very few provide explicit protections for patients. An exception is Arizona, where an employer is prohibited from discriminating against an employee who has tested positive for marijuana and is a registered medical marijuana patient, as long as he or she doesn't have a "safety sensitive" job, such as heavy machinery operator or airline pilot.
Colorado is a different story. Amendment 20 says employers are not required to "accommodate the medical use of marijuana in any work place." But the law does not explicitly state whether an employer has the right to fire an employee who uses medical marijuana at home. Coats' supporters believe his case has the opportunity to remove this gray area and set a precedent for future medical marijuana patients who use the substance outside the office.
"The AG's 'affirmative defense' position diminishes our constitutional rights by attempting to reduce them to a mere 'get out of jail free card,'" said Kim Ryan, a Denver attorney who has consulted on Coats' case. "That is not what citizens voted for -- Colorado's Constitution guarantees a bundle of medical marijuana rights, including to possess, use, transport, and grow, among several other rights spelled out expressly in Amendments 20 and 64. The AG's position is contrary to the clear public policies in our state protecting citizens with disabilities, and it is heartbreaking that his office is using public resources to go after medical patients' rights in this way."
"We must never forget that Mr. Coats was a successful worker who simply used a medicine his corporate bosses don't like," Ryan added.
Coats said he was ranked in the top 5 percent of his fellow telephone customer service representatives and was eventually moved into a more prestigious commercial section of his department.
"It was where the better employees worked," he said. "I was good at my job."
"We have the proof that he was [a top performer] in his evaluations," Evans told HuffPost. "I think he was late twice, and that was the extent of any discipline."
Since the announcement that the Colorado Supreme Court will hear Coats' case, about a dozen members of the state's business community, including the Denver Chamber of Commerce, the Colorado Association of Commerce and Industry, and the National Federation of Independent Business, have teamed up and co-signed a motion filed by the Colorado Civil Justice League in support of Dish Network, urging the state Supreme Court to uphold the ruling against Coats.
It's difficult to predict how Coats will fare before the Supreme Court. The appeals court decision in favor of Dish was a 1-2 split, with only one judge, John Webb, dissenting.
"If an employee's off-the-job activity violated only federal criminal law, that activity might well warrant termination based on 'a bona fide occupational requirement' of the position," Webb argued. "But if the employee's activity was unlawful only under federal law, and it did not relate to such a requirement, then the employee would be protected from termination."
Evans remains optimistic, noting just how much has changed with regard to marijuana since Coats was fired, including the legalization of recreational marijuana in Colorado, the beginning of retail sales in the state and the recent shifts in tone from the federal government.
Attorney Chris Ottele, who serves on the legal advisory board of the CCJL, which filed the business community brief supporting Dish Network, disagrees.
"I suspect the Supreme Court is going to take the lead from the Court of Appeals and take a very straight-arrow approach, just interpret the term 'lawful,' and 'lawful' presumably is referencing federal law which does prohibit marijuana," said Ottele, who also works with business law firm Husch Blackwell. "My overall sense is that the Supreme Court sometimes wants to take things even if they are just going to affirm the case, they don't necessarily take cases just to overturn them."
Before You Go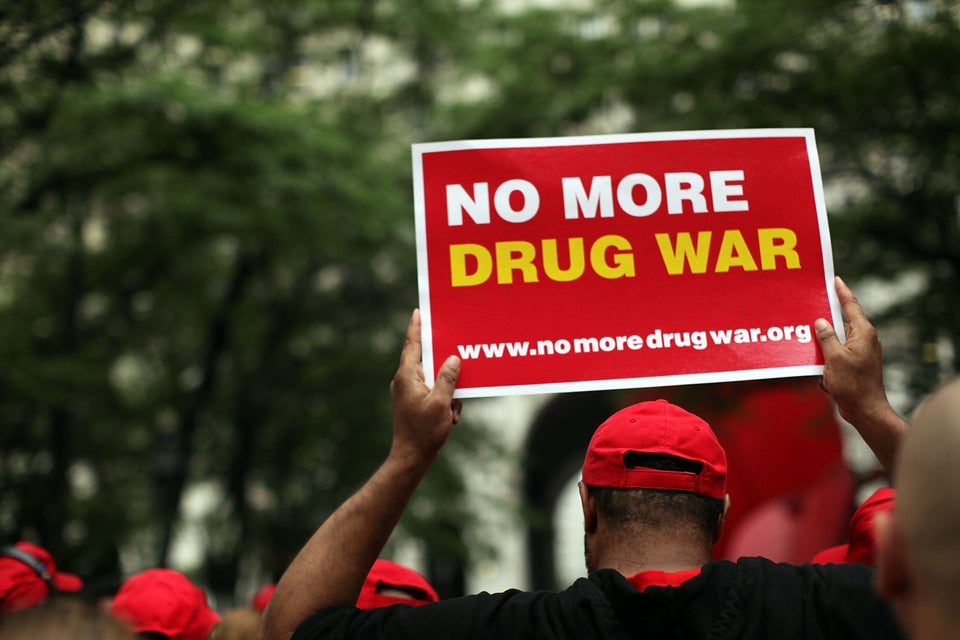 27 Reasons Why The U.S. Shouldn't Lead The War On Drugs
Popular in the Community