While medical marijuana is legal in Colorado, employers can still fire patients for using it -- even if they aren't impaired at work.
In a landmark decision Monday morning, the Colorado Supreme Court ruled that Brandon Coats, a quadriplegic medical marijuana patient from Colorado who was fired by Dish Network in 2010 for using the drug while at home and off-duty, was not protected under the state's "lawful activities statute."
"Although I'm very disappointed today, I hope that my case has brought the issue of use of medical marijuana and employment to light," Coats said in an emailed statement. "If we're making marijuana legal for medical purposes we need to address issues that come along with it such as employment. Hopefully views on medical marijuana –- like the ones in my specific case -- will change soon."
The arguments from both Dish's and Coats' attorneys centered on the question of what exactly constitutes "lawful" use of medical marijuana outside of the workplace -- and how such use can be considered lawful when federal law still classifies marijuana as an illegal substance, even though the state of Colorado has legalized its use both medically and recreationally.
"The Supreme Court holds that under... Colorado's 'lawful activities statute,' the term 'lawful' refers only to those activities that are lawful under both state and federal law," the Colorado court ruled. "Therefore, employees who engage in an activity such as medical marijuana use that is permitted by state law but unlawful under federal law are not protected by the statute."
"Mr. Coats was never accused or suspected of being under the influence and received satisfactory performance reviews all three years [he worked at the company]," argued Coats' attorney, Michael Evans, in front of the state Supreme Court last year.
"He was fired after an unknown type or amount of THC was found after a mouth swab test," Evans said last year. "Dish knew he was a medical marijuana patient. The mere presence of THC is not proof of impairment."
Evans also argued that the drug testing on Coats did not determine what kind of THC was found in his system, or how much was present. There are active and inactive forms of THC, and inactive forms can remain in a person's body for more than 40 days after use.
But Dish Network attorney Meghan Martinez argued last year that whether or not Coats was ever impaired at the workplace was not the issue. Rather, she said, the issue at hand was the "use" itself. She defined "use" as simply having THC in one's system.
"He tested positive, had THC in his system," Martinez said. "We are alleging that he was using THC at the workplace. The definition of use is in the medical marijuana act [Colorado's Amendment 20]. It's the employment of something, the longstanding possession of something. He smoked marijuana while at home, but he crossed the threshold [to his office] with THC in his system. The use is the effects, it's the THC, it's the whole point of marijuana. So when he came to work, he was using."
Coats was fired from Dish Network, a satellite cable provider company based in Englewood, Colorado, more than five years ago, after testing positive for THC during a random drug test at work. Coats had been a patient on the state registry for about a year at that point, and was using medical marijuana based on a doctor's recommendation. Evans told The Huffington Post that Coats had been a successful employee at the company, where he'd worked for three years serving in the customer service division as a telephone operator.
"We have the proof that he was [a top performer] in his evaluations," Evans told HuffPost in 2014. "I think he was late twice, and that was the extent of any discipline."
And while Dish hasn't claimed that Coats was impaired at work, the company's decision was unequivocal: Coats failed a drug test, so therefore he had to be fired.
Coats first challenged the firing in county court in 2011, but that case was dismissed on the grounds that medical marijuana is not "lawful activity."
When Coats was 16, he was a passenger in a vehicle that crashed into a tree. That accident paralyzed over 80 percent of his body, and he has experienced severe involuntary muscle spasms and seizures ever since.
"My spinal cord is broken, so messages don't get back and forth from my brain to my body," Coats told HuffPost. "My legs still work, but they just can't get the signal. Sometimes my whole body can just seize up."
At first, Coats used prescription drugs to combat the spasms, but over time their effectiveness waned. Then his doctors recommended he start using medical marijuana. Coats joined Colorado's medical marijuana registry in 2009, hoping that the cannabis would alleviate his persistent spasms.
Medical marijuana changed his life, Coats said. Smoking a small amount of cannabis each evening proved to be an effective treatment, allowing him to go to work without discomfort the next day.
But like many companies, Dish Network has a zero-tolerance policy when it comes to any drug use, even if that drug is state-legal and used for medical purposes.
"To ensure a safe and productive work environment, Dish Network reserves the right to administer nondiscriminatory, unannounced random drug testing," the company drug policy reads. "No employee shall report to work or be at work with alcohol or with any detectable amount of prohibited drugs in the employee's system. Any violation of this statement of policy will result in disciplinary action up to and including termination."
While the Americans with Disabilities Act of 1990 protects most employees with serious medical conditions from discrimination, it doesn't protect their use of medical marijuana. And although 23 states and the District of Columbia have legalized marijuana for medical use, very few jurisdictions offer explicit protections for patients. An exception is Arizona, where employers are prohibited from discriminating against an employee who has tested positive for marijuana and is a registered medical marijuana patient, as long as he or she doesn't have a "safety sensitive" job, such as heavy-machinery operator or airline pilot.
In Colorado, Amendment 20, which legalized medical marijuana in the state in 2000, says that employers are not required to "accommodate the medical use of marijuana in any work place." But the law does not explicitly state whether an employer has the right to fire an employee who uses medical marijuana at home.
Evans said that clarity on that point is the "silver lining" of this case.
"There was previously no clear definition on what an employer and employee could do when it came to [medical marijuana]," Evans wrote in an email. "It was a very scary 'gray' area for both sides. All of that hard work and risk put into this case was not a waste, because at least now there is clear communication for everyone on that issue from the Court."
Evans also noted that the court issued its decision after the state's legislative session had ended, indicating that it may have been waiting for the state House or Senate to act and fix the "obvious" problem with the law.
"Today's decision means that until someone in the House or Senate champions the cause, most employees who work in a state with the world's most powerful medical marijuana laws will have to choose between using medical marijuana and work," he wrote.
Before You Go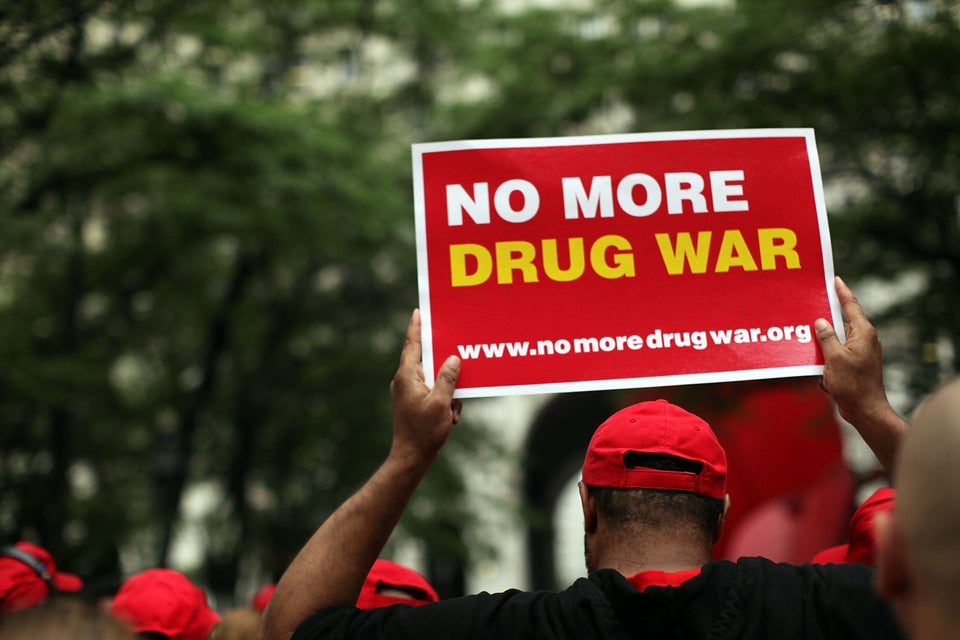 27 Reasons Why The U.S. Shouldn't Lead The War On Drugs
Popular in the Community