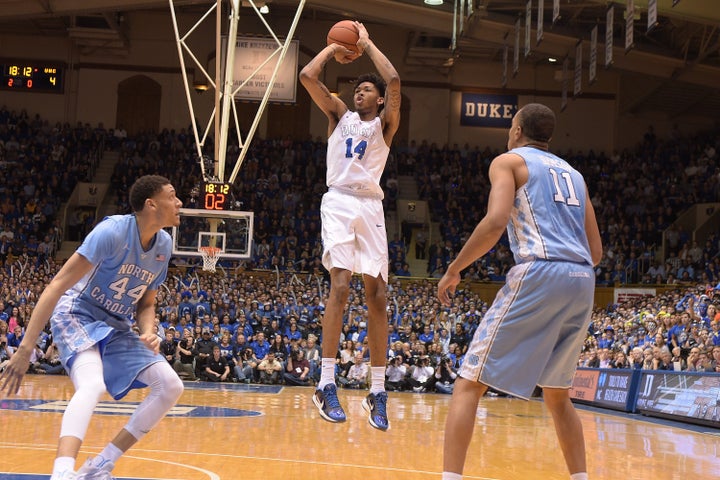 Brandon Ingram came to Durham, North Carolina, in 2015 as a freshman with great promise -- promise that he's surely fulfilled.
Ingram, a 6-foot-9-inch North Carolina native widely expected to be made the second overall pick in the NBA Draft by the Los Angeles Lakers, averaged over 17 points and nearly 7 rebounds this year while shooting a stellar 41 percent from 3 for Duke. The former McDonald's All-American earned ACC Rookie of the Year honors, a selection previously held by Michael Jordan, Stephon Marbury, Chris Bosh, Chris Paul and last year's third overall pick, fellow Blue Devil Jahlil Okafor.
The Huffington Post caught up with Ingram, 18, to discuss his enduring relationship with Coach K, why he can't wait to play against Kevin Durant and how the NBA game suits him best.
Also, click here to read about the five safest draft prospects and here to read about the five riskiest. And check out an in-depth Q&A with inspirational Providence star point guard, Kris Dunn, right here.
This interview has been condensed and edited for clarity.
What has surprised you in terms of the pre-draft festivities?
I don't think anything necessarily surprised me, because I have a good mentor in Jerry Stackhouse, who prepared me for situations like this. But just the travel, maybe -- getting up early in the morning trying to get to these places. Just being a professional basketball player.
Is it fair to say that your one season playing at Duke under Coach K helped you become a pro?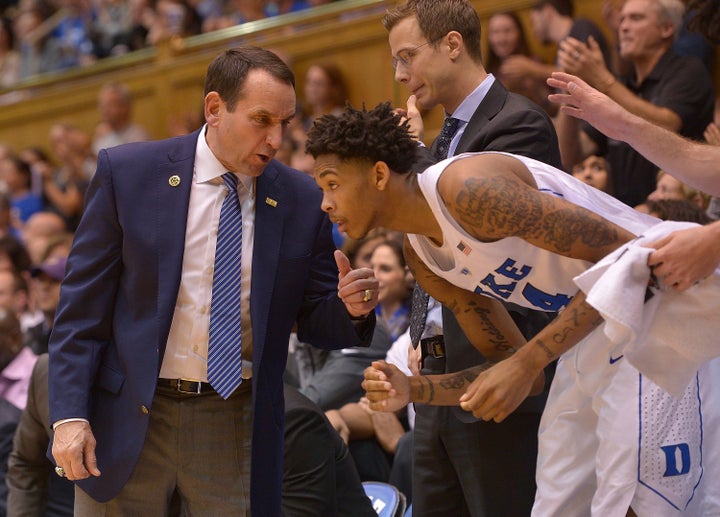 Most definitely, just playing under Coach K. And his assistants are very professional. I think it's just different there. There's a lot of different things from a basketball standpoint, but also being a good man, and I think they helped me a lot. That's gonna help me in the long run.
How does being a student on a campus alongside thousands of other students help your perspective as a basketball player?
Everyone was trying to help me, from the student standpoint to the professors to my academic adviser. You know, you have a lot of fans on that campus, but also those guys want to be your friend, so they're always there for a helping hand and they're always there for comfort.
The NBA has far more spacing than the college game -- which often gets packed in -- but also advanced defenses. What specifically about your game do you think will translate the best?
I'm really excited about the space on the floor for me to create for myself and also for my teammates.
In college you don't have any defensive three seconds -- you can stay in the lane the whole time and you have certain guys you can help off of. But in the NBA, everyone's good, so you can't help. You can't stay in the lane for more than three seconds -- there's going to be a lot of space where you can create for yourself. And most importantly, you're going to have teammates who are going to be open when other guys create, and being able to knock shots down.
How have you taken your ball handling to the next level during this process?
I've been working on my ball handling a lot. I think that I'm prepared and I'm really comfortable handling the ball. Playing point guard in high school, playing a little bit of point guard at Duke, helped me out a lot. I think that's something that I do. I can be a versatile guy and play every position on the floor.
What specifically then have you been told to work on and improve, development-wise?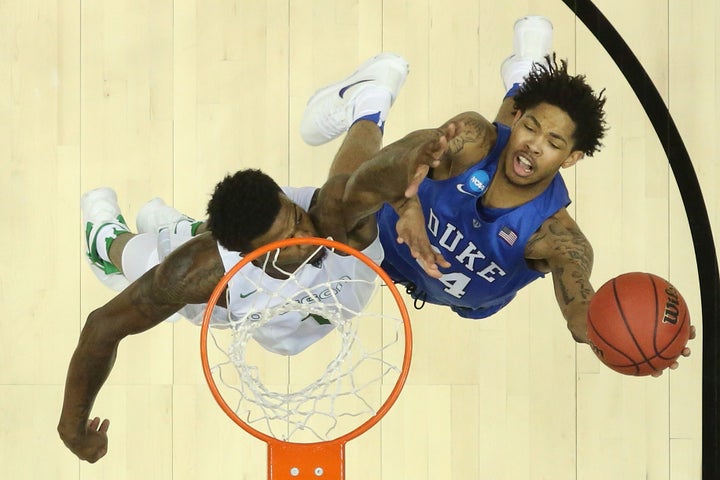 Being able to play through contact, playing physical. I think that's something I did all year, just playing different positions on the floor. Having one of the best rebounders in Amile Jefferson forced me to be more physical and be positionless on the floor and play the 1-4 positions.
What has Stack provided for you, both basketball and non-basketball, because he himself was a two-time All-Star?
I think he has instilled a toughness in me from a basketball standpoint, just going hard at whatever I do. He had different things in his game where he did it and no one could stop him. And just from a man standpoint, doing the right things at all times. Knowing when to have fun, knowing to be on time, [knowing] responsibility and accountability. So he's put me through some things where I had to be responsible, I had to be accountable and it's made me who I am today.
I've read that you have a passion for drawing.
It's something that I developed. It's not something I do all the time, but when I get bored, I like to sketch a little bit. But it's pretty much basketball for me.
The league is littered with stars at the three spot. Who is somebody you cannot wait to face, whether it's Kevin Durant or someone else you've tried to emulate?
Of course Kevin Durant, I'm excited to learn from that guy -- just the different things that he does to compete at a high level and maintain over an 82-game season, even maybe a 100-game season. And work to get to where he's at.
The individual team workouts are known as a grueling process. What did you enjoy about them, though, being around the different staffs?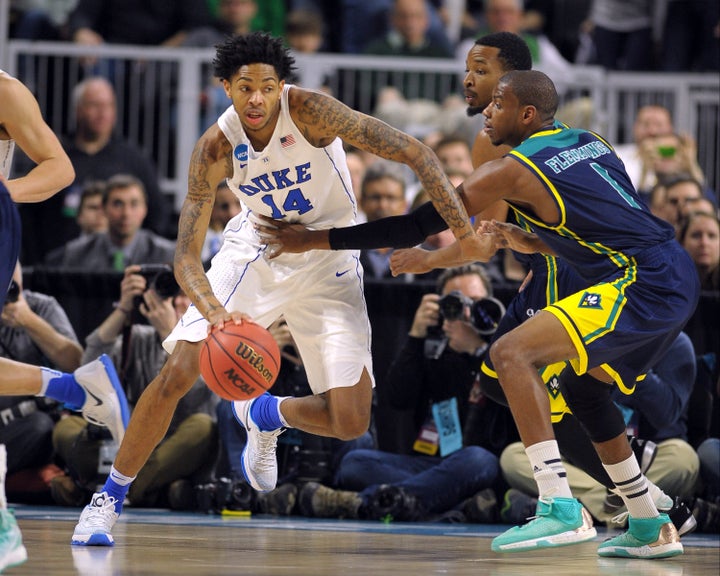 Just doing game-like things on the court. Meeting the coaches and doing things that I do well -- going through pick-and-rolls, and doing different things on the floor, scoring the basketball. I think I did pretty well.
What has surprised you transitioning to the NBA? Have you been in touch with Coach K or former teammates at all?
Actually I have talked to Coach K about every two or three days. I talked to the other assistants about every week, so we stay in contact. And that's what I like about Duke -- they stayed in contact. It's a family around Duke and you always know if you need any advice, there's a lot of great guys that came through that institution that you can get in contact with.
Fast forward to draft night when you are up on stage, shaking the commissioner's hand. Can you process what will be going through your head?
I probably will be so excited I won't be able to process it, but of course what will be going through my mind is how if my great-aunt and my grandmother were here, they would love to see this moment. Just knowing they're watching over me and that I'm making them proud right now.
Correction: A previous version of this article incorrectly stated that Jahlil Okafor was the top overall pick in the 2015 draft. It has since been correctly changed to state that Okafor was the third overall pick.
Related
Popular in the Community