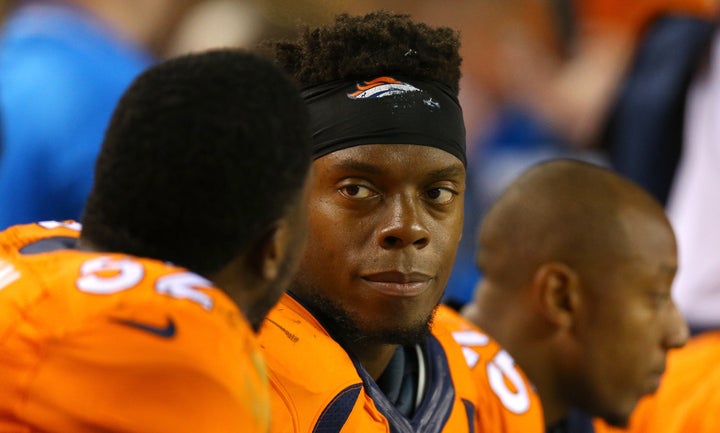 Denver Broncos linebacker Brandon Marshall shared a sickening letter on Instagram Friday that's full of vile racial slurs. Denver's 9News reports the letter was sent anonymously two weeks ago.
"The hatred by some against people of color is one of the reasons we are where we're at in the world today, and they wonder why we feel the way we do and take the stances that we take," Marshall wrote in a caption accompanying a photo of the letter's first page. "I received this letter at work."
It's unclear who sent the letter, which has penmanship you'd expect from an ailing KKK enthusiast who relies on racial epithets popular in the 1930s and WRITES ONLY IN ALL-CAPS.
"WE ARE 'CHANNELING' A DEVASTATING HARD HIT FOR YOU!!" the author writes. "SOMETHING TO MAKE YOU INVALID IN A WHEEL CHAIR!! HA HA HA HA HA HA." Most of the letter is unfit for print.
Marshall said Friday he was "taken aback" by the "disgusting, disheartening, deplorable" missive and its threats. 
"That kind of stood out to me that somebody would have that much hate or malice toward me or would put so much energy into writing something like that and send it to me," he said.
The Broncos did not immediately respond to a request for comment from The Huffington Post. Coach Gary Kubiak said after practice Friday that the team was investigating.
"I was not much aware of it until this morning, but our organization is on top of it," Kubiak said, in comments relayed by ESPN. "That's all I can tell you."
Racist incidents and hate crimes have jumped after last month's election of Donald Trump. New York Giants fullback Nikita Whitlock's apartment in New Jersey was vandalized Tuesday night with swastikas and epithets, including the word "Trump."
Marshall was one of many NFL players who took a knee this season during the national anthem as a protest against social injustice and police brutality.
"I'm not against the military, I'm not against the police or America," Marshall said at the time. "I'm against social injustice."
He quit protesting at the Nov. 6 game, after he had met with Denver police officials and discussed the department's policy on the use of force. Marshall pledged to donate $300 for every tackle he makes to a variety of nonprofits.
"Going forward, I will be standing for the national anthem ― not because everything is perfect, or because I'm changing my stance on things," Marshall wrote at the time. "But because of my hope for what we can become."
REAL LIFE. REAL NEWS. REAL VOICES.
Help us tell more of the stories that matter from voices that too often remain unheard.