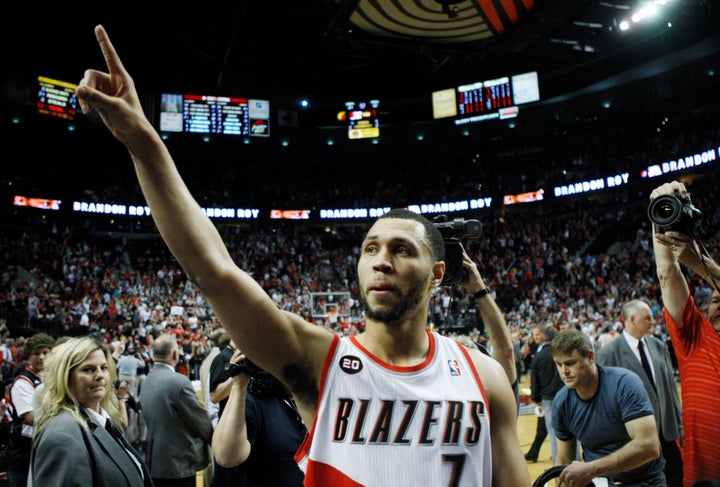 During the 2000s, few gyms in the country incubated more basketball talent than St. Joseph's in Seattle. On any given night, future NBA players like Jamal Crawford, Terrence Williams, Martell Webster, Marvin Williams, Nate Robinson and Aaron Brooks could be found at St. Joe's honing the skills that would eventually earn them millions. Despite the presence of so many future stars in Seattle's hoops firmament though, no one shone as brightly as Brandon Roy. Having been a backup guard on an Amateur Athletic Union (AAU) team featuring Roy at age 16, I had the good fortune of seeing him firsthand before most. However, it wasn't long before his prodigious skills gave folks far beyond the 206 area code the chance to watch him play.
Scoring more points than any other player during the 2002 state basketball playoffs in Washington, Roy wrapped up his career at Garfield High School with a career-high 38 points as his team lifted the fourth place trophy in Class 4A (the largest at the time). Among the top 50 recruits in his grade according to just about every ranking service, Roy considered early entry into the '02 NBA Draft but ultimately opted for the University of Washington despite having offers from programs with higher profiles.
"I could see going to another place like Arizona or Kansas," Roy told the Seattle P-I in October 2002, "but I think we can do the same thing at the U-Dub. We can be as good as those programs in a year or two."
Even with his blue-chip prep resume, Roy's trip to UW's campus was not simple. Unable to initially qualify academically due to struggles with standardized tests, Roy balanced extra study sessions with basketball practice and a job at a container company in West Seattle until he was ready to join the Huskies. While most kids would shy away from the public due to embarrassment, Roy embraced the challenge. When I would ask him how things were going, he smiled and told me he how he refused to give up until he got into school.
Once he was outfitted in purple though, Roy made good on his earlier statements, leading UW to three NCAA Tournament appearances and two Sweet 16 appearances, including a No. 1 seed in 2005. Portland eventually acquired him in a trade with Minnesota after he was selected sixth overall in the 2006 NBA Draft. With a calm on the ball that belied his intense competitive spirit, Roy quickly became one of the best guards in the league, earning Rookie of the Year and All-NBA honors. He was a splendid playmaker, selfless passer and gifted scorer. His grace on the floor was undeniable. Over his first four seasons, Roy averaged 20 points, 5 assists and nearly five rebounds, while making three All-Star games and leading the organization to four consecutive playoff appearances. The Blazers rewarded him with a robust five-year, $82 million contract.
But with the exception of the size of his bank account and his general celebrity, nothing about Roy had changed. To the people who knew him as a skinny high school kid, he was still affectionately, just Brandon. When he came back home to Seattle for the offseason, he organized charity games around the city and at his high school.
After surgery following a collision with Ron Artest in the 2010 playoffs though, Roy began to show signs of slowing down. Still effective as a pull-up shooter and passer, his dynamic ability on the ball had vanquished. During the 2011 season, he played in just 47 games, looking physically and emotionally spent on the court. Eventually, after undergoing six knee operations, doctors told him he had zero knee cartilage left. They told him if he continued to play, he may lose his ability to walk down the road. Under much emotion and duress, Roy was forced into retirement at age 27.
In what turned out to be one of his final NBA appearances, Roy authored a sensational fourth-quarter playoff comeback that will be talked about as long as basketball is played in the Pacific Northwest. With the Blazers facing a 3-1 deficit in Game 4 of the playoffs against the eventual champion Dallas Mavericks, Roy led his team back from an 18-point deficit in the game's final quarter. Scoring 18 points, including the game-winning bucket in the final minute, Roy provided a dramatic parting shot for his fans -- and a glimpse at what could have been had he not been felled by injury.
"It still just doesn't feel real yet," he said following the game. "It was just an unbelievable game and comeback. With everything I've been through this season, they just all came into that moment there on the court when guys were grabbing and cheering me on. It was real special."
For someone who thrilled fans and teammates going as far back as that tiny St. Joe's gym in Seattle's Capitol Hill neighborhood, it was only fair that they were able to give him a similar thrill before he had to prematurely hang up his high tops. He will be greatly missed at the the the Rose Garden, but his rise to stardom will continue to be an inspiration.
Email me at jordan.schultz@huffingtonpost.com or ask me questions about anything sports-related @206Child for my upcoming mailbag.
Plus, check out my new HuffPost sports blog, The Schultz Report, for a fresh and daily outlook on all things sports and listen to our new radio show Sports Blitz Now every Wednesday afternoon.
REAL LIFE. REAL NEWS. REAL VOICES.
Help us tell more of the stories that matter from voices that too often remain unheard.