Two Angelenos of different ethnic and religious backgrounds find love against the odds in Brandon Stansell's latest music video, "Spare Change."
HuffPost got an exclusive look at the new video, in which a subway meet cute turns out to be a topical lesson in inclusion. While Stansell's two previous videos, "Slow Down" and "Never Know," addressed the Los Angeles-based singer-songwriter's sexuality by showing him embrace ― and eventually lose ― male love interests, he opted for a political approach this time around.
Noting that "Spare Change" was "not written for any political purpose," Stansell said he and director Trent Atkinson see the video as an act of "joyful resistance" that takes the concerns many in the LGBTQ community and other minority groups have about their future under President Donald Trump into account.
"For me, releasing anything but a response to the atrocious policies of this administration seemed like an opportunity wasted," he told HuffPost. "To fight back, we have to continue to have the courage to band together and build community around the things that make life precious: art, beauty, love, and free expression."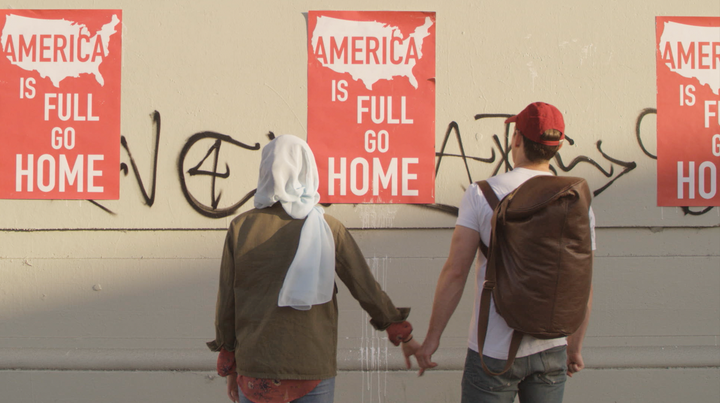 As the third and final track on Stansell's 2016 "Slow Down" EP to receive the video treatment, "Spare Change" also marks the start of a new era for the 30-year-old "California country" artist. He's slated to return to the studio next week to record his first full-length album, on which he'll collaborate with country star Ty Herndon. He's also launched a Kickstarter campaign, which can be viewed here, to help fund the 10-song album's release.
"There are some fun, light-hearted things about the album, as well as songs with a bit more gravitas – and like many of my songs, they are reflective of deeply personal experiences," Stansell told HuffPost. One new tune, "Hometown," is inspired by his early struggles with his sexuality while growing up in Tennessee. "It speaks to something a lot of gay people struggle with: how to reconcile the ideas and culture of where you grew up and your family life with your identity," he said.
One thing Stansell won't do, however, is take the advice of some critics who feel artists and musicians should steer clear of politics. "For me, artistry and advocacy go hand in hand," he explained, "and making this full album has given me the chance to give each of those things equal weight."