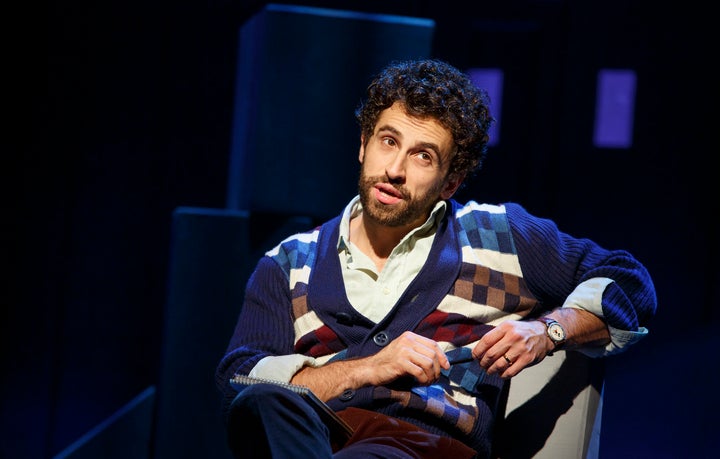 Recent hits like "Fun Home" and "Kinky Boots" have tackled queer issues to great acclaim on Broadway, of course. In comparison, "Falsettos" would remind audiences who'd witnessed the passing of same-sex marriage and other strides toward equality in recent years "what it was like for gay men and women at a certain time to find love and create a family," Uranowitz said.
A little more than two weeks after "Falsettos" opened Oct. 23, however, President Donald Trump's election thrust the future of LGBTQ rights into uncertainty. Suddenly, the Reagan-era homophobia depicted in William Finn's musical, first presented on Broadway in 1992, seemed to be resurfacing in the Trump administration's anti-gay platform.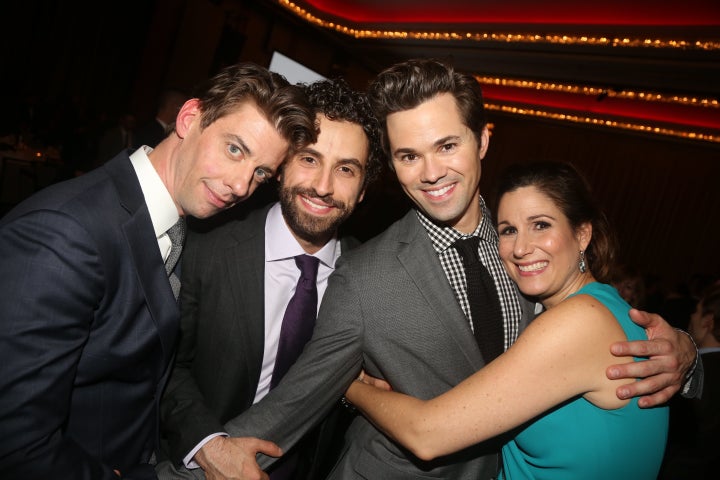 It's impossible to gauge what impact the 2016 election had on "Falsettos," but Uranowitz told HuffPost the political shift "lit a fire under our asses." The musical explores the complicated dynamics between two gay men, Marvin and Whizzer (played by Christian Borle and Andrew Rannells), as they struggle to make peace with Marvin's ex-wife, Trina (Stephanie J. Block). Meanwhile, Trina begins a relationship with Marvin's therapist, Mendel (Uranowitz), while she and her ex-husband strive to maintain a steady home life for their young son, Jason (Anthony Rosenthal), before tragedy strikes.
"We just wanted to give the most authentic, truthful and honest show we could give every night because … who knows where this country is going? It wasn't about recognition or awards," he said. "I just want to do good work that speaks to people [and] I felt like we caught lightning in a bottle."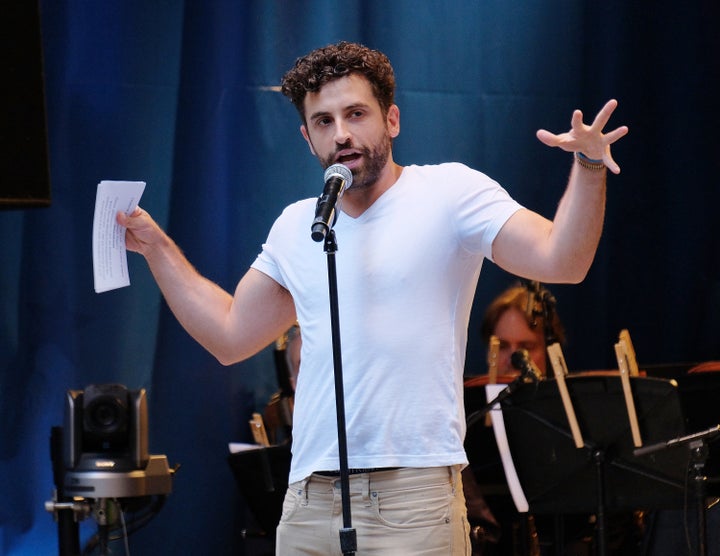 It's the second shot at Tony glory for the 30-year-old Uranowitz, who was nominated as a featured actor for "An American in Paris" in 2015. Like "Angels in America" and "The Normal Heart," "Falsettos" is revered as a landmark piece of queer theater, so it struck a chord with the actor, who struggled to come to terms with his sexuality while growing up in New Jersey.
As a "gay, neurotic Jew," Uranowitz related most to Whizzer, but after four auditions, he was cast as Mendel, who is the musical's sole straight male character. He's wary of any praise he's received that singles out the fact he's a gay man playing a straight role, as he feels it "speaks to institutionalized heteronormativity."
"I'd like to believe that I got a Tony nomination for serving this character and this piece as opposed to … playing a straight guy," said Uranowitz, who came out when he was 20. Noting that he "played straight for a big portion of my life," he added, "It bothers me that I'm supposed to be proud that I can hide my sexuality in a convincing way ― I'm an actor, and it's my job. I just want people to understand that maybe that's not the most praiseworthy thing."
Since "Falsettos" wrapped in January, Uranowitz has kept busy on the concert stage. One of the highlights of his new cabaret show, "The Songs of William Finn," is a touching duet he performs with boyfriend Zachary Prince. The couple met when Prince was cast as Uranowitz's understudy in the 2011 musical, "Baby It's You!" Though the show flopped, their relationship has endured.
Watch a clip of Uranowitz and Block re-creating a "Falsettos" number in his new cabaret show below.
"Before we started dating, we'd vowed never to date another actor, and immediately after that, we started dating each other as actors playing the same role," Uranowitz quipped. "So it was a learning curve." He went on to note that there's never been "any detrimental competition" between him and Prince. "We have different sensibilities and different temperaments, and we've always been able to put each other before our work," he said. "He's the greatest human ever."
After Uranowitz and his "Falsettos" co-stars perform on the Tony Awards next Sunday, he'll begin rehearsals for "Prince of Broadway," a musical celebration of director Harold Prince which opens at the Manhattan Theatre Club Aug. 24. Beyond that, he'd love to play Leo Frank in "Parade," as well as try his hand at Shakespeare.
No matter where his work takes him next, Uranowitz said he feels a sense of obligation to the LGBTQ community "because I feel obligated to myself."
"We get into so much trouble when we're not authentic, honest or truthful. God forbid the person you love get in the way of somebody's paycheck," he said. "I live out and I live proud, and I'm proud of anybody who can do that."
See Brandon Uranowitz and the cast of "Falsettos" perform on the Tony Awards, which air June 11 on CBS.