LOVE is in the air and on the tube. It's not Valentine's Day yet, but brands are tapping into the most powerful human emotions to refresh their brands, grow their market share and set themselves apart from the competition.
They want to create valuable and long-term relationships with consumers. These brands are not just selling a product -- they're selling an experience. It's the moment that can make or break a brand: only the great ones are able to build memorable and emotional connections that lead to true brand loyalty.
From McDonald's, to Revlon, to the NOW Foundation, brands are doing anything and everything to forge an emotional bond with consumers.
And we LOVE it. If there were a Facebook "love" button, we'd all be using it. This is certainly not a new concept: Subaru has been tapping into our emotions for years now with its "Love. It's what makes a Subaru, a Subaru" campaign. It's worked -- the automaker has doubled market share and exceeded 11 competitors on a list of best selling cars.
There is even a tool that measures how much "love" a brand is getting on social media. Hootsuite created a "Love List" which ranks more than 450 of the world's top brands by the number of brand mentions received across over 25 platforms, the sentiment score for the brand, and the percentage of social conversations about the brand containing the word "love" over a month.
Just this week, McDonald's reaffirmed its famous jingle, "I'm Lovin' It," "by introducing a new campaign that puts more focus on the lovin'. In a new commercial titled "Arch enemies," fictional characters throughout history "Choose Lovin'" against rivalry.
Meanwhile, NOW Foundation's "Love Your Body" campaign aimed to challenge social messaging and standards about women's values by empowering women, especially young girls, to challenge narrow and unrealistic beauty standards set by brands and the media.
Revlon also wants a piece of your love. The company relaunched their brand with the "Love is on" campaign. One of their newest commercials features the song "Addicted to Love" as women demonstrate emotions like devotion, desire and passion.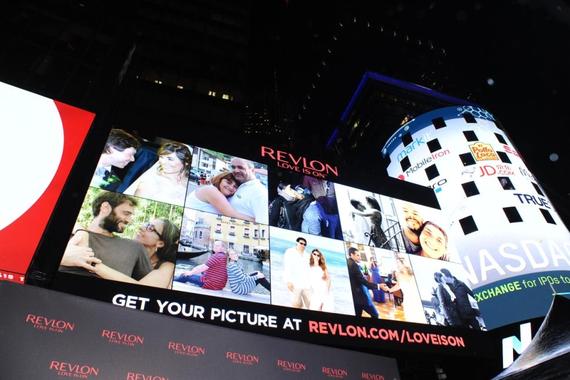 I was in New York for the holidays and saw Revlon's interactive billboard in Times Square, where people are prompted to kiss and demonstrate their love for each other on a digital screen. It also seemed that every other commercial during Dick Clark's New Year's Rockin' Eve was Revlon's #LOVEISON.
With brands betting big on love and putting millions of marketing dollars to build an emotional connection with consumers -- will this actually translate to real dollars and increased market share? Research indicates that that relationships we have with brands is similar to the relationships we have with people, so will we "fall in love" or will it be more of a fling.
Calling all HuffPost superfans!
Sign up for membership to become a founding member and help shape HuffPost's next chapter