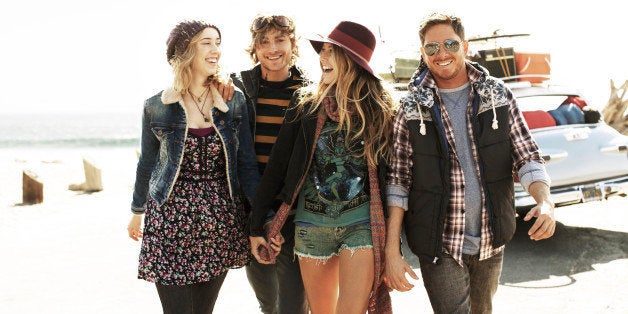 Stow your preconceived notions of ramen noodles and aptness for unemployment; at 80 million strong, Millennials are now your brand's most influential audience. These individuals, born between the 1980s and 2000s, will soon surpass Baby Boomers in number as well as purchasing power -- globally, their wallets hold a cool $2.45 trillion.
They speak Emoji, and 74% believe they influence the purchasing decisions of those around them, even of those outside their generation. Overly confident? Maybe. But impactful? Definitely. Their willingness to vocalize opinions makes them ideal candidates for brand advocates. But be wary of how you approach them - 7 in 10 believe it is their responsibility to share feedback with brands when their experience is either good or bad.
So who are these Millennials anyway?

More accurately characterized by their motivations, Millennials are a unique bunch - I know; I am one. We respond to charitable initiatives and wellness campaigns, striving to better society and ourselves. We are the first true digital natives - 90% of us can be found on Facebook, and we'd rather text than speak on the phone (52%). We're guilty of consulting our smartphones at least 43 times a day, and that's not including the other three devices we use on average. (Hint: one of those is not a landline.)
Millennials are eager to join communities, collaborate amongst themselves, and crowd-source their lifestyles by utilizing services such as Uber or Airbnb. Convenience is key; Millennials are becoming evermore in favor of live chatting, self-service, and social media troubleshooting when they encounter issues. Subscription services like Netflix, Amazon Prime, and YouTube are overtaking traditional media outlets, featuring customizable channels and unprecedented user-friendliness.
We throw values like duty and practicality to the wind, often launching ourselves down deep, dark paths of product research before selecting our winner. Due to lower employment levels, increased student loans, and smaller incomes, price is a bigger factor for this generation when making purchases.
Research is a primary driver of Millennial sales - 93% report reading product reviews before purchasing. Faith in community input is strong, and brands are shrinking in importance: 62% of 18-34 year olds trust brands less than people.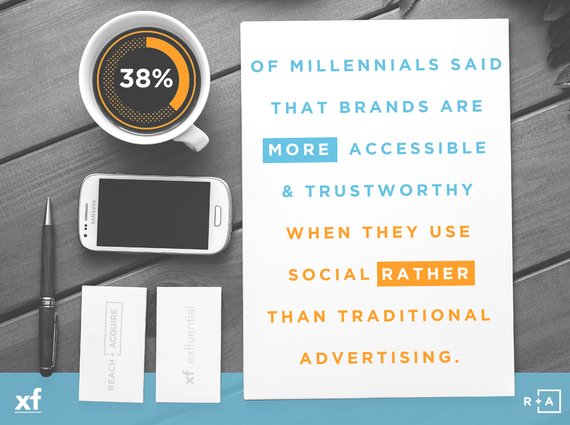 As you may be aware, traditional methods of advertising are failing to pique Millennial interest. 66% follow brands on social media, but only 41% enjoy interacting with them. We are less patient and more adept at pioneering new technologies than previous audiences were. Our online and offline activities tend to overlap, and our purchasing paths are much more indirect.
Some are doing this well.

Brands themselves are no longer strong enough to lock in a sale on their own. A bold statement, true, but Millennials are getting pulled in a myriad of directions; and they are unperturbed by heavy promotion. 89% of Millennials trust recommendations from influencers more than brand claims, and 93% have purchased a product after hearing about it from someone they knew.
Influencer marketing is evolving - Influencers aren't just movie stars or professional athletes. They are friends, parents, bloggers, teen-idols, YouTubers, Viners, pundits, and the "Insta-famous." (In fact, 68% of Millennials are unfazed by celebrity endorsements).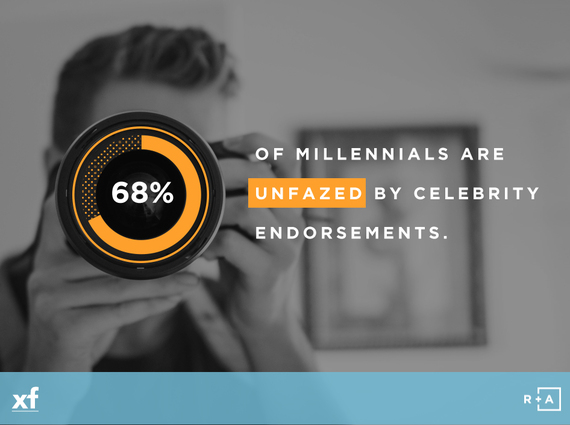 The recipe for Influencer success is a combination of original content and word of mouth. Catch Millennials where they most often reside: online. You cannot bank on people watching brand videos after stumbling across them. Instead, insert yourself into content dialogue that already has traction.
Don't just take my word for it.

To amplify the reach of their product's messaging online, Toyota partnered with YouTube stars Rhett & Link to promote a redesign of their 2015 Camry. A two-minute clip on the brand's YouTube channel was viewed 90,000 times. A modest figure, yet Millennials are not receptive to commercials - they'd rather be entertained (80%).
When Toyota sponsored Rhett & Link to include mentions of the Camry in their own daily YouTube broadcast, Good Mythical Morning, the six videos containing these shout-outs received a total of over 10 million views.
Clothing retailer Wet Seal leveraged the social following of Megan Hughes, a teen makeup artist and fashion Influencer with over 231k followers on Instagram. For two days, the brand handed over control of its Snapchat account to Hughes, who posted 15 times. Her takeover resulted in 9,000 new followers for the brand and 6,000 views of the Snapchat "story."
Identifying the proper channels is also exceedingly important. Building a strategy around general Millennial social media usage isn't enough to get them excited. Harness pre-existing enthusiasm for influencers (bloggers, Viners, YouTubers), and follow them to their respective platforms. The ecosystem there is already engaged and willing to spread the word.
Influencer nirvana is achieved when all parties are aligned in the proper environment - agency, brand, and talent. The tricky part about Millennials is that they're always moving. Are you ready to mobilize?
Related
Popular in the Community