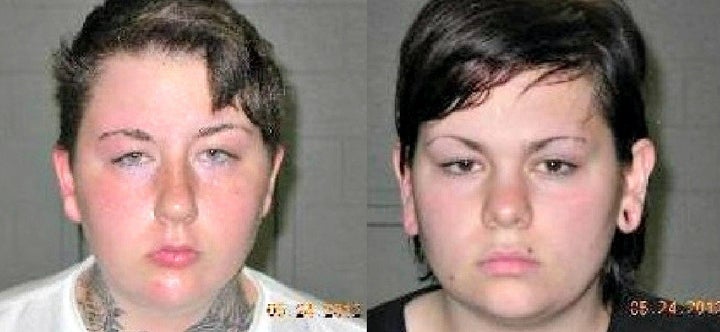 MEADVILLE, Pa. -- A Pennsylvania judge has ruled that statements made by two reported lovers accused of torturing and murdering an Ohio college student can be admitted into evidence in their murder trial.
The defense counsel for Ashley Marie Barber and Nichole "Jade" Olmstead had challenged the admissibility of the statements the teens made during their initial detention and their subsequent interrogation. Law enforcement says the teens confessed to the murder of Brandy Stevens-Rosine.
On Thursday, Crawford County Court of Common Pleas Judge Mark Stevens ruled that the statements are admissible in evidence. In the court ruling, the judge wrote that Barber and Olmstead were not coerced and spoke with police "voluntarily and of their own free will."
Barber, 20, and Olmstead, 19, have been charged with one count each of criminal homicide, conspiracy to commit criminal homicide, and tampering with physical evidence in the 2012 death of Stevens-Rosine.
The two female defendants were lovers and Stevens-Rosine had once dated Olmstead, according to a friend of Stevens-Rosine who spoke with The Huffington Post.
Two days later, Stevens-Rosine's family reported her missing. On May 23, 2012, authorities found Stevens-Rosine's partially decomposed remains in a shallow grave a few hundred yards from the residence where Barber and Olmstead were staying.
Crawford County Coroner Scott Schell performed the autopsy. He told The Meadville Tribune that Stevens-Rosine had multiple injuries, from multiple objects, to a large percentage of her body.
State Trooper Eric Mallory alleged in testimony at a July 2012 preliminary hearing that Olmstead and Barber had lured Stevens-Rosine into the woods behind their home and savagely attacked her.
PHOTOS FROM THE CASE: (Story Continues Below)
PHOTO GALLERY
Photos From Brandy Stevens-Rosine Case
Mallory said that the two women admitted to punching and kicking Stevens-Rosine. He said the women said that Barber put a rope around Stevens-Rosine's neck and strangled her, while Olmstead hit Stevens-Rosine in the head with a shovel.
Mallory alleged Olmstead said she hit Stevens-Rosine four or five times in the head, and could see Stevens-Rosine's brain protruding from the gaping wounds. According to Mallory, Barber hurt herself head-butting Stevens-Rosine, and then repeatedly pounded the victim's head against a stump.
According to Mallory, the women said they rolled the victim into a shallow grave they dug prior to the assault. When they found Stevens-Rosine still breathing, the trooper said, they allegedly smashed her face with a large rock and poured water into her nose and mouth to drown her.
According to the autopsy report, Stevens-Rosine suffered blunt force trauma, a skull fracture and 15 lacerations to the scalp. Her death, according to Erie County forensic pathologist Eric Vey, was caused by suffocation from dirt in her airway. In court, Crawford County District Attorney Francis Schultz said Stevens-Rosine had been buried alive.
Barber and Olmstead have been jailed without bond since their arrests.
The trial is scheduled to begin in November. If the women are convicted, they both face a mandatory sentence of life imprisonment without parole.
REAL LIFE. REAL NEWS. REAL VOICES.
Help us tell more of the stories that matter from voices that too often remain unheard.
BEFORE YOU GO