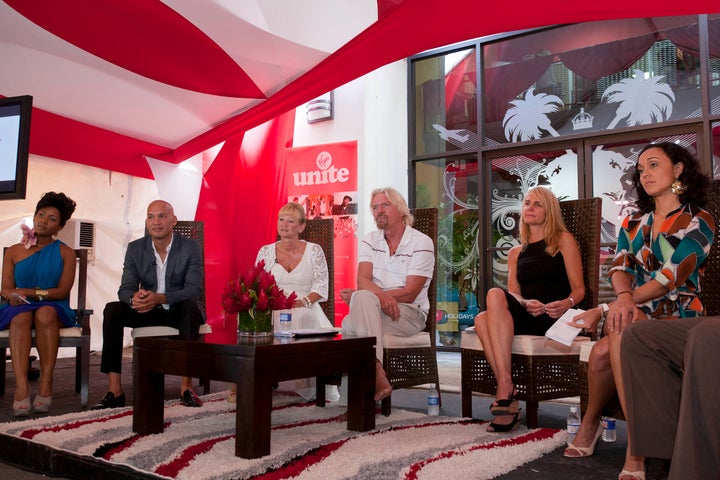 In an effort to promote mentorship and foster an ongoing dialogue about the state of entrepreneurship, HuffPost Small Business and Virgin Unite will join together this week for a first-of-its-kind summit at the Branson Centre of Entrepreneurship in Montego Bay, Jamaica.
"The chance to have a group of established and inspirational entrepreneurs willing to share their stories with our own entrepreneurs who are just starting out on their journeys, to offer insights on the development of our mentorship model and to interact with our local community is a great privilege for us and we want to ensure the experience is both intellectually stimulating -- and a whole lot of fun!" said Lisa Lake, chief development officer of the Branson Centre.
For members of the HuffPost Small Business Board of Directors, which includes Virgin founder Sir Richard Branson, the summit marks an opportunity to give back to their fellow entrepreneurs, while tapping one another's knowledge and experience for their own ventures.
"One of the greatest things about entrepreneurs is how much they love to help one another learn and grow," said Rod Kurtz, executive editor of HuffPost Small Business. "So we thought, what better way to demonstrate this than by bringing our Board of Directors down to Montego Bay and work with the rising entrepreneurial stars at the Branson Centre. Richard and the whole Virgin Unite team have been big supporters of ours and we're thrilled to show our support for all the great work happening at the Branson Centre."
Attendees from the HuffPost Board of Directors will include:
Attendees from the Branson Centre will include:
Lisa Lake, Chief Development Officer, Branson Centre of Entrepreneurship - Caribbean
Clara Maguire, Virgin Unite
Patrick Casserly, Director, Branson Centre of Entrepreneurship
Paula Kerr-Jarrett, Director, Branson Centre of Entrepreneurship
Edris Whyte, Founder, StudyInJamaica.com
Bianca Bartley, Founder, Peace-is of Bianca
Robyn Fox, Founder, Mount Edge Guest House, Food Basket and EITS Cafe
Simone Bell, Founder, Ideatrade
Andrew Khan, Founder, Moringa Labs
Joan Webley, Founder, Nanook Enterprises
Leanne Talbot, Founder, Island Cycle
Kevin Earle, Founder, KRL Supplies
Alecia James, Founder, Signature Cakes
Edward-Marshall Case, Founder, Edward Case Construction Concepts
Andrew Ross, Founder, Seascape Caribbean